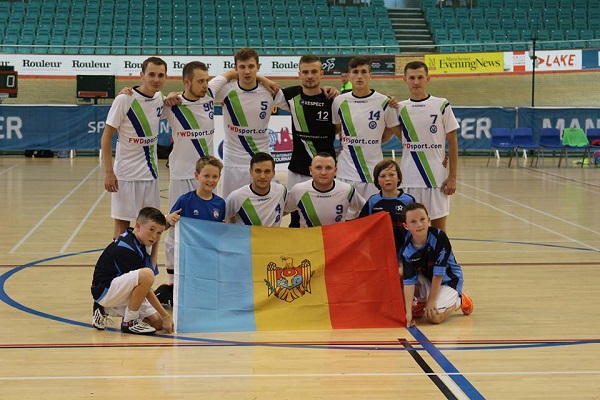 Estimated reading time:5 minutes, 46 seconds
Futsal in Moldova is not very popular, but since UEFA and our Football Federation built the Futsal Arena interest is growing and attendances at our national team games are increasing
Moldova are currently 55th in the world rankings, how popular is the sport in your country?
Futsal in Moldova is not very popular, but since UEFA and our Football Federation built the Futsal Arena interest is growing and attendances at our national team games are increasing , more people are starting to show a desire to learn more.
What is the league structure in Moldova, what are the pathways for players from a young age to the national team and is the sport professional there?
Unfortunately  Moldova's Futsal Championship is restructured every year,that is why there is no stability and organization therefore club can't plan thier budget ahead of the new season. Everything is done at the last minute and decisions are made at the last minute. This season will be a playoff format of 12 teams who will play each other and the top six finishers will play in the national division and the remaining six will play in Division A. In our championship there are no contracts with players , but most players receive bonuses in the form of cash if they are playing well. Young players are selected according to national team coach, but I have never seen him come to monitor players in any games, usually the national team is made up by the best championship team and not by looking at the talent that each club has an could play for our country.
Who would be considered the best clubs in Moldova and have any players from Moldova played or currently play professionally in other countries?
At the moment the best team in Moldova is FC PROGRESS. We have 2 or 3 players from Moldova playing in Romania who have professional contracts with AUTOBERGAMO from Deva, where all players have contracts and are respected. I can proudly say we have a former futsal player who was a European champion, played for Dina Moscow in Russia, and is our coach, Mr. Sergiu Cosciug!
You are the President of Futsal Club Victoria Buiucani can you tell us about your club, what successes have you had and what are your plans for the future to develop your club and Futsal?
Our club was founded only 2 years ago then a year later I took control over the club. Our biggest success so far was reaching the semi-finals of the Moldova Futsal Cup last season. I have plans to develop our futsal club and with God's help we will achieve them. We plan to create an academy with various age groups for children and teenagers furthermore we want to build our own sports facilities and hopefully in the not too distant future develop a team that can secure our place in the UEFA Futsal Cup. Until then we have a very difficult road, we need strong partners that believe in us, and we will do the maximum possible to achieve these goals.
What improvements have you seen in Futsal awareness in Moldova and what else do you feel is needed to progress the sport?
Since the FIFA approved Futsal arena was built awareness of futsal in Moldova has increased and more people are growing an appreciation for the sport. To have continuous progress we need Futsal specific facilities, businesses would have to support and invest in clubs. A very important step is to avoid corruption among those who organize and manage the sport.
Why did you decide to get involved in Futsal in Moldova, why develop your club and what is your background in the sport?
I decided to get involved in futsal, because two years ago I had the fortune to meet our coach Sergiu Cosciug. I didn't know anything about him, I was just looking for a coach for the team to have someone organize our matches. I talked to him for about 30 minutes and after our conversation he agreed to be the coach. At that time, I was taking the shuttle from Bucharest to Chisinau (450 km) every week just to play futsal with the team. The team had a disastrous season so I took control and restructured it and started investing in it with profits that I make from my small businesses. Two months later, I heard about Sergiu Cosciug from a colleague and I couldn't believe we had such a man with such success in Moldova. I looked on Wikipedia, and read that he was a world class player, won the UEFA Futsal Cup, the Russian Championships several times and was also the best player in the Russian championship. I asked myself, why is this man who has achieved so much in his career not known in Moldova? Why is no one helping him to share his knowledge to our younger generations? Why should we tolerate such things? Why should we choose to be corrupt rather than do something useful? Maybe it was fate that we met or God's will, but this man made me get fully involved in futsal and I did it because he's a world champion, but also because I of my own love for this sport.
My background in sport started with football, maybe I am talented, but not all of us get the opportunity to play at the highest level in Moldova because we have an extremely high level of corruption, not just in sport and but across our country, if you look it up, we are one of the most corrupt countries in the world. For a child to become a professional he must begin his career in another country where he is appreciated and valued as an athlete! In our team there will never be corruption, we want to build a club that is for the players, the fans and our community. After our first season our main target was to participate in an international tournament and the opportunity came when Manchester Futsal Club in England who compete in the FA National Futsal Super League invited us to compete in their first international futsal tournament and I would like to take this opportunity to thank them for inviting us, we had a great experience and of course we would love to return and we will continue to look for more opportunities to aid our players and the team's development.
If you like this information provided, you can read more articles about International Futsal by going to the top bar navigation or click here
If you like this article and would like to keep updated on Futsal news, developments etc then please submit your email below in the Newsletter section or by clicking on the Subscribe to Futsal Focus option on the header.
Follow Futsal Focus by clicking on Facebook, Twitter or Instagram or on the social media buttons on the right sidebar.