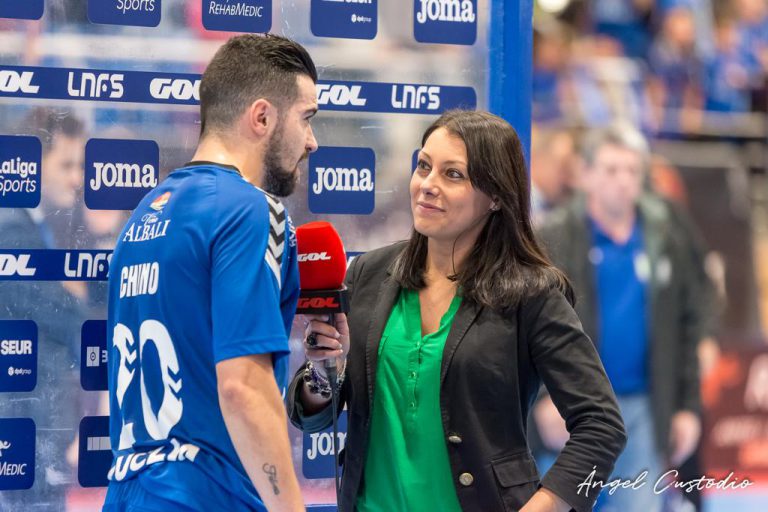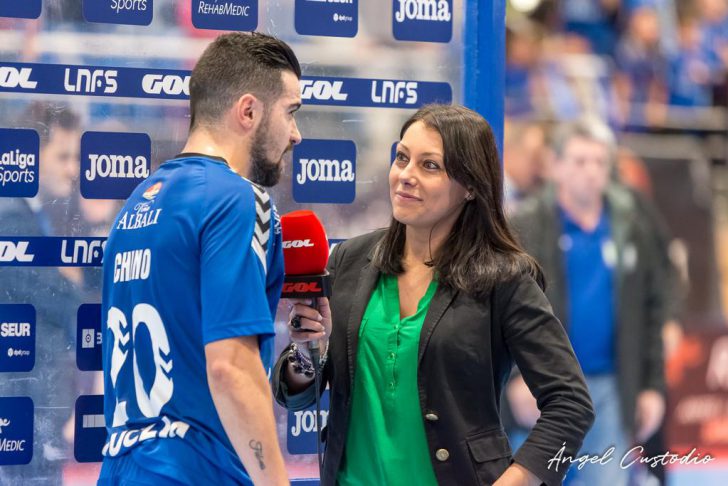 Estimated reading time:8 minutes, 5 seconds
The role of women continues to gain ground in the sports journalism sector
The role of women continues to gain ground in the sports journalism sector, and in Spanish futsal there is a large territory to explore and conquer says Teresa Sendin, CEO of Sendin Communications and Director of Futsaleros por el Mundo, and author of this article.
In Spain, Spanish sports journalism has always had the drawback of seeing female journalists as those women who went after athletes and female objects to attract the male gaze. Over the years, a lot of work and many glass ceilings have been broken, many women (although not enough) have managed to build a reputation based on the recognition of the quality of their work.
Almost 10 years ago, I entered the world of futsal in Spain. A world where from the moment you arrive you have the support, help and camaraderie of players, coaches, and clubs… who are grateful for your work, and for making this beautiful sport more visible.
Even during my time as the Director of Communications at Naturpellet Segovia, heir to the legendary Caja Segovia, I had the support of the board of directors, and the coaching staff who were always willing to carry out communication tasks and the players who represented the team on the court, were eager to be the club's media face.
Spanish futsal journalism is a little but growing family, where every time a rookie journalist arrives, the community tries to help him or her, and welcome them into the core group of journalists who cover this sport, day after day. Regardless of whether you are a man or a woman, in the world of futsal, the doors have always been open.
It was very common to arrive at the Copa de España and see groups of 20-30-40 journalists sharing experiences around a good meal on the streets, in bars or restaurants. Annual meetings take place where journalists from Madrid, Barcelona, ​​Andalusia, the Balearic Islands, Galicia… met again at the great event of the year. For this reason, for a woman, reaching the world of futsal couldn't have been an easier entrance since her peers did not look suspiciously, and neither did the clubs, players, or coaches, all were thankful for you coming to cover this wonderful sport.
Currently, there are several outstanding women who experience futsal from within. Me with my role as Director of "Futsaleros por el Mundo" of the Futsal Cope podcast, Neus Pachón who covers national futsal on a freelance basis and is an expert of French and Italian futsal, and Alba Adá, one of the first to pave the way for women, who covered the LNFS on GolTV for two seasons and fights to give visibility to women's futsal every week in its Futsal Cope section.
Neus Pachón
"I think it would be fair to recognize, first of all, that futsal has given me everything that I am right now as a journalist. Although, it is true that my dream since I was little was to dedicate myself to sports journalism, over the years I discovered that I had to dedicate all my efforts to talking about this wonderful sport, believing in it, and making it known more than it currently is. Due to life circumstances, I had to live this process abroad until a year and a half ago when I decided to return to Spain, and try to dedicate myself to my passion and that, friends, is where futsal and everything that surrounds it comes in."
"The pandemic opened the door for me to be able to contribute my grain of sand from abroad and pave the way for me on my return. A way that has been perfect. A way in which I have learned from each colleague, a way in which I have met people whom I consider my friends today. Yes, perhaps I am a newcomer to this sport, but I have felt supported and endorsed to do what I have always wanted: help the growth of this sport and, above all and more importantly, make known all those athletes and professionals who give their lives for this sport."
"The pandemic, its requirements and, let's be honest, sometimes taken advantage of by some to make our work more difficult, has not helped what it should. At a time when we should be more united than ever, we find ourselves immersed in a war in which it seems that you have to be on some side. In a war of all against all, in a war in which our greatest weapon is words and our helmet and bulletproof vest, social networks."
"For this reason, talking about futsal today is more closely watched than ever and even sometimes other intentions are even raised when we simply want to inform and spread. So yes, we can say that futsal journalism seems to be on the decline and far are those glory years when everything seemed simpler and cleaner. But, if we look closely, even in the toughest terrain flowers always come out and this sport will always count on all those who will give their lives to dignify off the court how great it is already on 40 x 20."
Alba Adá (main picture)
"There is no other sport like it! When I started commentating on futsal, I was practically the only woman in the halls. Today, there are many female journalists, and very good ones working in this sport. It's something I'm very proud of; to see that progress and to have contributed to it."
"Futsal has always been a part of my life. In Galicia, this sport has a long tradition. Almost from the moment we are born we go to the pavilions to play and enjoy it. I started playing when I was very young and later when I finished my degree in Journalism, I changed the ball for the microphone. Futsal is a sport that traps you in its magic. For me, it is the most exciting sport, because of its spectacle, particularity its quality, its beauty, it is a joy to watch and especially to play."
"In the world of journalism, having covered other sports such as a 11 a-side football, I think futsal is a special sport. The players are much closer to each other and that makes our work better. There is a special relationship. The way we communicate creates more quality content. Although, we need to improve in some respects how we are selling the product especially the women's product, which has been neglected until now. But, for me there is no other sport like it, not only as a former player and fan, but also as a journalist. No doubt about it."
After reading the thoughts of my peers, you can see how wonderful but how divided our sport is right now. This great little family has been affected by the controversy between the RFEF and the LNFS, after the Federation took absolute control of the competitions, leaving the good work of the LNFS on dead paper and relegating the visibility of Spanish futsal to residual spaces. Now the Spanish futsal world has been divided between the Pro-RFEF and the Pro-LNFS and although you try to not position yourself, and fight only for futsal to continue to have its space and visibility, others are the ones who will place you were they want on one side or the another.
Now, it is not just the man or woman journalists who loses out, but futsal. The impact on futsal sees the sport continuing to decline, affecting opportunities for teams, players and sponsorships, official television can only broadcast certain matches, and the rest sometimes don't even get minimal visibility.  But, for all those professionals who want to enjoy a spectacular sport, the facilities are the order of the day, and there they can appreciate the sport they love, and it is still the best place to enjoy our jobs as a journalist.
Author and translator
This article was written by Teresa Sendin and translated by Alejandro Méndez. Futsal Focus thanks Teresa and Alejando, and Neus and Alba for contributing!
Futsal Focus supports the Donate4Dáithí campaign
To follow the Donate4Dáithí campaign, you can visit their website here: www.donate4daithi.org  or on Facebook at: https://www.facebook.com/Donate4Daithi you can also donate money to their campaign at: https://www.justgiving.com/crowdfunding/donate4daithi
Learn more about the Donate4Dáithí campaign by going to our article here
Futsal Focus
You can read more articles about domestic futsal by going to the top navigation bar or click here
If you like this article and would like to keep updated on Futsal news, developments, etc then you can now follow Futsal Focus via Google News by following our page which will send you an alert as soon as we publish an article so please click here and follow us on Google.
You can also keep updated on Futsal news, developments, etc then please submit your email below in the Subscribe to Futsal Focus option.
Follow Futsal Focus by clicking on Facebook, Twitter, or Instagram or on the social media buttons on the website.