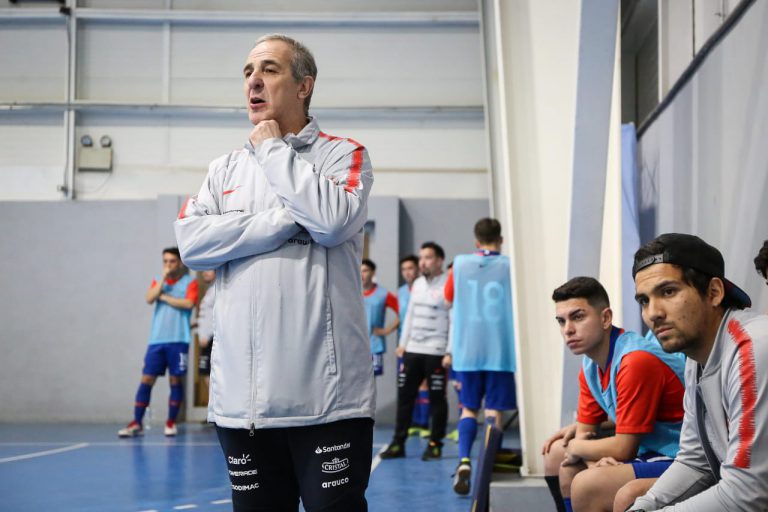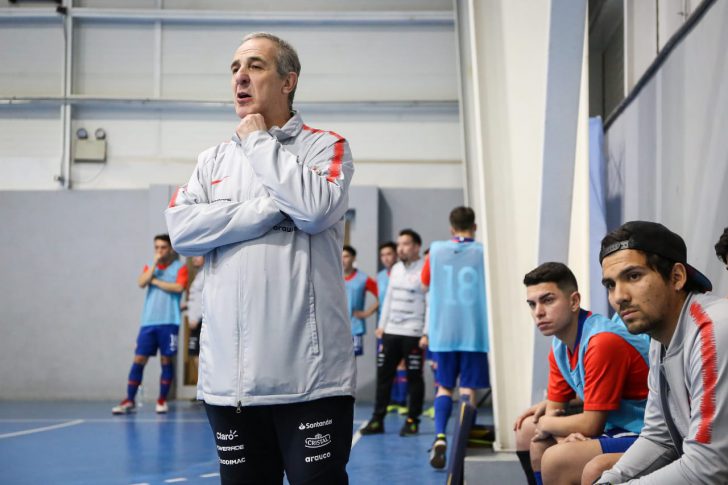 Estimated reading time:9 minutes, 9 seconds
Vicente Claudio De Luise has been involved in futsal for more than 50 years. He started as a goalkeeper and later made the leap to be a coach, and currently combines his role on the bench with working for FIFA and CONMEBOL. (Main picture: from Sexta Falta)
De Luise has taken his knowledge of futsal to half the world. From South America to Central America, also passing through Asia and Europe. He directed the Argentinian National Team in the first two World Cups (The Netherlands 1989 and Hong Kong 1992), he was also in Thailand helping his national team take the final leap towards the elite of Asian futsal and a few months ago he was directing the Chilean national team in the Copa América of Paraguay. In Italy, he spent 4 years directing three different teams and in South America he has trained leading teams such as Colo Colo in Chile or Newell's in Argentina, among others. Now, as a CONMEBOL instructor, he has toured all of South America and also a large part of Central America as a FIFA instructor. He is currently in Mexico, assisting the FMF (Mexican Football Federation) and the organizers of the first National Futsal Championship to develop futsal in Mexico since this tournament will be a great advance for this sport in the country.
In this interview with Futsal Focus, Vicente De Luise tells us about his career and explains the role of an instructor, and how this work is carried out:
FF: What is your background in the world of futsal?
VDL: At the age of 11, I started to play at Rosario what was called "Baby Soccer", a small-sized field, with 7 players, and when I turned 14, I switched to normal-sized soccer. I was a goalkeeper, 1.73 meters tall but all in all, to be an elite footballer wasn't for me, and I gave up on football.
I started playing futsal and also organized itat my school. I was the vice president of the Student Center and we organized a championship for more than 70 teams and some of the teachers were referees. It was a great cooperation between the students and teachers. Well, from there I went on to play for Newell's Old Boys, the University of Rosario, a team from my neighbourhood, for my Province (Santa Fe), and the Argentinian national team. I transitioned into coaching which led to working at Newell's Old Boys, River Plate, Colo Colo from Chile then Napoli Barrese, Napoli Vesevo, and Proscicli in Italy. On the international stage, I coached the Argentinian, Chilean and Thai national teams. I have also been a FIFA Instructor since 2002, a CONMEBOL Instructor since 2016 and a teacher at the National Football Institute of Chile and for the ATFA (meaning Argentinian Football Coaches Associations in Spanish) school in Rosario (Argentina). And this is only a brief summary.
FF: Which stage do you consider the most important for you?
VDL: They were all important, but without a doubt I'd say my time at my club, Newell's Old Boys, because of how it impacted the future. It was a founding place for Argentinian futsal where Newell's was an absolutely important pillar. Newell's was, among other things, the first team, and I would say the only team to make two European tours in 1994, in Spain and Belgium. Peerless. And, as I said, the club was the cornerstone in the development of Argentinian futsal for the Argentine Football Association. I'm not saying they were the only influencer, but the club was an essential one.
FF: And, from which stage did you learn the most?
VDL: In Italy, because there I had to train Argentinians, Italians and Brazilians and I also faced Paraguayans from other teams, so in that exchange with players and coaches from other countries and nationalities such as Italians and Spaniards. I was able to progress as a coach and have a different vision of how to train. It was 4 years, where I acceded to another organization. Europe is almost the geographical center of the world. I remember the Uzbekistan National Team came to Naples to do a week's training with teams from the region. It was all enrichment.
Now, being a FIFA Instructor has given me the opportunity to improve myself from the knowledge of my colleagues with 3 sessions in Madrid at the headquarters of the Spanish Football Federation. One in Zurich at the FIFA headquarters where I was a speaker, and through the delivery of over 50 courses which I have given all over the world. All this has enriched me.
FF: Your last competition as a coach was the Copa América with the Chilean National Team, how do you rate the competition the team participated in?
VDL: Very good because the predetermined objective was to form a team that competes with a view to the qualifying rounds in 2024. A very young team that knew how to compete strongly with the South Americans. Due to different circumstances, we participated without the leading figures of Chilean futsal due to injuries so we took the opportunity to promote young players, many of whom later entered the Argentinian League (today, perhaps one of the 3 best competitive leagues in the world). Chile comes from a very strong development plan, it is an emerging futsal nation.
FF: After leaving the position of head coach of the Chilean National Team, are you still open to the option of returning to the position of coach? Did you receive any offer during these months to return to train?
VDL: Yes, but in a development project where the objectives are clear. Futsal still needs a lot of development; it is a young sport. Due to my previous experiences and the way it was happening in the places that trusted me, I have become a specialist in developing futsal in those countries where it has not reached its full potential yet. When we started in Argentina in 1986 at AFA, only relatives generally went to watch the matches. Last year at Parque Roca in Buenos Aires, 15,000 people came to see a friendly match between Argentina and Chile, something unthinkable a few years ago. Seeing this progress is what I like.
I had an offer from a Copa Libertadores team and despite the fact that I have a great feeling for this team, I did not accept because of what I explained above.
FF: You are currently working as an instructor for CONMEBOL and FIFA, what does this job consist of?
VDL: The work consists of bringing technical training to the different countries that request training courses. My essential objective, especially in those places where futsal is emerging, is to bring enthusiasm and passion. Everything starts from there. In futsal there is a lot to do but there has been incredible growth in recent years.
With FIFA, we will tackle development issues, which is essential for what will come later.
FF: Where is this instruction held?
VDL: For both CONMEBOL and FIFA, the countries request courses, and these federations designate instructors. I have given courses for both entities in many countries. In my career, I have visited all the South American countries, and many of Central America as well.
FF: When you arrive in these countries, how is the instruction carried out? What procedure is followed?
VDL: We arrive with a program previously agreed upon with the Development Managers, in those places that are specifically interested in development, guidelines are proposed. Now, this point of development in my particular case is always present. If the topic is not on the agenda in the meetings held with the Directors of Development and with the authorities of the Federations, it always emerges as an important topic. Chile has been an example in the two-year plan 2018-2020 to imitate, even in the years 2020-2021 (pandemic) an ambitious online training program was carried out for B, A and PRO licences, preparation of manuals together with the INAF (National Institute of Physical Activities) which worked with the Chilean Football Federation to deliver more than 70 digital talks with the most important mentors of world futsal. People such as Jorge Braz (Portugal), Matías Lucuix (Argentina), Marquinhos (Brazil), Massimiliano Bellarte (Italy), Javier Lozano, José María Pazos (Spain), Mico Martic (Croatia) among many others, and you can see this on my YouTube channel here.
FF: Which country or countries do you see as the main candidates to take a leap in quality and be among the best?
VDL: I don't believe in a particular country; I do believe that many are taking steps to grow futsal. South America has undoubtedly grown a lot, in every way. CONMEBOL has given a strong support for futsal as one with the greatest competitions at the club and national team level. This will undoubtedly be of great relevance in the short term.
FF: What objectives are intended to be achieved with these instructions?
VDL: To provide coaches with tools for their training sessions, Federations with the tools to better develop futsal and the product itself as a partner in the training of soccer players like Francisco Maturana expressed in 2018 in one of CONMEBOL's seminars in Asunción.
Interviewer: 
My name is Alejandro Méndez and I was born in Cartagena. I discovered futsal in 2017 and it fascinated me. Since then, I immersed myself in this amazing and beautiful sport. I support Jimbee Cartagena, I write and talk about futsal for Efesista.es in Spain, and now for Futsal Focus.
Futsal Focus supports the Donate4Dáithí campaign
To follow the Donate4Dáithí campaign, you can visit their website here: www.donate4daithi.org  or on Facebook at: https://www.facebook.com/Donate4Daithi you can also donate money to their campaign at: https://www.justgiving.com/crowdfunding/donate4daithi
Learn more about the Donate4Dáithí campaign by going to our article here
Futsal Focus
You can read more articles about grassroots and coaching futsal by going to the top navigation bar or click here
If you like this article and would like to keep updated on Futsal news, developments, etc then you can now follow Futsal Focus via Google News by following our page which will send you an alert as soon as we publish an article so please click here and follow us on Google.
You can also keep updated on Futsal news, developments, etc then please submit your email below in the Subscribe to Futsal Focus option.
Follow Futsal Focus by clicking on Facebook, Twitter, or Instagram or on the social media buttons on the website.