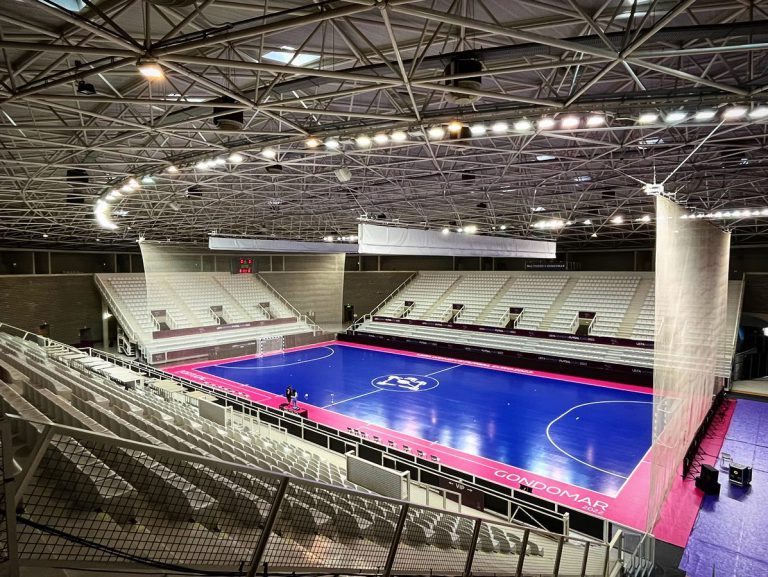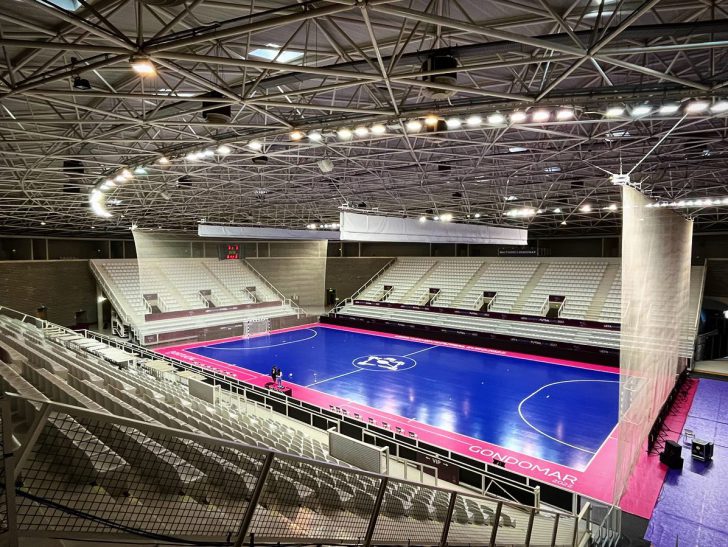 Estimated reading time:6 minutes, 50 seconds
The finals of the second UEFA Women's Futsal EURO kick off tomorrow at the Porto's Pavilhão Multiusos de Gondomar (main picture), which also hosted the inaugural edition three years ago.
The Portuguese women's futsal team plays the European Championship at home and Daniela Ferreira, better known as Pisko, said, in statements released by the Portuguese Football Federation (FPF) that public support will be important.
"Playing at home with our fans, our fans, is always an extra strength and an extra motivation as several of my colleagues have been saying. Therefore, I also appeal to all Portuguese people to be present, not only to support us, but also because it will be a very positive advertisement for women's futsal."
Nun'Álvares' spoke about expectations for Friday's game against Hungary: "We've been watching Hungary. We already know some information that Luís Conceição gave us, but perhaps more in the hours before the game is that we will also have an overview of everything they do. We are gradually seeing their offensive organization and the defensive organization."
Pisko was in the final of the 2019 European Championship, which also took place in Portugal, and the national team were defeated by Spain (0-4).
"I think after a competition, regardless of whether we win or not, we always have to make an assessment of everything that happened, both the good and the less good things. We tried to take as many lessons as possible from this European [2019]. Now we try to prepare ourselves in the best way for this one, to do more than what we achieved in the previous one", commented the Portuguese international.
Portugal kicks off their first match  at 9.30 pm, against Hungary. On the same day, in the other semi-final match, Spain face Ukraine. The final is scheduled for July 3rd.
Portugal form since 2019 will give them confidence that they can go one better this time in Gondomar. Not only have they won five of their 11 meetings with Spain since, losing only three, but they were also the 29-goal top scorers in qualifying, eight different players on target. In last Friday's 6-0 friendly defeat of Ukraine, Carolina Pedreira scored twice on debut while Ana Azevedo became the first Portugal player to reach 100 caps. She is among eight members of the 2019 squad returning to the finals, including Fifó, one of the stars of that tournament, aged 18.
Hungary, called up in May to replace Russia, are the only one of the four teams here not to have taken part in the 2019 finals. With an experienced squad including several players with international football experience at senior or youth level, Hungary warmed up with four games last week at Futsal Week in Croatia, winning one, drawing two, and losing to tournament winners Poland.
In 2019 , Spain won the first women's futsal European Championship. Three years later, on the same stage -Gondomar, where La Roja also won the men's European Championship in 2007- and with a pandemic and a war postponing the tournament twice, they seeks to repeat the same feat. Speaking to Marca, One of the veterans, Peque (35 years old), hopes to repeat success. "I arrive with the illusion of a 12-year-old girl. The wait has been long, intense and curvy. We have wanted this so much that she is almost like the first one ," she says.
The 2019 edition came out almost perfect, winning 5-0 against Russia and 4-0 against Portugal , although Peque warns: " It seemed easy, there were a lot of nerves but it came out perfect to be the first ". Of course, the Burela player trusts the great work done by Claudia Pons. " I have been saying it for a long time: we are working with a group that has consolidated, we demonstrated it against Brazil" , she affirms.
Spain cruised to the first title here three years ago and return with confidence high, having won 7-0 and 3-1 in January friendlies against Ukraine, as well as 3-2 against Brazil in March. The squad only met up fully at the start of the week after the league play-off final, which involved much of the team, but look formidable. Unfortunately, 2019 player of the tournament Vanessa Sotelo did not recover in time from a serious knee injury to make the squad but regular goalkeeper Silvia Agute is fit after a recent absence. She is one of nine of the winning squad from three years ago back again for more.
Ahead of tomorrow's tournament, the Ukrainian team has been working for a few weeks at different locations such as San Marino, France and Portugal preparing for the competition. What does the future hold? Speaking with Marca in Spain, Julia Forsuyk, the captain of Ukraine said " I'm worried because after the European the girls don't know what we're going to do. It's not the best time for us psychologically. We enjoy ourselves here, but what will we do tomorrow? Many girls can't go home. My sister, for example, lives in a small place. It's very difficult. We train for the tournament, but it's difficult."
Forsyuk appreciates all the support they have had and trusts that the tournament will serve as a showcase and so that they do not lose focus on what is happening in their country: " Futsal is a big family and we have a lot of people in around the world and we asked them. There was half a team in Spain, some in Portugal, in Italy… Only three girls went out with the coach from Ukraine for the tournament. Now we can't choose where to play. We have to find someone who looks for players to training, it's not important the division or the team itself."
Where to watch the competition:
Partners in Europe and across the globe will be broadcasting UEFA Women's Futsal EURO 2022. Find your local broadcast partner(s) below.
Rights holders
Please check individual broadcaster schedules for details about which matches will be televised or streamed in your territory.
All information is subject to agreements being reached between UEFA and individual broadcasters.
UEFA.tv
Matches will be streamed live in certain territories on UEFA.tv. Highlights of all matches will be available to view as of midnight CET.
Please check the UEFA.tv home screen for matches that may be available in your territory.
Official broadcast partners (subject to update)
Europe
Albania: RTSH
Andorra: TVE
Austria: ORF
Belgium: RTBF, VRT
Bosnia and Herzegovina: Sportklub
Bulgaria: BNT
Croatia: Sportklub 
Czech Republic: Česká Televize
Finland: YLE
Hungary: MTVA
Italy: RAI
Kazakhstan: KZTV
Luxembourg: RTBF, VRT
Moldova: TVR
Montenegro: Sportklub
North Macedonia: Sportklub
Poland: TVP
Portugal: RTP
Romania: TVR
San Marino: RAI
Serbia: Sportklub
Slovenia: Sportklub
Spain: TVE
Turkey: TRT
Ukraine: Suspilne
Vatican City: RAI
Outside of Europe
Anguilla, Antigua & Barbuda, Aruba, Bahamas, Barbados, Bermuda, British Virgin Islands, Cayman Islands, Cuba, Curacao, Dominica, Falkland Islands, French Guyana, Grenada, Guadeloupe, Guyana, Haiti, Jamaica, Martinique, Montserrat, Nevis, Puerto Rico, St Barts, St Christopher, St Kitts & Nevis, St Lucia, St Martin, St Pierre & Miquelon, St Vincent & the Grenadines, Suriname, Tortola, Trinidad & Tobago, Turks & Caicos Islands: ESPN
Algeria, Bahrain, Chad, Djibouti, Egypt, Iran, Iraq, Jordan, Kuwait, Lebanon, Libya, Mauritania, Morocco, Oman, Palestine (Gaza & West Bank), Qatar, Saudi Arabia, Somalia, South Sudan, Sudan, Syria, Tunisia, UAE, Yemen: beIn SportsArgentina, Bolivia, Bonaire, Chile, Colombia, Costa Rica, Dominican Republic, Ecuador, El Salvador, Guatemala, Honduras, Jamaica, Mexico, Nicaragua, Panama, Paraguay, Peru, Saba, St Eustatius, Uruguay, Venezuela: BENINSports
PR China: CCTV Sports China
United States (including American Samoa, Guam, Mariana Islands, Midway, Puerto Rico, US Virgin Islands): ESPN, TUDN
You can read more articles about international futsal by going to the top navigation bar or click here
If you like this article and would like to keep updated on Futsal news, developments, etc then you can now follow Futsal Focus via Google News by following our page which will send you an alert as soon as we publish an article so please click here and follow us on Google.
You can also keep updated on Futsal news, developments, etc then please submit your email below in the Subscribe to Futsal Focus option.
Follow Futsal Focus by clicking on Facebook, Twitter, or Instagram or on the social media buttons on the website.