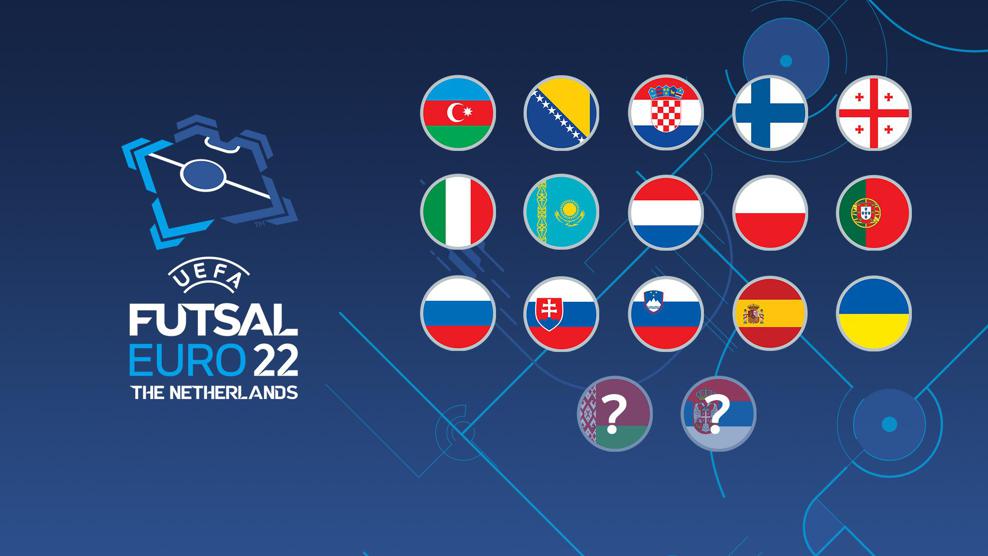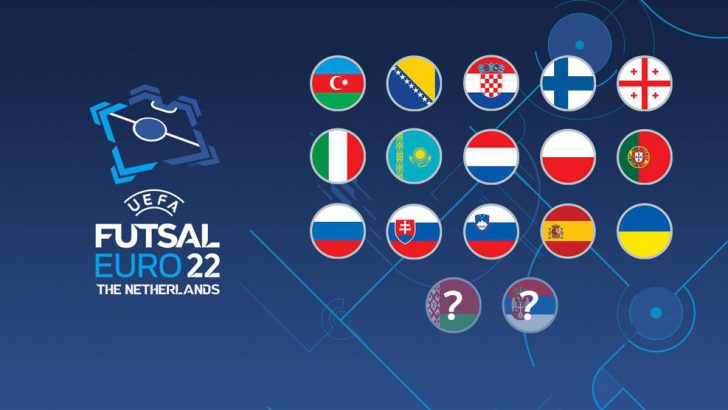 Estimated reading time:6 minutes, 22 seconds
The UEFA Futsal EURO draw will start at live at 18:00 CET on 18 October. The draw will split the contenders into four groups of four for the first 16-team finals.
As FIFA Futsal World Cup content continues to be shared and discussed across social media, European futsal is already now preparing itself for the UEFA Futsal EURO 2022 draw that will take place soon. 1989 Golden Boot winner, global futsal developer and futsal coach Vic Hermans will be one of the people drawing the balls to sort the groups for the tournament. The 2022 EURO will be the first major international futsal tournament the Netherlands has hosted since 1989 when they hosted the first ever FIFA Futsal World Cup.
The competition is from 19 January to 6 February 2022, the first edition since the switch from the biennial 12-team tournament to a 16-nation finals held every four years.
The draw at the KNVB Campus in Zeist, will split the hosts and 15 eventual qualifiers into four groups of four. The group stage will be played at Ziggo Dome, Amsterdam and MartiniPlaza, Groningen, with the knockout phase at Ziggo Dome.
Qualified so far
Azerbaijan, Bosnia and Herzegovina, Croatia, Finland, Georgia, Italy, Kazakhstan, Netherlands (hosts), Poland, Portugal (holders), Russia, Slovakia, Slovenia, Spain, Ukraine (1 tbc from play-off)
Play-off (14 to 17 November)
Serbia vs Belarus
Draw procedure
The teams are seeded according to the UEFA senior men's futsal national team coefficient rankings, with the winner of the play-off taking the ranking of the contender with the higher coefficient, Serbia.
There are four pots: Pot 1 composed of the four teams with the best coefficient rankings including Portugal, the holders; Pot 2 with the next four teams (including the play-off winners) and so on.
Teams are drawn in the groups in alphabetic order from Groups A to D, and positions in the group (1, 2, 3, 4) are also drawn.
The hosts, Netherlands, are not drawn but are placed in position A1. As they are seeded in Pot 4 (which will be drawn first), the other three teams in that pot will be drawn in Groups B, C and D. Pot 3 is drawn next, then Pot 2 and finally Pot 1.
Based on decisions taken by the UEFA Emergency Panel, Russia and Ukraine cannot be drawn in the same group. If Ukraine (Pot 3) are drawn into Groups A or B, Russia (Pot 1) may not be allocated into these groups and if drawn in one of them will be placed in Group C. If Ukraine are drawn into Groups C and D, Russia may not be allocated into these groups and Pot B must remain open for them if they are not drawn first or second from their pot.
Seeding pots
Pot 1
Spain
Russia
Portugal (holders)
Kazakhstan
Pot 2
Croatia
Azerbaijan
Serbia/Belarus
Italy
Pot 3
Ukraine
Slovenia
Bosnia and Herzegovina
Poland
Pot 4
Finland
Slovakia
Georgia
Netherlands (hosts, placed in position 1 of Group A)
Portugal are the defending champions while Spain (7), Italy (2) and Russia (1) are also past champions. Portugal also won the recent FIFA Futsal World Cup in Lithuania. Bosnia and Herzegovina, Finland, Georgia and Slovakia are making their finals debuts.
Provisional schedule
The top two in each group will progress to the knockout phase starting with the quarter-finals. The below schedule is provisional; the final calendar will be confirmed after the draw is made.
Group stage
Wednesday 19 January
A2 vs A4 & Netherlands vs A3 (Amsterdam)
Thursday 20 January
B2 vs B4 & B1 vs B3 (Groningen)
Friday 21 January
C2 vs C4 & C1 vs C3 (Amsterdam)
Saturday 22 January
D2 vs D4 & D1 vs D3 (Groningen)
Sunday 23 January
A2 vs A3 & A4 vs Netherlands (Amsterdam)
Monday 24 January
B2 vs B3 & B4 vs B1 (Groningen)
Tuesday 25 January
C2 vs C3 & C4 vs C1 (Amsterdam)
Wednesday 26 January
D2 vs D3 & D4 vs D1 (Groningen)
Friday 28 January
B3 vs B4 & Netherlands vs A2 (Amsterdam)
B1 vs B2 & A3 vs A4 (Groningen)
Saturday 29 January
C1 vs C2 & D3 vs D4 (Amsterdam)
C3 vs C4 & D1 vs D2 (Groningen)
Quarter-finals
Monday 31 January
QF1: Winners Group B vs Runners-up Group A (Amsterdam)
QF2: Winners Group A vs Runners-up Group B (Amsterdam)
Tuesday 1 February
QF3: Winners Group C vs Runners-up Group D (Amsterdam)
QF4: Winners Group D vs Runners-up Group C (Amsterdam)
Semi-finals
Friday 4 February
SF1: Winners QF2 vs Winners QF4 (Amsterdam)
SF2: Winners QF1 vs Winners QF3 (Amsterdam)
Final/third-place match
Sunday 6 February
Third-place match: Losers SF1 vs Losers SF2 (Amsterdam)
Final: Winners SF1 vs Winners SF2 (Amsterdam)
Venues
Ziggo Dome, Amsterdam: Group stage, knockouts
The 10,500-seater arena opened in 2012 and as well as staging major indoor sports it is a leading concert venue.
MartiniPlaza, Groningen: Group stage
The 3,900-seater arena opened in 1989 and was expanded in 2000 to 4,350. It has staged major tennis and basketball events as well as concerts and exhibitions. It is the home of the Donar basketball team.
FIFA Futsal World Cup reflections in relation to stadium and capacity 
The FIFA Futsal World Cup average attendances have been:
Netherlands 1989 → 2163
Hong Kong 1992 → 1258
Spain 1996 → 2910
Guatemala – 5601
Taiwan 2004 → 1273
Brazil 2008 → 5217
Thailand 2012 → 3083
Colombia 2016 → 2679
Lithuania 2021 → 1226
(Source – Valerio Scalabrelli – Twitter @riodevale – we recommend futsal expert to follow)
The above attendances are affected by a range of issues, a big one is FIFA choosing stadiums that are grand in stature but not realistic to fill for every match. Plus, filled capacities have also been due to FIFA giving a number a tickets away for free, and not marketing the sport right in the host nation. UEFA has done a great job of choosing the right stadium for the competition and the audience they expect to attract, FIFA should do the same. One of the big issues for Major League Soccer (MLS) at the beginning was the stadiums. The MLS were initially using National Football League stadiums, and when televised the stadiums looked empty plus, the level of awareness and interest in soccer/ football at that time meant that fan engagement techniques though successful (For a suitable stadium) were not successful as well, because they were trying to attract 60,000 for domestic American soccer which was not going to happen then. However, when the club's built football specific stadiums for their realistic audience size which was around 20,000 at the time, the filled stadiums and atmosphere broadcasted on TV attracted novice audiences to want to attend games to experience the environment and the sport.  Empty futsal stadiums when broadcasted to the masses does not help the image of the sport.
Futsal Focus supports the Donate4Dáithí campaign
To follow the Donate4Dáithí campaign, you can visit their website here: www.donate4daithi.org  or on Facebook at: https://www.facebook.com/Donate4Daithi you can also donate money to their campaign at: https://www.justgiving.com/crowdfunding/donate4daithi
You can learn more about the Donate4Dáithí campaign by going to our article here
You can read more articles about international futsal by going to the top navigation bar or click here
If you like this article and would like to keep updated on Futsal news, developments, etc then you can now follow Futsal Focus via Google News by following our page which will send you an alert as soon as we publish an article so please click here and follow us on Google.
You can also keep updated on Futsal news, developments, etc then please submit your email below in the Subscribe to Futsal Focus option.
Follow Futsal Focus by clicking on Facebook, Twitter, or Instagram or on the social media buttons on the website.