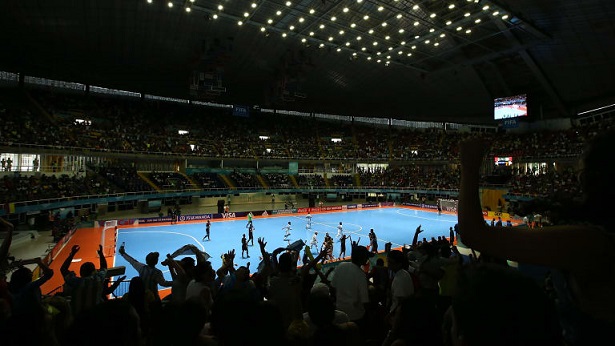 Estimated reading time:7 minutes, 51 seconds
Iraq rue opening day nerves of the Olympic Futsal Tournament which resulted in a 1-1 draw with Panama, Iraq defeated Argentina 1-4 in their final match in front of the home Argentinian support of 6,500 fans. However, in Argentina's final match the 6,500 spectators at the stadium in Tecnopolis Park went wild when the local team scored again, reaching the six-goal difference they needed. But many more would come, as Argentina then appeared relieved of the pressure and finished the match with a stunning 12-2 victory over Panama. Egypt finished group A with 3 wins and 1 draw and face Russia in the semi-finals who defeated Futsal powerhouse, Iran 1-2 and Argentina will compete against their South American rivals, Brazil, winners of Group B and undefeated. There have been 151 goals scored in 20 matches, for an average of 7.55 goals per match and Brazil's Guilhermão finishing the groups as the top goal scorer with 10 goals and the Solomon Islands despite finishing bottom their player Raphael Le'ai came second with 6 goals. Argentina player, Santiago Rufino who scored two goals to help take Argentina to the semis spoke with FIFA.com after the match against Panama to discuss the opportunities that Futsal have brought him.
He crossed the Atlantic to try his luck at La Masia. Barcelona took him on, and he is a left-footed Argentinian forward. It is easy and inviting to draw parallels with a certain Lionel Messi, yet Santiago Rufino is his own person and neatly sidesteps our attempts to engage him on the similarities.
"Comparisons don't bother me, but I don't buy into them because they're not real," an exhausted but happy Rufino told FIFA.com. "You can't compare me to Messi because our backgrounds are totally different. As is the sport that we play! I'll let people say what they'll say and leave it at that."
Argentina beat Panama 12-2 to take them to the semi-finals of the Youth Olympic Futsal Tournament Buenos Aires 2018. The hosts needed to win by a margin of six goals in order to qualify and ended up winning by ten – albeit after finding it tough early on. Eighteen-year-old Rufino learned his trade at one of Buenos Aires's most reputable futsal clubs, Club Social y Deportivo Pinocho. He missed the first match of the tournament due to an elbow injury but came back to score twice in a game that was a real treat for watching fans.
"I've never experienced anything like this," admitted Rufino. "I've never taken part in an Olympic Games, nor played in front of such large numbers of people. The supporters are amazing. It's a once-in-a-lifetime experience and I just want to enjoy it as much as I can."
The Olympic Games, for which Rufino and the rest of his team-mates have spent two years preparing, have coincided with a watershed moment in his career. In the summer he trained with the Barcelona futsal first team and featured briefly in some friendlies, although he is mainly part of the Barcelona Lassa B squad, the club's youth team that played in the Spanish second division.
In December last year, Rufino received a phone call. It was Jordi Torras on the line, the former captain of the Spanish national team and current head of youth development at Barcelona, inviting him for a trial. The youngster impressed as a left-footed right-winger and was taken on by the club. He joined three months ago but under the condition that he would be given time off to head home to compete at Buenos Aires 2018.
Would this tournament see him kick on as a player? "Maybe, but it's hard for me to tell," Rufino commented. "I think I'm the same player I've always been. I've changed some small elements in how I play to become a more mature and consistent player. I don't think I'm making the same mistakes in this regard."
Argentina faces Brazil in the semi-finals, an extremely tough fixture for the hosts in which they will be hoping to see the same Rufino that enchanted Barcelona coaches during his trial there. Rufino is downplaying the significance of a match against Brazil and staying rational, noting that "they're just another opponent". He admitted that "perhaps players are more fired-up to play in this fixture because of the history, but at the end of the day it's a semi-final and we'd want to win it regardless of who we were facing."
Though Panama exited the tournament, one player stood out and it is pretty hard to miss Jair Ogilvie, with his baby-face looks, prominent cheekbones, slim build, and very short stature. In fact, the Panamanian is the shortest of the 100 players participating in the Men's Futsal Tournament at the 2018 Youth Olympic in Buenos Aires. Small in stature he may well be, but his talent is nothing short of colossal.
At 1.42m (4'6) and just 45kg, it has been impressive watching him go up against the Slovakian and Iraqi defenders, some of whom tower over him by 40cm. Impressive, that is, to everyone but him.
"I don't believe you have to be a certain build to go up against another player. Instead, you just need courage, spirit, and strength. You don't need to have a set physique to be a good footballer," he told FIFA.com with a degree of self-assurance that is contagious.
Unsurprisingly, Ogilvie possesses all three of the aforementioned traits. He has admirable ball control and a gift for slipping past defenders. One moment he is there, the next he is gone. You can even find him as the last defender, marking an opposition pivot who is built like a tank. One on one, he more than holds his own, using both his body and that of his rival to maximum effect.
Video highlights provided by Futsal World
In the women sections, the women's matches have enjoyed regular larger attendance that the men's with an average crowd of just under 3,000 for most of the matches. Argentina didn't have a women's team competing so both groups finished with Spain and Portugal topping both groups C and D, undefeated with Bolivia and Japan in second place. The semi-finals will see Spain facing Japan and Portugal competing against Bolivia. Japan captain Rinka Yokoyama speaking with has praised the selflessness of her teammates as they bid for gold in the Youth Olympics girls futsal tournament. The Asian team defeated the Dominican Republic 6-2 on Thursday and can finish top of Group D if they overcome Portugal in their last group match on Saturday. Such a result would almost certainly spare Japan the prospect of a semi-final clash against Spain, who look certain to claim the top spot in Group C.
"My team's strength is ball recovery and teamwork," Yokoyama said. "We value what we can do together much more than what we do on an individual level.
"We know that the game against Portugal is going to be difficult, so we are going to prepare for it mentally. We are very happy with what we have achieved so far."
Japan earned a Youth Olympics berth with a silver medal at the senior Asian women's futsal championship. The country also clinched third place in futsal at the Asian U-16 championships last year. Maria Cristina Galvez, captain, and star of the Bolivian women's futsal team said on Saturday that the team will try to make the country proud at the Youth Olympics. Having scored 13 goals in four matches, the 18-year-old Galvez dazzles everyone with her moves and is now dreaming big at the Games, where they will contest against either Portugal or Japan in the women's futsal semifinals.
"I am very excited because it's something that we weren't expecting. But we came here to represent our country which motivates us to win," Galvez said.
"It is very exciting to receive ovations from the public and to hear people from other countries chanting your name. We are pushing Bolivian futsal forward and we are showing that there is talent in our country. And we'll keep on fighting to move forward.
"It won't be easy, but we'll give our very best. We do not have a preferred rival for the semifinals because either of them will be very tough," Galvez said.
You can see Maria's fantastic skills in this video below provided by Futsal World.
While the Youth Olympics take place in Argentina, Senegal's capital Dakar has been selected by the IOC as the host for the 2022 Youth Summer Olympic Games. The event, which is scheduled to take place in four years' time, will be the first IOC event to be held in Africa.
The nation's President Macky Sall could not hide his joy on social media, declaring it a "historic decision".
If you like the information provided, you can read more articles about international futsal by going to the top bar navigation or click here
If you like this article and would like to keep updated on Futsal news, developments, etc then please submit your email below in the Newsletter section or by clicking on the Subscribe to Futsal Focus option on the header.
Follow Futsal Focus by clicking on Facebook, Twitter or Instagram or on the social media buttons on the right sidebar.