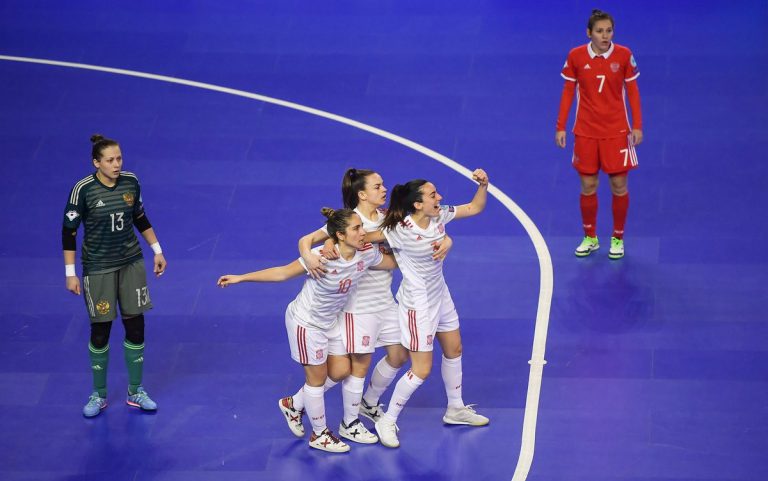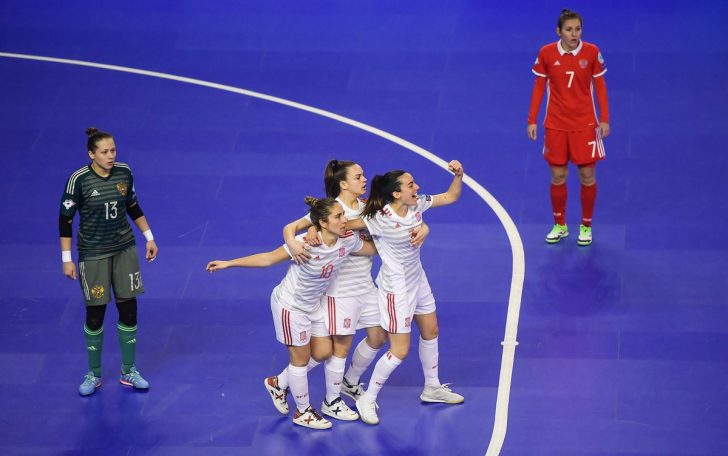 Estimated reading time:2 minutes, 55 seconds
The four UEFA Women's Futsal EURO 2023 finalists will be decided by the main round from Wednesday to Sunday.
The top 11 ranked nations begin in the EURO main round; the other five slots were decided in May's preliminary round, with Belgium, Bosnia and Herzegovina, the Netherlands, Slovakia, and Slovenia advancing. The four main round winners will progress to the 2023 finals next March. The current holders of the competition are Spain who defeated Portugal in the final on penalties after a 3-3 draw during normal time.
The EURO main groups are:
Group 1 (19–22 October): Spain (holders), Finland (hosts), Sweden, Belgium
Group 2 (19–22 October): Ukraine, Poland (hosts*), Croatia, Netherlands
Group 3 (20–23 October): Portugal (hosts), Italy, Belarus, Slovenia
Group 4** (19–22 October): Hungary, Czechia (hosts), Slovakia, Bosnia & Herzegovina
On Saturday, Spain was tested in their second friendly match against Portugal, a preparatory game ahead of their European Championship group qualifiers in Finland. It was not just any match, however,  for the women's team, this 0-2 victory against the Portuguese served to celebrate their 150th match.
26 years, 10 months, and 21 days have passed since November 25, 1995, under the direction of Javier Lozano, Spain opened its account in the imperial Toledo with a 7-2 victory against Australia. Lozano led one more game before handing over the baton to José Venancio López (27 games), Arsenio Pascual (38), Alicia Morell (41), and Claudia Pons (42).
The balance of these 150 matches is 115 wins, 20 draws, and only 15 losses, with 712 goals and 190 against. Ana Luján, with 118 gold medals, is the player who has worn the national team shirt the most times, followed by Isa García and Peque (86), Ampi (81), Amelia Romero (72), and Vanessa Barberá and Vane Sotelo (64) . . Precisely, Vane Sotel o (68 goals) is the top scorer with 68 goals, followed by Peque and Ampi, with 40, and Ana Luján, with 37.
Claudia Pons, meanwhile, became the Spanish coach who has led the team the most times: 42 games, which she has reached by achieving 30 wins, four draws, and eight losses. Claudia, who wore the Spain shirt 22 times, scoring four goals, thus assessed the historic moment for the National Team: "It's one more fact. We all want the same thing, the important thing is that more players continue to come and more matches can be played, I am very grateful to the RFEF and Luis Rubiales for their trust. Let's see if we can continue to achieve success".
The complete list of players who will compete in Finland: Marta (Futsi Atlético Navalcarnero) and Silvia (Ence Marín Futsal) as goalkeepers. Closures: Noelia and Mayte (STV Roldán) and Laura Córdoba (Futsi Atlético Navalcarnero), closures. Wings: Ana Luján and María Sanz (Futsi Atlético Navalcarnero), Irene and Peque (Pescados Rubén Burela), Luci (Poio Pescamar) and Ale de Paz (Ence Marin Futsal) and pivots: Irene and Vanessa Sotelo (Futsi Atlético Navalcarnero) and Dany(Rubén Burela Fish).
Futsal Focus
You can read more articles about international futsal by going to the top navigation bar or by clicking here
If you like this article and would like to keep updated on Futsal news, developments, etc then you can now follow Futsal Focus via Google News by following our page which will send you an alert as soon as we publish an article so please click here and follow us on Google.
You can also keep updated on Futsal news, developments, etc then please submit your email below in the Subscribe to Futsal Focus option.
Follow Futsal Focus by clicking on Facebook, Twitter, or Instagram or on the social media buttons on the website.