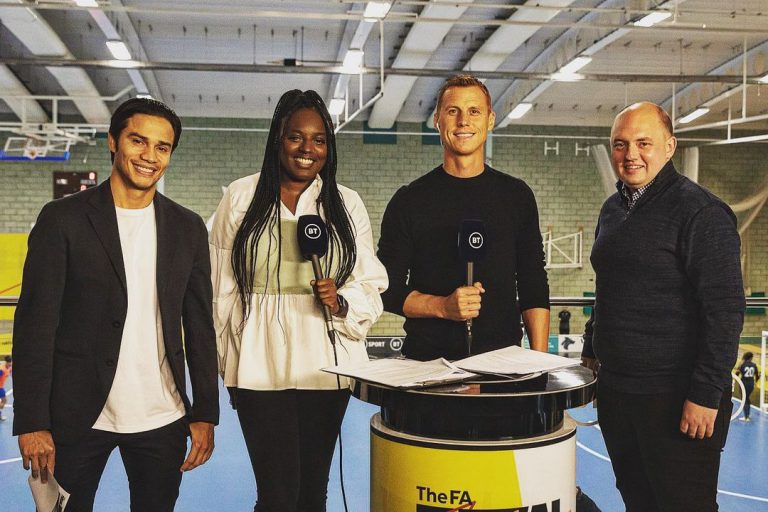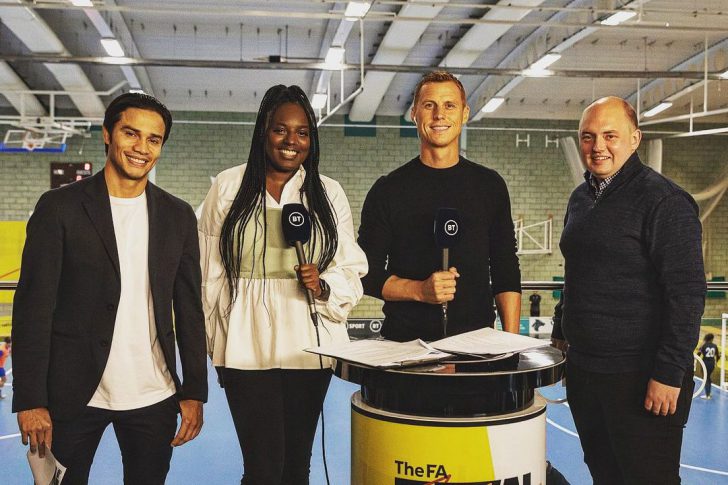 Estimated reading time:7 minutes, 15 seconds
60k+ viewing audience reached per day for the National Futsal Series in England
The National Futsal Series, and the Women's Super Series kicked off their first weekend on BT Sport. The League's Chair, Paul Szumilewicz tweeted:
"The numbers don't lie: 60k+ viewing audience reach per day for @FA_NFS on our first weekend live on BT Sport … more to come I reckon!
Seeing as the league and BT Sport are broadcasting to a mainly novice audience in the U.K, the numbers are impressive. Of course, questions come to mind such as how long did they stay tuned on, however, in terms of awareness, this is a wonderful national scale step. The agreement will see 6 more selected weekends over the course of the season being broadcast to show the highest level of English club futsal on the UK wide sport's channel, and all applauds to the National Futsal Series for pulling this deal off with BT Sport. It has come under some criticism, one being timing, Kevin Bryant felt the women's game as a sellable product is not ready yet for national tv, he questioned their standard, arguing that it wasn't good enough. If you don't know who Kevin is, in 2019, he was recognised by Sheffield FC for his 20 year contribution to English futsal.
Related article: Sheffield FC present Kevin Bryant with a plaque as recognition for 20 years involvement in Futsal
Now, that the National Futsal Series is driving futsal forward at the domestic level (A development some would argue is due to the creation of LNFS England, and the National Futsal Series feeling their place as the pinnacle of the sport was being threatened). English futsal fans will be disappointed that the FA hasn't followed this development by relaunching their national futsal team. However, for this article, I would like to argue that, for the time being, for this market, the absence of a national futsal team, could actually be a good thing for English futsal. I say this because of were the clubs are in their development of their own fan base, and clubs still trying to establish what exactly is the hook they will use to recruit players, as many clubs still believe that England's withdrawal from the international stage has damaged their own development goals, and the attractiveness of the sport. In the early days of football, though there was organised international games, there was not a huge emphasis on international football. This was the same for European wide club competitions, some where organised, but they too were not a consistent part of the football calendar. The first official league match in England took place in 1888, the first ever World Cup match was in the 1930s and the first ever European cup match was in 1956. Therefore, for the first 50 years or so of English football, the emphasis was on the domestic clubs, their fans, and fan rivalries. These clubs built a love that lasts to this day. Club football competitions consistently outperform international matches in terms of their audiences. What you don't want in the early stages of development is an emphasises on your national team, and a lack of support for the domestic clubs. Some sports experience this, and their clubs have found it difficult to attract the same interest.
I think it is beneficial that the emphasis is now on the league, the clubs, the players, and the coaches. The clubs need to take advantage of this opportunity created by their league. For so long, clubs in England were frustrated with their national league, but the league has stepped up and delivered. Now the clubs have to find a way to do the same, to attract new players to the sport, and to develop their own audience/ fanbase. However, positive news is that we are starting to see clubs promoting this, for example, Wessex Futsal Club (Founded by former members of Salisbury Futsal Club) were very successful in developing their audience under the Salisbury name, and recently their new club started communicating via their social media channels to their followers about bringing back their fans to support their new club:
BT Sport games are broadcasted from a central venue, so it will be difficult to get fans to travel. However, if the futsal clubs can bring a needed audience atmosphere to the BT Sport coverage, it would help to attract novices to the sport, and keep them watching the matches when they tune in. As I type this now, I think back to the Middlesbrough Futsal Club Ultras who use to bang their drums and build an atmosphere. The club unfortunately, doesn't exist anymore but if existing clubs could follow in the footsteps of Middlesbrough and Salisbury, this would be very beneficial to the game's entertainment value at the venues, and on BT Sport.
In relation to player recruitment, previously, clubs would attract talented players by either paying them or selling them the possibility of pulling on the Three Lions jersey by saying, 'Come play for us and if you are good enough, you could potentially play for England', the incentive/ hook/ emphasis' for a number of talented players was on playing for their national team rather than their club. I have never agreed with amateur clubs paying players, and for some players their club became that potential stepping stone to the national team, and not their reason for playing the sport. When the national team was removed, then some players felt their incentive to play was gone as well. However, this was before the BT Sport development occurred. Now, the incentive must be on playing for your club, representing your community, the opportunity to be seen nationally on BT Sport, and if you are good enough potentially following in the footsteps of players like Jay Corran, Andy Reading, Robert Ursell, Doug Reed, and Liam Palfreeman who have played professional futsal abroad. Furthermore, if you win the league, you can play in the UEFA Futsal Champions League. Down the line, it would be great to see the England national futsal team come back, however, when it does come back, hopefully, the clubs will have developed their own fanbases as this too would aid the England national team to try and fill an indoor arena like the London Copperbox. An example of what I am talking about is Germany, they had years of club futsal and the DFB Futsal Cup Final attracted a lot of fans, even when their league at that time was regional and not national as it is today. Therefore, when the German team was eventually launched, their first official international friendly match against England, was sold out. It was no surprise over 2,000 fans packed into the arena, and the match recorded "higher viewership ratings" than the German Hockey League (DEL) on the German sports network Sport1 over the weekend, according to Alexander Krei of DWDL. The game between the Iserlohn Roosters and Dusseldorf EG attracted 170,000 viewers in the target demographic 14-49 whereas 400,000 watched Germany take on England live on Sport1.
Related article: Germany's match against England receives high viewership ratings for first match
Commentary
It was great to see BT Sport using a former England futsal national team captain and now retired player Raoni Medina (Far left – main picture), along with the Chairman of Derby Futsal, Matt Hardy (Far right) as part of their live commentary team. The stars and influencers of English futsal should be the face of their sport.
Futsal Focus supports the Donate4Dáithí campaign
To follow the Donate4Dáithí campaign, you can visit their website here: www.donate4daithi.org  or on Facebook at: https://www.facebook.com/Donate4Daithi you can also donate money to their campaign at: https://www.justgiving.com/crowdfunding/donate4daithi
You can learn more about the Donate4Dáithí campaign by going to our article here
You can read more articles about domestic futsal by going to the top navigation bar or click here
If you like this article and would like to keep updated on Futsal news, developments, etc then you can now follow Futsal Focus via Google News by following our page which will send you an alert as soon as we publish an article so please click here and follow us on Google.
You can also keep updated on Futsal news, developments, etc then please submit your email below in the Subscribe to Futsal Focus option.
Follow Futsal Focus by clicking on Facebook, Twitter, or Instagram or on the social media buttons on the website.