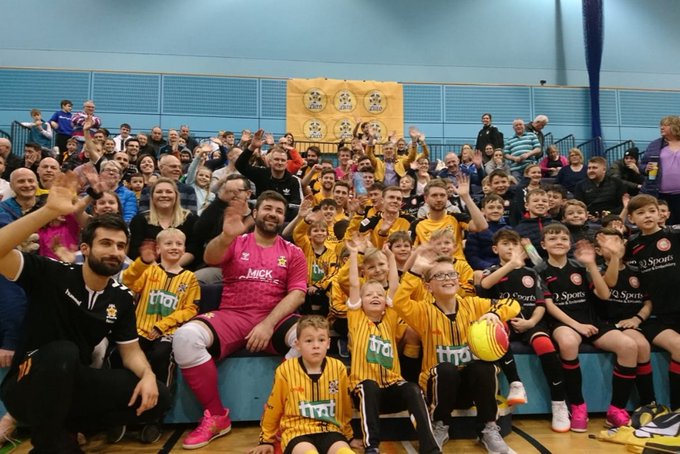 Estimated reading time:3 minutes, 29 seconds
Earlier this year, Cambridge made the announcement that their futsal section which had originally been independent of Cambridge United Football Club (CUFC) was separating from the football club. CUFC decided that futsal was no longer in their plans for the near future and the futsal section was now following their own path again. The club released the following statement at the time:
"In December 2019, the committee of Cambridge United Football Club informed us that they no longer saw futsal as being a part of their plans beyond the 2019/20 season.
Initially, this came as a blow for everyone involved with futsal in Cambridge, especially as we had become one of the most recognised and respected English futsal clubs with a proud record of achievements. A club that had already progressed the development of a number of young English players to a level where they were called to partake in various England national teams programs. We would like to take this opportunity to thank everybody at Cambridge United FC and Cambridge United Community Trust who have supported us over the last 5 seasons, especially Phil Mullen who has enabled us to meet some truly inspiring people through our links with CUCT. And, of course, former CEO Jez George and Dave Doggett whose initial support was invaluable to our success.
Our experienced group of volunteers have now joined forces with the youth section at Cambridge Futsal Club to form an independent, sustainable and inclusive club focussed on futsal as a sport in its own right and to promote futsal to the wider community in and around Cambridge. Therefore, we are now delighted to announce the re-formation of Cambridge Futsal Club.
Our goal is simple, to get as many people playing and supporting futsal in and around Cambridge as possible. Our successful men's team will continue to play at national level, and we look forward to welcoming our brilliantly enthusiastic and ever-increasing supporters back to the University Sports Centre once our new season begins. The youth section will become the Cambridge Futsal Club Academy and will continue to offer futsal to young players across the region, providing educational and fun sessions enabling them to fulfil their potential but now with the added incentive to play futsal at the highest level by representing their own senior teams and possible progression to the England national teams program.
The social futsal sessions for men and women will continue, providing access to the game to players of all abilities and we hope to be able to form an elite level women's futsal team in the future. Over the last seven years, a foundation for futsal has been soundly built in Cambridge, and now more than ever before we are positioned to bring this most exciting of sports to all the people of the UK's most vibrant city."
Looking to the new season, the impact of COVID-19 pandemic has taken its toll as it has on every sport but for the club to finish the season they need to raise at least £5,000, the club tweeted the following tweet:
This year, with the Covid-19 Pandemic we have seen our society take a big financial hit and our sponsors, despite their loyalty and unshakable support, cannot alone cover all the costs of our season. https://t.co/1ks8g25iiq

— Cambridge Futsal Club (@CamFutsalClub) July 30, 2020
English futsal is on the rise and it would be a shame to see any club struggle to take part, compete, train etc, therefore, if you can support Cambridge Futsal Club to do the best they can this season in the FA National Futsal Series then click on the tweet and you will see where you can donate. We wish the club the best of luck for the season ahead.
If you like the information provided, you can read more articles about domestic futsal by going to the top navigation bar or click here
If you like this article and would like to keep updated on Futsal news, developments, etc then please submit your email below in the Subscribe to Futsal Focus option.
Follow Futsal Focus by clicking on Facebook, Twitter, or Instagram or on the social media buttons on the website.