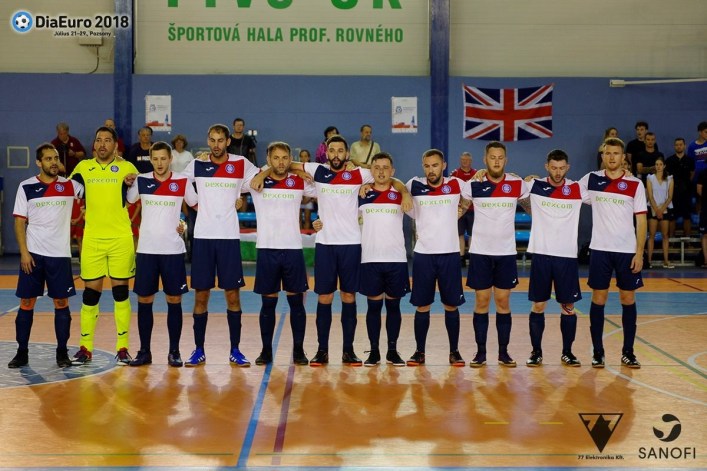 Estimated reading time:1 minute, 25 seconds
This article looks back at a year ago this month when England sent its first type 1 diabetes team to Ukraine European Futsal Championship. Chris bright who founded the team posted:
"A project which has done so much to dispel the stigma of diabetes and raise awareness of our condition. A year ago, we featured on BBC Midlands as we completed our final training camp before the UK GB all type 1 diabetic Futsal Squad flew out to Ukraine for the European Futsal Championships (DiaEuro). Our first ever TV appearance and one I'll never forget. Happier memories of 2019 and gives me fuel for the motivation to make this happen all over again in 2021 and beyond!!"
UK DiaEuro Team
In 2018, the UK's first-ever all Diabetic Futsal team was created to compete in the European Futsal Championships for people with Diabetes ( DiaEuro, www.diaeuro.org for more information ).
The tournament is open to adults aged 18 or older that can prove they live with Diabetes and it is a wonderful showcase for what people can achieve with the condition as well as a great platform to raise awareness of it.
If you suffer from diabetes and you  would like more information, please visit the UK DiaEuro Team website via this link: https://thediabetesfootballcommunity.com/diaeuro/
If you like the information provided, you can read more articles about grassroots futsal by going to the top navigation bar or click here
If you like this article and would like to keep updated on Futsal news, developments, etc then please submit your email below in the Subscribe to Futsal Focus option.
Follow Futsal Focus by clicking on Facebook, Twitter, or Instagram or on the social media buttons on the website.