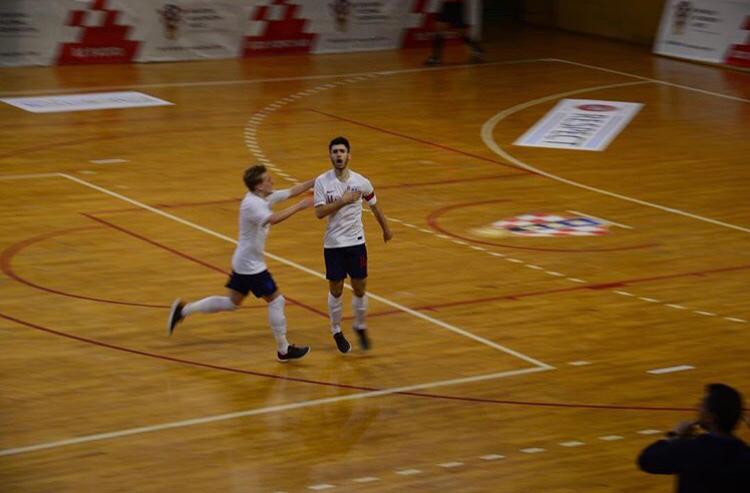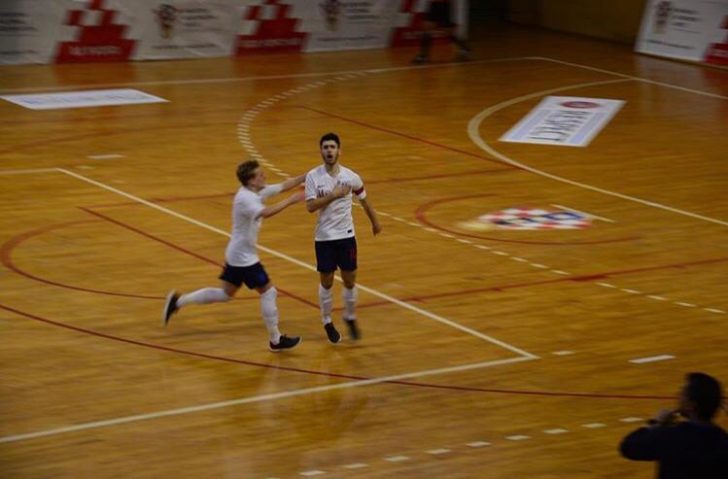 Estimated reading time:12 minutes, 16 seconds
Jared Rand, University of Nottingham Futsal Club and England Futsal U19 captain plus Jordan Deer, Cheshire Futsal Club and England Futsal U19 international have enjoyed an incredible year. The players made history, scoring both goals that defeated Italy in the UEFA U19 Futsal EURO main round qualifiers, making history by providing their country with their biggest victory on the international futsal stage.
To attract more young people to futsal the chance to shine on the court is imperative, Jared and Jordan are examples of the opportunities futsal can provide.
On the domestic front, Jared has enjoyed a fantastic season with the University of Nottingham Futsal Club who are having their most successful season whilst Jordan has starred for Cheshire Futsal Club who currently sit top of the FA National Futsal League North. However, on the international stage, they made history for England when they scored both goals that defeated Italy at the UEFA Futsal U19 EURO main round qualifiers. This victory is the biggest for England on any stage. Futsal Focus contacted the players to find out more about how they got involved in Futsal, playing at the University, the FA National Futsal League and for England on the international stage.
Futsal Focus: Jared and Jordan, firstly congratulations on a great season for both of you. To start this interview, can you tell us how you got involved in Futsal? And, what were your first impressions of the sport?
Jordan: At the age of 15, I started playing futsal as a kick about with friends in a Wednesday night league at Tranmere Rovers FC Futsal Hub. I used this time to socialize while playing against some local lads from my area. I didn't think much about playing futsal competitively as I was focused on football. But, Tranmere Rovers were holding trials as they had a new coach called Damon Shaw so I looked into the sport and watched players like Ricardinho and Falcao. Watching players of that caliber was truly mesmerizing but I was playing futsal every week and meeting new people such as Geoff Hughes and Steve Brand; who recommended me to attend the trials.
Jared: I was first introduced to futsal through my football coach who entered us into a regional futsal tournament called Futsal Fives. My first impression was that it was a fast-paced game of 5 a side with a deeper tactical side to it, and I enjoyed it a lot. Soon after, I applied for the tryouts for the European Maccabi Games where I made the team and trained all year with the under 16 futsal team who competed at the European Maccabi Games in Berlin where we won the gold medal.
Futsal Focus: What was your development path for club and country?
Jordan:  My development started at Tranmere Rovers in the National League North. I was only 16, not getting much game time, I was very frustrated and wanted to prove myself but in retrospect, I wasn't quite ready yet as I was younger and inexperienced but I listened and learned. The season after that, at the age of 17, I went from little game time to captain the team in the Super League. I was playing against experienced players such as England Internationals Stuart Cook and Liam Palfreeman which taught me the technical and tactical needs to win against good players. Now, I am playing for Cheshire Futsal Club, this experience has helped me the most with my development as I think I have come on physically and mentally.
At the age of 16, my development for England started at Loughborough University where I went to my first England Camp. It was very difficult at the start but players like Jared and Olly Whaley helped me as I was very nervous and overwhelmed from the occasion. The path to where I am now has had its ups and downs, for example, not getting into the squad who went to compete in France in a friendly tournament. I had to prove to people such as Pete Vallance our head coach that I was trustworthy and good enough to compete in the friendlies and also in the UEFA Futsal U19 EURO main round qualifiers.
Jared: I knew Jon Kurrant the founder of ProFutsal London from the European Maccabi Games in Berlin where he asked me to join their academy. In addition to this, I was keen to develop further so I contacted Escolla Futsal and Rodrigo Sousa, and Gilberto Damiano welcomed me. Moreover, in 2015, I was 15 years old and experienced my first invitation to an England Centre of Excellence camp for the south region. In 2016, I had my first competitive season with ProFutsal London in the FA National Futsal League Division One South, where I improved a lot and had success on court finishing the season the club's top goal scorer.
Throughout this season, I continued to be invited to the Centre of Excellence where I began to feel more established as a player and was on the pathway for my country. I wanted to take my game to the next level as I always felt that if you train with better players then you will become a better player. Therefore, this led me to join Reading Escolla Futsal Club where Rodrigo Sousa was the head coach. He encouraged me to join and believed in my ability to help the team go on a title run. Personally, the 2017/18 season was a turning point for me. Training twice a week for two hours each session, surrounded by quality players from Spain, determined young English players and a great coach in Rodrigo was the perfect environment to develop. We had a historic season, winning the league and therefore being entered into the UEFA Futsal Champions League!
In this season, I also went to my first England Futsal U19 camp which soon saw me named the captain of the team that played in its first fixtures against Holland in March 2018.  After that experience, I committed to joining the University of Nottingham with Head Coach March Forrest. Our international fixtures started piling up, we came second in the Montaigu Futsal Cup in France, beating our hosts 3-2 but then losing to Spain 12-0 which was a big lesson for us. We then had a doubleheader in Portugal where we fought hard in Game 1 to keep it close only to lose 3-2 which was upsetting as we knew we could've got a better result. Returning to England, I was training and preparing hard with the University of Nottingham and in the gym almost every day for the UEFA U19s Euros where we created history and it was an honour to lead the boys out!
Futsal Focus: Please tell us about your club season so far and what have you learned from it to continue your development?
Jordan: The season for Cheshire has had its up and downs because some games we turned up with only 7 players and not having a 5 minute warm up but we still came out on top because we work hard for each other and grind out wins by being resilient. But, when we have had our strongest squad we play good futsal and look like we can beat anyone. The players I have learned the most from are Naim Arsan, Craig Pritchard and Jordan Davies who are currently playing for the Wales National Futsal Senior team. These players have helped me to build on the tactical and technical knowledge that comes with Futsal, you are always learning.
Jared: The university environment is new to me as I am in my first year so balancing British Universities & College Sport fixtures and FA National Futsal League fixtures has been a challenge. However, the amount of fixtures and regular training has definitely helped me to develop. I learned a lot from the Varsity Fixture against our rivals Nottingham Trent University. In this match, we were down 4-1 at half-time and with all the fans there I didn't keep my head at all in the first half. I calmed down at half-time and helped lead the boys to a historic comeback, winning 6-4! So, this season has taught me to always believe in yourself and never give up!
Futsal Focus: What was it like to play for the England Futsal U19 team at the UEFA Futsal U19 Euro main round qualifiers and what did you come away from the experience feeling?
Jordan: Playing in my first competitive tournament for England at the UEFA Futsal U19 Euro main round qualifiers was surreal with all the emotions going through my head. But, I had to take it all in and be fearless. The attitude of the squad was very professional, on and off the court. We had difficulties in the preparation of the first game against Italy, our first choice keeper got injured with a fractured wrist and then during the match, our second choice also got injured but, we didn't let this affect us.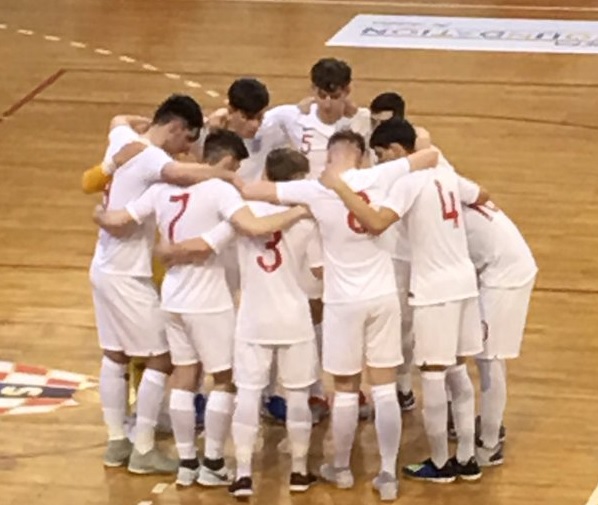 Defensively throughout we were solid as we left teams frustrated but, offensively we could have been better as we created chances throughout the three games but we only scored two goals. However, we were playing against some of the best in our age group, who have already experienced what it is like to be playing first team futsal in leagues developed further than our own and with a longer futsal culture. We went into the tournament as underdogs and came out of the tournament with respect from the other countries like Italy, Croatia, and Slovakia. I think it was best that we went in as the underdogs as the pressure was on the other teams. From this major tournament, I came away wanting more whether it's playing for the U23's or playing for the senior I just want to see the progression. And, hopefully, this experience has helped me do that.
Firstly, scoring for England but then going on to win the game was amazing as Italy went fly keeper and scored an equalizer but, the captain, stepped up and rolled one home with seconds to go as Italy was looking for the win by using the fly keeper. The feeling of scoring my first goal for England in a major tournament was the best feeling and hopefully, there will be more England memories to come in the future.
Jared: Playing at the UEFA Futsal U19 Euro main round for England is something I will never forget. I know how hard all of the boys worked and it's way biggest than just the pictures in the England shirt, we all worked so hard, especially in the months leading up to it. People were in the gym everyday training to be the best version of themselves. I took away many things from the experience, but mainly for me, it was the professionalism of all the other teams and players. For example, Italy taking the defeat to us on the first game against so to speak the lowest ranked team is something you cannot afford to do in international tournaments. However, they remained professional throughout and played the next two games at an extremely high level and beat Croatia as a result!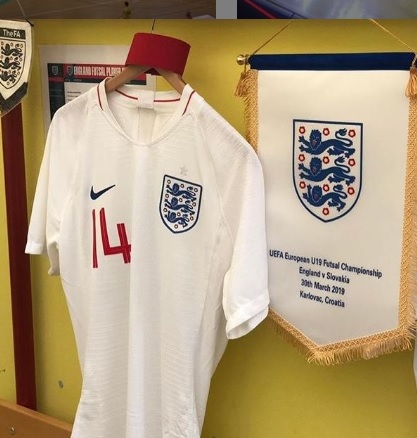 On a personal note, I was very proud to wear the England shirt and the armband as my teammates were incredible to play with and be with during the trip. For example, our number one keeper Jack Walsh got injured in the warm-up for the Italy game, which was inconvenient but no problem as James Black is experienced and always steps up! But ten minutes into an intense first game of the Euros James Black gets stretchered off the court…meaning Jack Walsh with a fractured wrist had to play the game effectively with one arm. The whole team dealt with that adversity incredibly well and put up a great fight against the Italians. Then Jordan scored a great goal to make it 1-0 and a sudden belief struck throughout the team. Then with around a minute left we conceded against their fly keeper which was an awful feeling being so close to the win, but that's why we love this game.
As soon as we conceded our head coach made the changes and I was one of the four brought on with fifty seconds left to go. I knew I had to be vocal and motivate the boys through a tough last minute as the Italians continued to use the fly keeper. A moment I will never forget occurred as I'm rotating between a diamond and a box defence system depending on Italy's movement…their player misplaced a pass and it fell straight to me, I controlled the ball and saw the open net…I just passed it powerfully towards the goal. The arena went silent and I saw the trajectory of the ball was good and I just looked at the crowd pointing to my veins as this was the celebration Jack and I discussed I should do if I score, it means "ice in your veins" for clutch moments. The England section went crazy, a feeling I will never forget and something that motivates me to keep improving to become the best player I can be.
Futsal Focus: What are your goals, do you hope to break into the senior England team and play Futsal professionally?
Jordan: My obvious goals are to break into the senior team and to play with and against the best in the world. But, I would like to follow former England Futsal International Max Kilman's footsteps as I think he is a role model because he is now playing for Wolverhampton Wanderers FC U23 who play in the Premier League. But, if there was an opportunity to go professional in a different country for futsal I would have to look into it in depth.
Jared: I definitely hope to break into the senior team and I will keep training harder and harder as I know how competitive it is. After university, I will definitely look to play futsal professionally abroad, as I want to keep improving and reaching the next level.
You can watch the England U19s v Croatia match below:
If you like the information provided, you can read more articles about international futsal by going to the top navigation bar or click here
If you like this article and would like to keep updated on Futsal news, developments, etc then please submit your email below in the Newsletter section or by clicking on the Subscribe to Futsal Focus option on the header.
Follow Futsal Focus by clicking on Facebook, Twitter or Instagram or on the social media buttons on the right sidebar.