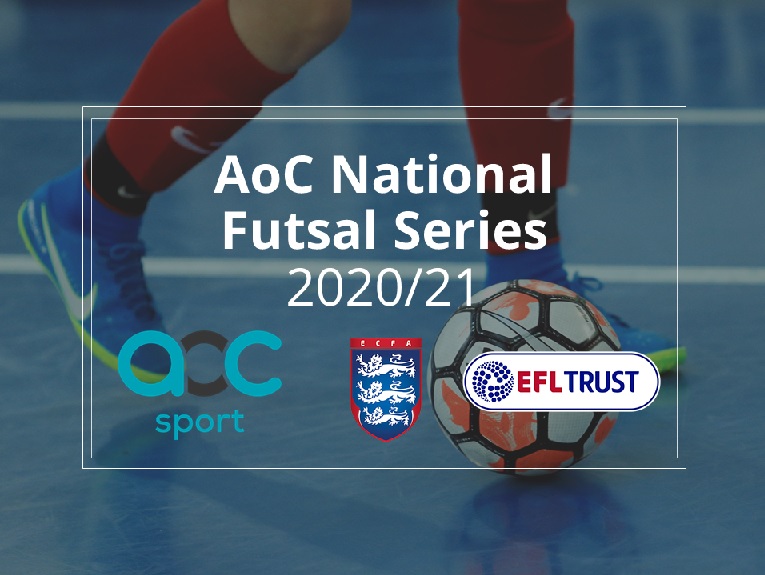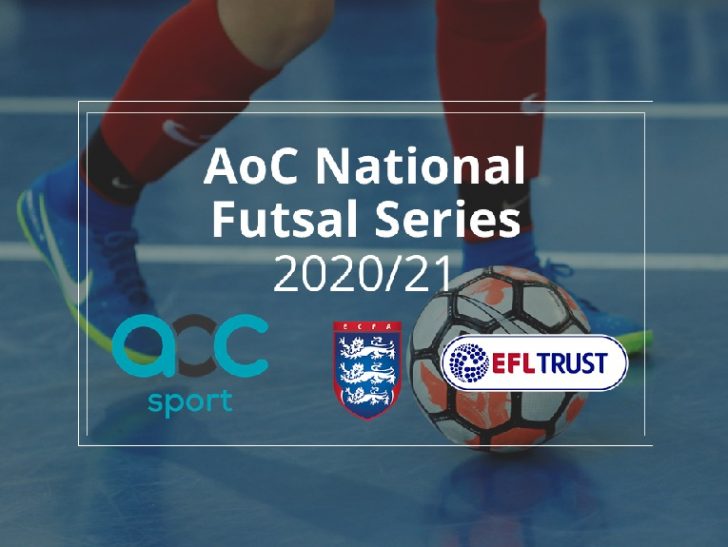 Estimated reading time:2 minutes, 46 seconds
AoC National Futsal Series created solely for post-16 education institutions
AoC Sport has created the AoC National Futsal Series (NFS) for 2020/21, which is the only post-16 futsal league open to education institutions.
As the FA's only futsal provider for Further Education, The National Futsal Series aligns with the FA's National Futsal Series and is underpinned by AoC Sport's Regional Futsal League offer.
The competition is open to any post-16 education institution and English Football League Trust Club, and has been set up in consultation with AoC Sport members and EFL Trust Club community organisations.
The league structure was developed from the National Futsal League, which ran for the first time in 2019/20, but unfortunately could not be completed due to the coronavirus outbreak.
The competition will run throughout the academic year (see slide 2 on the presentation below for more details), with the finals taking place in May.
For the 2020/21 it has been rebranded the AoC National Futsal Series and will consist of EFL Trust education futsal clubs as well as college teams and other further education providers.
Futsal Focus spoke with AoC Sports National Football Development Manager Alice Kempski about their league:
It is a National Futsal Series but broken into regional leagues, does the league have representation across England? So far we have received 20 entries for the men's league, and 8 for the women's, and they are spread across England. We will also be operating regional futsal leagues, with one league commencing before Christmas, and 15 men's and 10 women's leagues commencing after Christmas. These leagues will be played across 4 dates, and on each date, multiple 10-20 minute matches will be played. Over 50 men's and 50 women's teams have entered into the regional leagues, again across different further education providers including colleges, schools with a sixth form, and EFL trust programmes.
What is the purpose of the league? AoC Sport's vision is for every student to participate regularly in sport or physical activity. The futsal pathway provides opportunities for 'purist' futsal via the National Futsal Series played in a traditional futsal format through to opportunities to try the sport in a safe and inclusive way in a localised tournament style league.
What are the benefits for participants and coaches? Opportunity to compete in the only further education league, which is recognised by The FA as a part of the player pathway which will produce players ready to compete in the FA NFS and England youth and senior teams. Opportunity to qualify for the semi-finals (venue TBC) and to be crowned National Futsal Series champions.
What is the ultimate development goal for the league?
Be the programme of choice for students in further education wishing to play futsal, complement and support The FA's "Fast Forward with Futsal" strategy, growing the player base, nurturing talent, and developing a futsal workforce which includes referees and coaches.
If you like the information provided, you can read more articles about grassroots and coaching futsal by going to the top navigation bar or click here
If you like this article and would like to keep updated on Futsal news, developments, etc then please submit your email below in the Subscribe to Futsal Focus option.
Follow Futsal Focus by clicking on Facebook, Twitter or Instagram or on the social media buttons on the website.