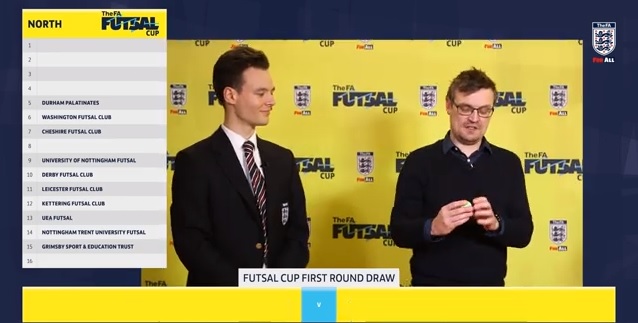 Estimated reading time:2 minutes, 59 seconds
The FA Futsal Cup is back for the 2019-20 season, with the first round draw being made at St. George's Park on Monday 13 January 2020.
Teams at tier three and below on our National Futsal Pathway have been competing in local qualifying rounds run by County FAs over the last few months and we're now at the stage where those winners join our FA National Futsal Series tier two teams in the competition.
And the first round draw for both the men's and women's competition was made at St. George's Park this week, with England Futsal head coach Mike Skubala joined by Chris Berrevoets, chair of our Youth Council and a member of our Futsal Committee.
The draw was split into a northern and southern section and ties will take place on Sunday 16 February 2020. You can watch the draw in full above, and the women's draw below.
This season's Futsal Cup sees us building on a re-structure that took place at the beginning of 2018-19 and the competition has some exciting developments this season.
Last term saw us create three separate strands of competition bringing adults, youth and schools all under one umbrella and culminating in a four-day National Finals event at St. George's Park.
That gave our young players a full matchday experience and the opportunity to play in the same event as some of our top England international players.
This year is no different, with the National Finals booked in for 2-4 May 2020, but the youth and school strands have been enhanced even further with Pokémon coming on board as an official partner for youth Futsal.
This partnership provides us with a unique opportunity to utilize the appeal of Pokémon to enhance Futsal among a young audience.
This partnership provides us with a unique opportunity to utilize the appeal of Pokémon to enhance Futsal among a young audience.
Pokémon are supporting Futsal with the provision of 1500 kit bags for schools and clubs, containing Pokémon designed Futsal balls, bibs, cones, promotional items and a handbook that provides all the essentials about getting started.
You can even have a go at five Futsal Skills challenges and see how you match up against our England internationals. With this support and the increasing number of youth Futsal competitions around the country, we hope to grow the number of young players that gain experience of the great game of Futsal.
The FA Pokémon Youth Futsal Cup is already up and running and over the past few months, County FAs have been working hard to deliver local qualifying rounds, the winners of which now progress to the regional stage where they will represent their County FA as they face winners from other counties in their region.
The competition offers opportunities for boys and girls in youth football and Futsal clubs at U10, U12, U14, and U16 level, with the school strand catering for U11, U13, and U15 boys and girls.
A second draw for the third round, where the tier 1 clubs will enter will take place once the first two rounds have been completed.
The road to St. George's Park has begun……
Source: English FA website
If you like the information provided, you can read more articles about domestic futsal by going to the top navigation bar or click here
If you like this article and would like to keep updated on Futsal news, developments, etc then please submit your email below in the Subscribe to Futsal Focus option.
Follow Futsal Focus by clicking on Facebook, Twitter or Instagram or on the social media buttons on the website.