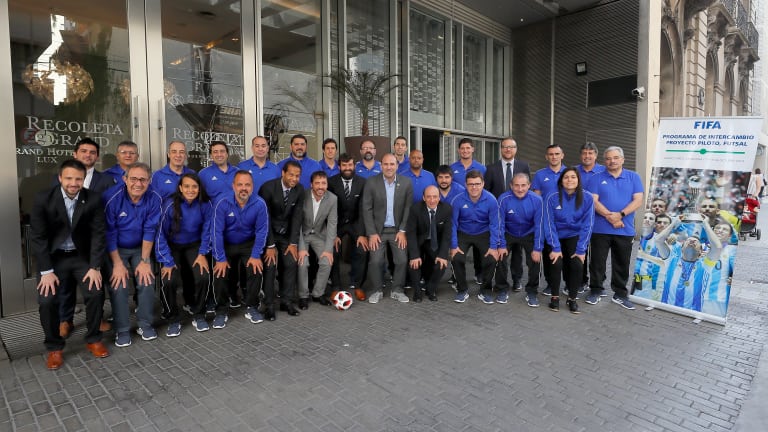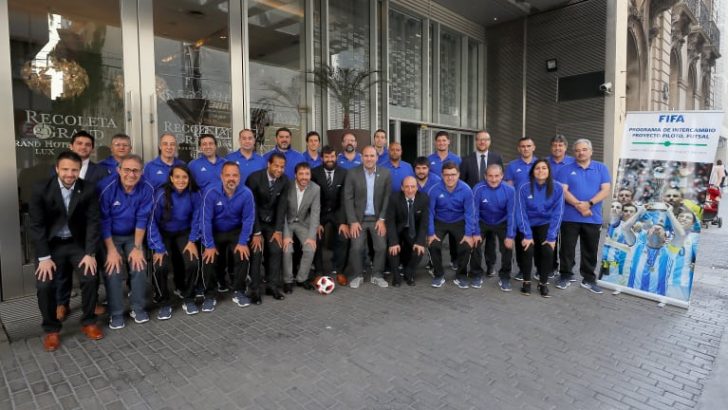 Estimated reading time:4 minutes, 6 seconds
Futsal was the focus of discussion at a workshop in Buenos Aires
28 people from 13 different member associations were in attendance
The event was part of a pilot project set to be launched in 2019
The FIFA-run Men's and Women's Youth Olympic Futsal Tournaments Buenos Aires 2018 marked an important step forward for the sport, but it also served as a framework for in-depth discussion.
Based on a FIFA initiative, which seeks to change the way in which development issues are addressed, an Exchange Programme Pilot Project workshop was held in the Argentinian capital from 17 to 19 October, coinciding with the Olympic tournament's medal matches.
"This programme is basically a workshop, at which we bring together national associations in one place and give them a topic that we regard as relevant for the region in question," said Philip Zimmermann, FIFA Manager of Grassroots and Youth Development. "We've run similar workshops on youth football in the Solomon Islands and on women's football in Thailand. In this case, the subject was futsal, and the gathering came together with the support of CONMEBOL.
"As the FIFA President conveyed in his FIFA 2.0 Vision, there is so much knowledge out there in the member associations that should be leveraged. It would be a mistake for us to say from Zurich, 'We know how to develop futsal in such-and-such a country'. This is a different path.
"We want to help them to share their examples of best practice and approaches to problems. It's a work in progress, which will be officially launched in 2019, based on feedback and lessons learned. Any way you look at it, this futsal workshop has been very positive."
Successful case study
Participating in the Buenos Aires event were 28 attendees of 13 different nationalities, from various levels and roles within their associations. The ten CONMEBOL countries were all represented.
The choice of venue was not made by chance. "An Olympic Games, with futsal as one of the key disciplines, captures the attention of the world, and can act as a catalyst for the development of futsal," explained Brent Rahim, FIFA Beach Soccer and Futsal Manager.
"There's nothing better for South Americans than seeing how such an event is organized, for men and women, by an association in their own region – one that, moreover, recently launched a national league and therefore has so much to say and share."
In fact, one of the case studies presented during the workshop pertained to the Argentinian National Futsal League (launched with the assistance of the FIFA Forward Football Development Programme), the first edition of which has been heralded as a complete success.
For Luis Castro, Development Director at the Argentinian Football Association, who presented the case study, it was "a source of pride that our league may serve as a model for the region. The challenge is for us not to rest on our laurels, but to share our experience so that futsal can grow at a regional level."
Benefit of experience
The importance of having a national league in place was emphasized during a presentation by Spaniard Javier Lozano, two-time FIFA Futsal World Cup-winning coach, member of FIFA's Technical Study Group and President of the powerful Spanish Futsal League.
The programme also featured presentations by the Costa Rican Football Federation, who talked about the development of futsal through infrastructure, by New Zealand Football, who laid out an integrated vision of futsal and football, and by Brazilian 2008 futsal world champion Paulo Cesar de Oliveira, who put on a technical session.
In addition, there was time for discussion related to other case studies and for bilateral meetings.
According to Luis Ramirez, Head of Development at the Chilean Professional Football Association, the workshop was a great success. "We're an emerging country when it comes to futsal, and after just three days, we're taking away several things that we can apply back home," he said.
"New Zealand's integrated development plan, which blends youth development in futsal and football, only to separate them later, interests us greatly, as does Costa Rica's experience of how and where they invested in infrastructure. The Argentinian presentation on how they formed leagues in each region and finished with a national tournament, as well as the Spanish guidance on the direction a league should take, were both fascinating. If this wasn't a successful workshop, then I don't know what would be!"
Source: FIFA.com
If you like the information provided, you can read more articles about international futsal by going to the top navigation bar or click here
If you like this article and would like to keep updated on Futsal news, developments etc then please submit your email below in the Newsletter section or by clicking on the Subscribe to Futsal Focus option on the header.
Follow Futsal Focus by clicking on Facebook, Twitter or Instagram or on the social media buttons on the right sidebar.