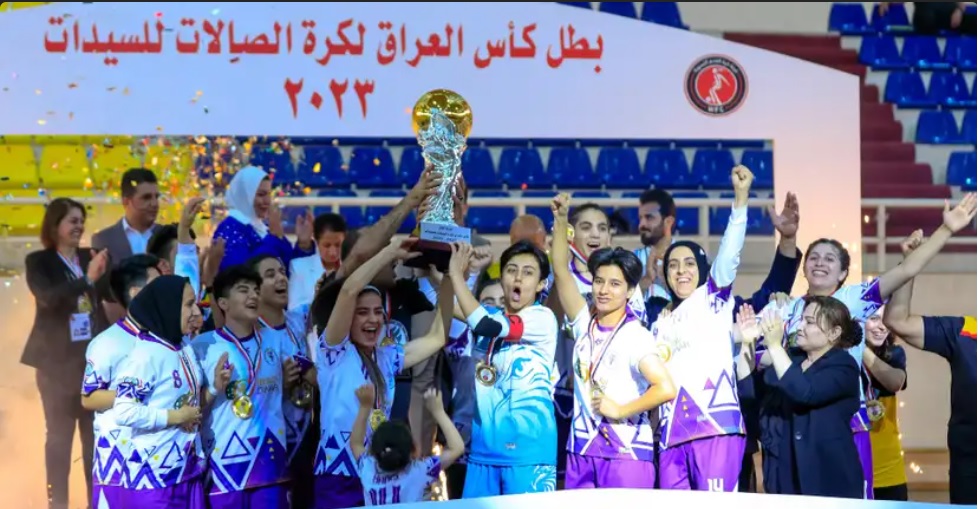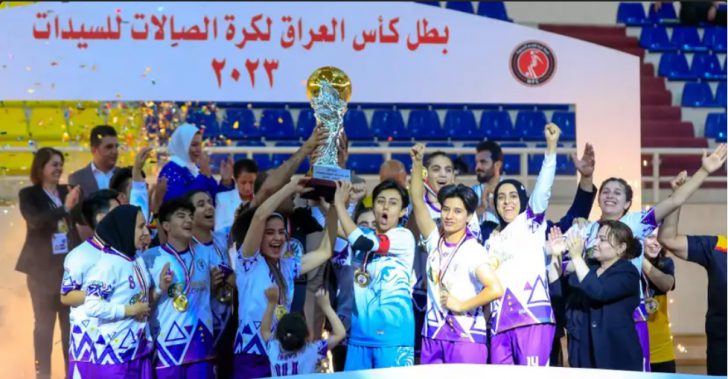 Estimated reading time:3 minutes, 26 seconds
The Iraq Women's Futsal Championship, supported by FIFA's Forward program, has helped to fan the futsal revolution in the country.
With over 300 registered female Futsal players in Iraq, the tournament witnessed an impressive turnout. Players exhibited tremendous dedication, braving long and arduous journeys of over 12 hours to participate in the event.
FIFA recognizes Iraq's immense potential in Futsal, particularly for women, and has invested in their development. Contributing $100,000 to the project, the tournament showcased the diversity of players from various regions, including Duhok, Erbil, Mosel, Baghdad, Dyala, and Diwaniyah.
The competition featured approximately ten teams, with more than 140 players displaying their skills. In a fiercely contested battle, the Erbil girls emerged as the champions, while the Air Force club secured the second position.
Dr. Rasha Talib, a member of the Executive Office of the Iraqi Football Association, emphasized the significance of women's participation in Iraqi football. She stated, "Providing opportunities for women to play is of utmost importance in Iraq. This tournament demonstrated the clubs' eagerness to invest in the further development of women's football."
Dr. Talib added, "We initiated this journey with Futsal, but our ultimate goal is to pave the way for women to transition to 11-a-side football. The IFA wholeheartedly supports FIFA in nurturing women's football, and we express our profound gratitude to our friends and colleagues at the International Football Federation. We firmly believe that Iraq holds immense potential for growth. This tournament was just the beginning; we have ambitious plans for the future."
The Iraqi Football Association, in collaboration with FIFA, envisions that these tournaments will elevate the sport's profile in the country and provide more women with opportunities to engage with and excel in football.
This is not the first time that women's futsal in Iraqi has had development success. The championship title of the West Asian Football Federation's (WAFF) prestigious women's futsal tournament was claimed by the Iraqi national futsal team, predominantly composed of Kurds. A Kurdish player emerged as the tournament's leading goal scorer.
Taking place from June 16 to June 24 in Saudi Arabia, the WAFF Women's Futsal Championship for 2022 featured a total of six participating teams.
In a thrilling final, the Iraqi team triumphed over the Saudi team, securing a 4-2 victory and ultimately clinching the tournament title.
Although the Iraqi team faced initial challenges, suffering a 1-0 loss to Bahrain in their opening match, they displayed resilience and went on to secure victories in subsequent matches en route to the final. Notably, they achieved a remarkable 12-0 win over Kuwait in the semifinals.
Impressively, nine out of the 14 players on the Iraqi squad were of Kurdish descent, and among them was the tournament's top goal scorer, Shokhan Salihi, who netted an impressive seven goals throughout the competition.
The Kurdish women played a vital role in Iraq's success, leaving an indelible mark on the final match. Salihi contributed two goals, while fellow Kurdish player Direen Mullabakar added one goal to Iraq's total of four.
This historic victory marks the first time that Iraq's women's team has been crowned champions of the Asian Cup. In the previous editions of the tournament held in 2008 and 2012, the Iranian team emerged victorious.
Picture sources: Main picture – FIFA & second picture – WAFF
Organ Donation
Futsal Focus is a supporter of Dáithí Mac Gabhann and his family's campaign to raise awareness of Organ Donation. We encourage our readers to learn more about Organ Donation: https://www.organdonation.nhs.uk/
Futsal Focus
You can read more articles about international futsal by going to the top navigation bar or by clicking here
If you like this article and would like to keep updated on Futsal news, developments, etc then you can now follow Futsal Focus via Google News by following our page which will send you an alert as soon as we publish an article so please click here and follow us on Google.
You can also keep updated on Futsal news, developments, etc then please submit your email below in the Subscribe to Futsal Focus option.