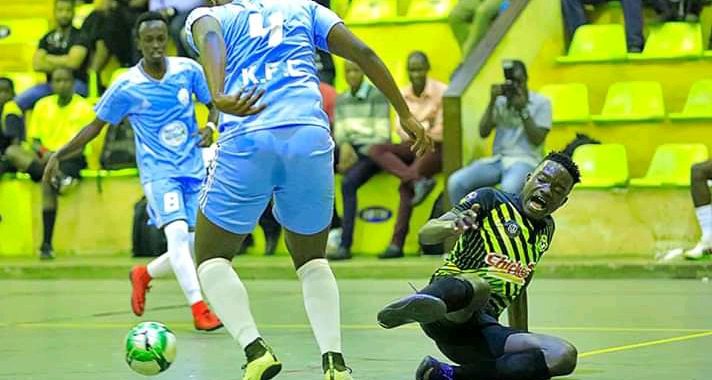 Estimated reading time:3 minutes, 7 seconds
The Coronavirus pandemic largely combated sporting events across the globe and there was no cutting the slack for Futsal in Uganda.
The 2019/2020 Futsal Super League season was postponed, major adjustments to the FAU Calendar had to made, reprioritisation was considered in preparation for a new dawn as Sports is staring at a new normal.
But the game has been preserved. FAU has effectively utilized the forcefully imposed off-season time to undertake a couple of key administrative activities that started off with building a five-year strategic plan that the game shall adopt to benefit from.
The Association, in addition, organized its first-ever Annual General Assembly at Kenendia Hotel that witnessed the admission of new members and associates that will help push the game further especially at the grassroots level.
Another key stride was taken at 95th FUFA Annual General Assembly as FAU was fully represented by Chairman Jjunju Hamzah and Lugemwa Patrick. This was FAU's maiden representation as an affiliate member of the football governing body.
Futsal Super League Action
With indoor games still under lockdown as per Govt directive, and further guidance by FUFA to all member associations not to rush into on-field activities / Competitions.
The Futsal Super League 2020/2021 managed by FAU has not kicked off though this does not imply that all work is on hold at FAU as off-court Works are ongoing.
The FAU Chief Executive Officer Mugera Ibrahim asserts that the Futsal Club licensing process has been ongoing in order to keep pushing the futsal clubs to better professional settings.
The exercise has been a success under his watch and as we stand 8 futsal Clubs have been cleared to be part and parcel of the new season as they now only await kick-off to fully participate, the clubs are;
1.Park Futsal Club- Kampala Central
2.YEAK Futsal Club- Rubaga
3.Aidenal SOSA Futsal Club- Entebbe
4.Mengo City Futsal Club- Mengo Kampala
5.Dreamline Futsal Club- Lubowa- Wakiso
6.KJT Futsal Club- Kampala Central
7.Kisenyi Futsal Club- Kisenyi Mengo
8.MUBS Futsal Club- Nakawa
The above Futsal Clubs had to submit among others; Proof of Club ownership Documents, Bank account details, Futsal Club Statutes for governance, Signed declarations to comply adhere to the FAU, FUFA, CAF, and FIFA statutes at all times.
This process has been completed and those are the teams to compete for the upcoming season.
FIFA Futsal Referees Fitness Test
At the just concluded FIFA Referees Medical & Fitness tests conducted at Lugogo, three Futsal Referees took part in the exercise with FIFA Futsal Referees-Nsubuga Brian Emmy, Sengendo Isaac, and FUFA Futsal Referee Mulindwa Ismael making the number.
At FAU we believe their performances are expected to be top-notch as they are our ambassadors in the refereeing area and anxiously awaiting the results.
A new dawn is surely awaited as we embrace the futsal trend.
You can read more articles about global futsal by going to the top navigation bar or click here
If you like this article and would like to keep updated on Futsal news, developments, etc then you can now follow Futsal Focus via Google News by following our page which will send you an alert as soon as we publish an article so please click here and follow us on Google.
You can also keep updated on Futsal news, developments, etc then please submit your email below in the Subscribe to Futsal Focus option.
Follow Futsal Focus by clicking on Facebook, Twitter, or Instagram or on the social media buttons on the website.