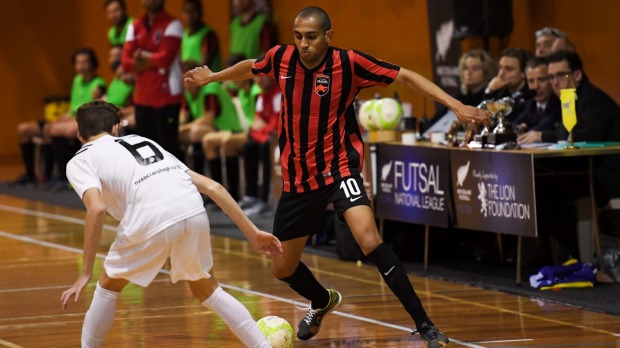 Estimated reading time:6 minutes, 0 seconds
Courtesy of stuff.co.nz,
Futsal is one of the fastest growing sports in New Zealand. BRENDON EGAN charts the game's rise and why it's catching on.
At almost any New Zealand school, you'll find rugby posts, a basketball backboard or netball hoop.
If futsal, the five-a-side indoor variant of football, keeps growing at the remarkable pace it is, it could feature just as prominently on the Kiwi sports landscape.
Since New Zealand Football (NZF) implemented futsal in 2010, it has expanded from just 700 players in loosely unaffiliated leagues to nearly 21,000 registered players by the end of 2015.
For the first time next year, NZF will launch a Futsal Ferns women's team, as well as men's and women's under-18 national sides, who will attempt to qualify for the 2018 Youth Olympics in Buenos Aires.
New Zealand is one of five countries bidding for the 2020 Fifa Futsal World Cup with the host country to be announced early next year. The rival bids are from Japan, Iran, Costa Rica and Lithuania.
Television coverage of the 2012 edition in Thailand reached 138.6 million people and each live match was watched by an average in-home global audience of 2.2 million.
The Futsal Whites men have never qualified for the World Cup, but could be mixing it with the world's best in their own backyard.
New Zealand Football's futsal development manager Dave Payne believes the sport's potential in this country is untapped.
"We're saying you've got netball hoops in school playgrounds, which is great, you've got basketball hoops. Why don't we have futsal goal posts?
"Our goal is to install futsal goal posts in every school playground in New Zealand. That's how seriously we're taking things."
A pilot programme was conducted in Christchurch with 10 futsal goals set up in primary schools and Payne said there was a "huge uptake".
New Zealand is classified as a developing football nation, but is heading very quickly towards a developed one.
NZF's World Cup bid is based on the fact they are a "role model developing futsal nation".
Mainland Football chief executive Julian Bowden, who is on NZF's futsal advisory group, said the game had exploded in the high schools.
With only five players in each team, everyone was heavily involved and it was fast paced.
A past survey revealed there were over 40 times more touches in futsal than football and its intensity produced a similar heart rate to squash.
Rolling substitutions are popular, while the 40-minute match time also appealing for busy teenagers.
In 2012, there were 1350 registered players in futsal leagues in the Mainland federation, which soared to 4760 by 2015.
There are more than 5000 junior and youth players involved in various futsal programmes in the Mainland area, which includes Canterbury, Nelson, Marlborough and the West Coast.
"The game is growing across the whole country. It's not just a regional thing here," Bowden said.
"Everybody is looking for different ways to partake in their sport or recreation. Futsal has come along as an indoor product, which suits a lot of people."
Canterbury won their second men's national futsal title in three years on Sunday, but building off that success will be difficult.
With no large operational indoor sports facility in Christchurch, futsal is at capacity in the city.
"That's the only thing really holding us back from growing the sport more," Bowden said.
They can sometimes be using seven different venues on any given night, which is challenging.
The $300m Metro Sports facility, which is set to open in March 2020, could not come quick enough, he said.
Should New Zealand gain hosting rights for the 2020 Futsal World Cup, Christchurch's Horncastle Arena could be a possibility to host the finals with matches also likely at the Metro venue.
Mainland, South and Capital are the three fastest growing futsal regions in the country.
In Dunedin, futsal is a top participation sport, surpassing cricket. They have close to 6500 registered players, while football has just under 9000.
Canterbury coach Ronan Naicker, who is also Mainland Football's futsal development officer, said a lot of the youth players coming through were selecting futsal as their chosen sport over football.
Many still played both forms, but several of his Canterbury squad turned down national youth team opportunities to focus on futsal.
With so many youngsters involved in futsal, he believed the skills they gained would naturally flow through into outdoor football.
Futsal was a perfect format for developing a player's first touch, control and passing.
Football superstars like Cristiano Ronaldo, Lionel Messi and Neymar's formative skills were all honed on the futsal court.
Naicker said in Brazil, more players participate in futsal than football. Juniors played futsal there until they were 12 and then moved into the 11-aside outdoor game.
Canterbury's three Brazilian-born players, Evandro Madruga, Luis Agusto Ebrahim and Andre Luiz Pestana, were influential in their national futsal triumph.
Naicker said it was clear they had grown up around the sport, with their technical ability and tactical nous vastly superior.
"They can teach these boys and the youth coming through more than myself as a development officer or a coach could.
"They've been playing it longer and been coached in professional environments within Brazil."
Naicker was adamant futsal wouldn't steal away the finest young football talent in New Zealand.
"The best football players in the country will still choose football.
"Hopefully, we can develop a lot better technical players and it will benefit the All Whites and Football Ferns, as well as the futsal side of things."
Payne said a "whole new futsal community" had been created, which was quite far removed from the football club scene.
Capital futsal coach Callum Holmes was a perfect example of the sport's rise and its youthful flavour.
Holmes came through the futsal coaching pilot programme at high school when it was set up five years ago.
As a senior student at Wellington's St Patrick's College, he coached the school's junior and senior futsal teams to national secondary success.
He's employed as Capital Football's development officer and at the age of 20 is coaching the region's national league futsal side.
"We've got this teenage young adult workforce, who are really empowered by it because they actually own it," Payne said.
"We've developed a specialist workforce."
FUTSAL FAST FACTS:
-Developed in Uruguay and Brazil in the 1930s and 1940s.
-Played by two teams of five players, including a goalkeeper. Rolling substitutions.
-The sport is played on a hard court surface without rebound walls or netting.
-Games consist of two 20-minute halves.
-Futsal is played with a smaller ball, with less bounce than a football.
-Brazil are the most successful country in the history of the Fifa Futsal World Cup, winning five of the eight titles.
– Number of futsal players in New Zealand in leagues (2015): 20,929.
– Number of participants in New Zealand school futsal programmes (2015): 27,723.
Source of the article: Stuff
If you like the information provided, you can read more articles about global futsal by going to the top navigation bar or click here
If you like this article and would like to keep updated on Futsal news, developments, etc then please submit your email below in the Subscribe to Futsal Focus option.
Follow Futsal Focus by clicking on Facebook, Twitter or Instagram or on the social media buttons on the website.