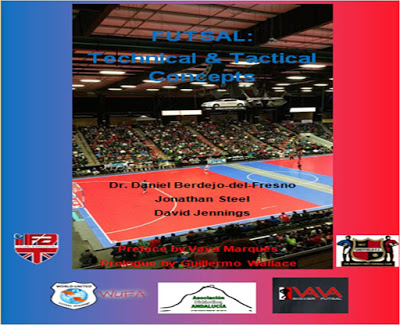 Estimated reading time:1 minute, 36 seconds
"This free to download book will help you to understand the basics and foundations of Futsal from a developing point of view to a competitive stage. It does not matter if you are a novice coach or an expert because the book covers both ends of the spectrum. This book is not a book of exercises, tasks or drills. It is a book of knowledge. Daniel and his collaborators want to spread out the main technical, tactical, physical, social and mental concepts to play Futsal the right way." – Vava Marques – U.S.A. Futsal Assistant Coach
This book was created by Dr. Daniel Berdejo-del-Fresno, Jonny Steel and Dave Jennings.
Daniel Berdejo-del-Fresno is a Sports Scientist/S&C Coach for the England National Futsal Team, England National Beach Soccer Team and the Head of Coaching & Sports Science at the International Futsal Academy. During these last year's he has been working as a Sports Scientist/S&C Coach/Coach in several teams and different sports (tennis, basketball, futsal, athletics, mountain bike, cycling, hockey…), in both high and grassroots level, in Spain, U.S.A., and the UK.
If you like the information provided in the research paper below, you can read more Research papers by going to the top bar navigation or click here
If you like this piece of research and would like to keep updated on Futsal news, research, developments etc then please submit your email below in the Newsletter section or by clicking on the Subscribe to Futsal Focus option on the header.
Follow Futsal Focus by clicking on Facebook, Twitter or Instagram or on the social media buttons on the right sidebar.