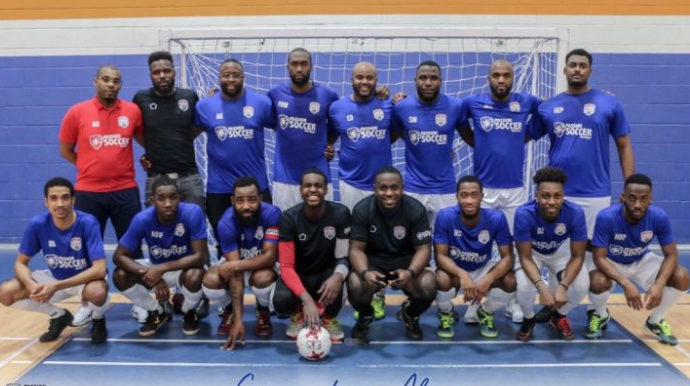 Estimated reading time:3 minutes, 0 seconds
Montreal team of Haitian-Canadians to represent Haiti at CONCACAF Futsal Championship
A team composed of mostly Montreal residents with dual Haitian-Canadian passports will represent Haiti in the 2021 CONCACAF Futsal Championship in Guatemala next month.
Futsal is a five-on-five variation of soccer played on a small hard-court, indoor pitch. It's also played with a smaller, harder, low-bounce ball.
"I saw the opportunity for the young players, for the Haitians, to do something for the community so I said why not," said Alain Grégoire, the president of the Haitian Association of Futsal.
Held every four years since 1996, the tournament pits 16 teams from North America, Central America, and the Caribbean against each other to determine which four will qualify for the FIFA Futsal World Cup, which will be held in Lithuania this fall.
"It seems to be small because we're in a pandemic situation, but it's the qualification for the world cup. So, it's FIFA. It's big," said coach Alexandre Kénol.
Haiti hasn't participated since 2008 and wasn't planning to attend this year either. That's what inspired high school soccer coach Grégoire to start an official Haitian Futsal Association in Montreal.
"So, he contacted the football federation of Haiti, and said, 'Okay we have some good players, maybe we can try to do something good.' So now, we have the right, the federation gave us the right to represent the country," said Kénol.
Player Pierre-Rudolph Mayard says being able to represent Haiti in a World-Cup-qualifying tournament is a dream come true.
"I've always played with Canada because I was born in Canada," said Mayard. "But for sure it's something huge, something big, especially for my parents and everything to represent the country. I think I'm just blessed to be part of this team."
The team is facing Canada in the first round, which Kénol admits will be a little awkward, particularly since he's coached one of the players on the opposing team.
"We know there's a pandemic, we know what's going on down in our country in Haiti. We know it's not easy," said Kénol. "So, we are trying to do something good and make people smile. And let them see there are Haitians in Canada that are thinking about them and we want our country to progress."
But he says nothing will stop them from achieving their goal to go as far as they can in this tournament, not even having to play with masks.
"It's difficult when I'm breathing. It's sucking all the air. So, it does make a bit more difficult to breathe but when you're in shape everything is possible," said Mayard.
Source of the article: CityNews
Pictured here is the Montreal Haitian Fustal team, which is headed to compete in the CONCACAF 2021 Fustal Championship in Guatemala. (CREDIT: Haitian Fustal Association, Facebook)
You can read more articles about international futsal by going to the top navigation bar or click here
If you like this article and would like to keep updated on Futsal news, developments, etc then you can now follow Futsal Focus via Google News by following our page which will send you an alert as soon as we publish an article so please click here and follow us on Google.
You can also keep updated on Futsal news, developments, etc then please submit your email below in the Subscribe to Futsal Focus option.
Follow Futsal Focus by clicking on Facebook, Twitter, or Instagram or on the social media buttons on the website.