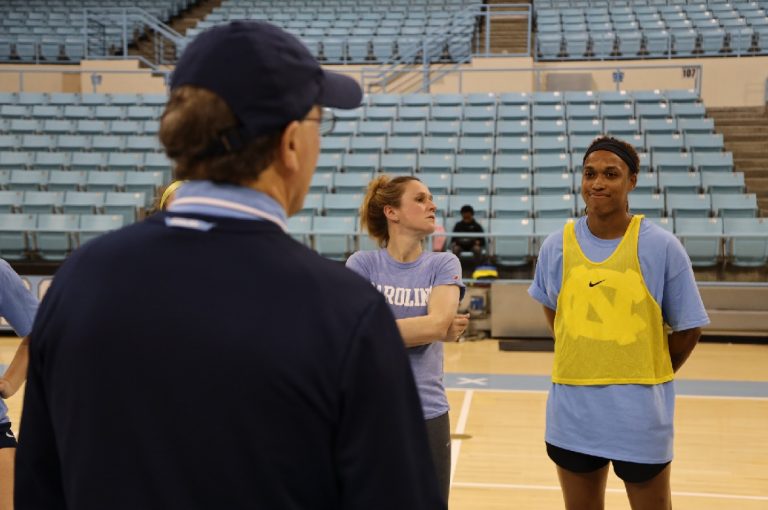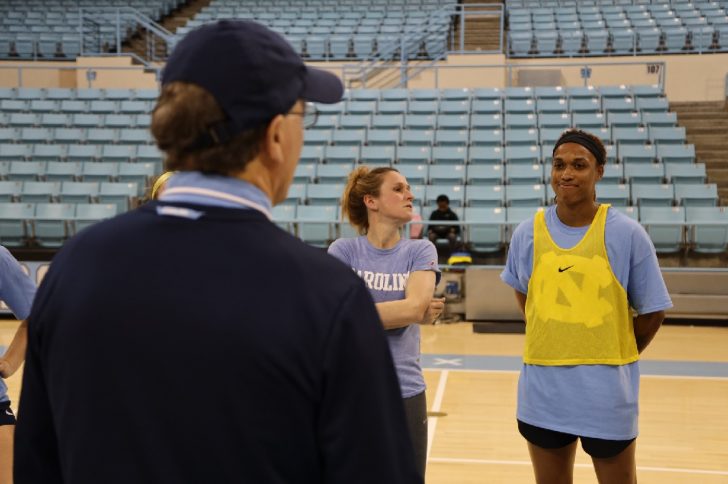 Estimated reading time:7 minutes, 57 seconds
Anson Dorrance may be an unfamiliar name for futsal, and for football fans outside of the U.S; however, he is one of America's most successful soccer coaches, and has one of the most successful coaching records in the history of athletics.
Under Dorrance's leadership, the University of North Carolina (UNC- The Tar Heels) have won 22 of the 39 National Women's Soccer Championships. The Tar Heels' record under Dorrance stood at 882-77-41 (.882 winning percentage) over 42 seasons at the end of the 2020 season. He has led his team to a 101-game unbeaten streak and coached 19 different women to a total of 26 National Player of the Year awards. The NCAA has recognized Dorrance as the Women's Soccer Coach of the Year six times (1982, 1986, 1997, 2000, 2003 and 2006) and as the Men's Soccer Coach of the Year in 1987. On March 10, 2008 Dorrance was elected to the National Soccer Hall of Fame.
At 69, Dorrance is still going, 44 years after he took charge of the UNC men's team and 42 after he helped to launch the women's. He coached the men alone for 3 years before switching to coaching both, which he did for 10 years. Since 1989 until the present, he has coached only the women. For context, the nearest to that record are Notre Dame and Stanford universities with three National Championships apiece. From 1986, he managed the US women's national team for eight years, including to their first World Cup win in 1991.
Dorrance is the brainchild of the winning mentality that sets apart the US women's national soccer team. He has fed players through his UNC programme into every US world-beating side since. April Heinrichs, Shannon Higgins, Kristine Lilly and Mia Hamm, each national college player of the year twice during their time at UNC, are four of 19 UNC players to have been given that honour. The former Arsenal midfielder Heather O'Reilly, an assistant coach to Dorrance, and the former Chelsea full-back Crystal Dunn are two more recently similarly recognised while at UNC.
Staggeringly, one-third of the players who have won the World Cup with the US have been coached by Dorrance. Five of the 2019 squad were in that category (among them were Tobin Heath and Crystal Dunn). Lucy Bronze attended Dorrance's summer camps in her early teens, prompting the coach to encourage England scouts to watch her, and she also spent a semester at Chapel Hill, winning a National Championship. The Netherlands' World Cup final manager Sarina Weigman, another alumna of UNC, who back in the day, won a National Championship with Mia Hamm.
Finding a way to coach the competitiveness that drove him has been the key to his success. Talking with Futsal Focus, Anson said: "That, in my opinion, is the key platform in the success of the US women's national soccer team. If you're the Japanese you're better than we are technically, if you are the Germans you're better than we are tactically, if you are the French you have just as many athletes as we have, so what is it in the American nature that still permits us to be dynastic in a sport that is not even 'our' sport? Well, we're dynastic because of our mentality,
"Can you train mentality? "Absolutely. I've been training it every day of my coaching life and it's been an incredible weapon."
An example of Anson's winning mentality from 2018:
Anson Dorrance just signed a new 5 yr deal to continue to coach UNC. When I asked him how much longer he has in him, his classic reply: "I'd like to die on the job & I hope I die on the field after beating the shit out of Duke." 😂 He asked to keep shit in there. How I love him. https://t.co/oJHerWX84n

— Julie Foudy (@JulieFoudy) November 30, 2018
"If we go back to the mid 80's, early 90's, for something like 603 games in a row, we have either won, tied or lost by one goal". Dorrance says: "Even in years when our teams aren't very good, we have an extraordinary capacity to compete."
How? Because he builds his team to press and fight.
"I wanted to design a system that I personally would hate to play against. And the kind of players I hate to play against are the ones that are in my face, challenging me on every 50-50 ball."
"And, Futsal has been a big part of this as well."
"For years, I have been using futsal to develop my players. We started playing it because it was fun; but then I realized how great a tool it is for developing players, and now, I cannot advocate enough for the sport."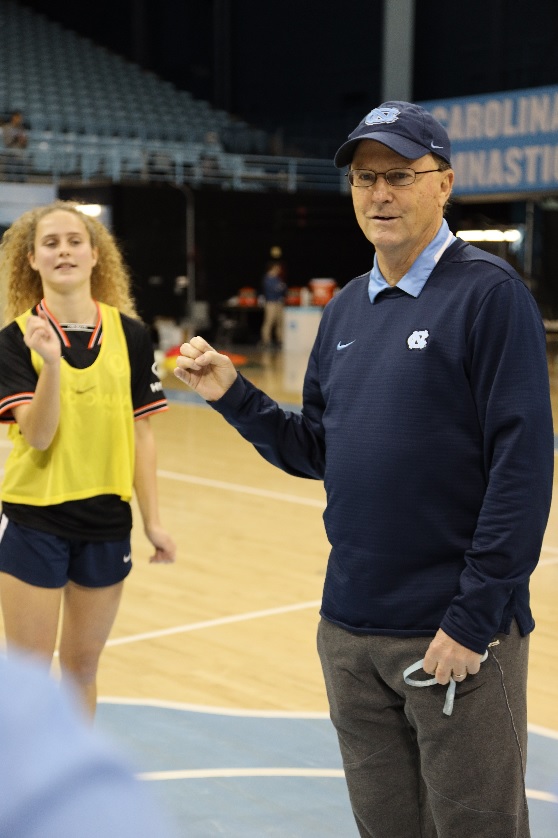 "Players get more touches on the ball, they have to get used to being put under pressure and what to do under that pressure, it forces players to think quicker, to find space, to be confident on the ball and puts them in more one on one situations. It improves their technical skills, and tactical skills because soccer is starting to use a lot of futsal type systems to try and find ways through packed defenses and to navigate through defensive teams when put under pressure. Keeping the ball on the ground, finding space and players, passing the ball out of danger and not just kicking it up the pitch or out of play."
"I could go on and on about how much I love this sport. However, futsal isn't just a development tool for football, I know it is a sport in its own right and a sport that is growing in popularity around the world. For me, the opportunity in the States can start with the women's game because since the rest of the world is working to catch up, this can be another weapon for our enormous population. Right now I am starting at a grass roots level, and my dream is to have futsal in every elementary, middle, high school, and YMCA in the country. I think we should eventually have a women's professional futsal league during the off season of the current women's pro league. The NWSL season runs from March to October, and during that off season, many players will go to other countries to play but many don't. When they stay here, lets organize them into professional or semi-professional futsal leagues. It is a great opportunity for the clubs and the league to have another revenue stream plus it gives us the opportunity to gauge the American public's interest in the sport because they will be watching talented young women, they are aware of already. This will also help to increase awareness of the game exponentially. During this period, we could also bring players from abroad who play futsal to be included in the league, so the other players get a balance of what it takes to play futsal against seasoned players. What you might find is that futsal becomes so popular that we find pools of players who just want to play futsal and therefore, we expand the league from the off season eventually to its own season. Futsal is professional in many countries around the world and I think America should be embracing this game, we are suited to it due to our indoor culture, and the abundance of suitable indoor and outdoor courts that we have. It makes absolute sense to me that we would adapt to the sport."
"At the youth level, futsal being a part of the Youth Olympics now is also another fantastic opportunity and one that should not be missed by our Olympic Committee. I have certainly watched highlights of the last Youth Olympics futsal tournament in Argentina and it was incredible. I look forward to the next Youth Olympics to watch more, and I especially look forward to seeing futsal at the senior Olympics when it is introduced, and who knows maybe America will be a part of both. I was certainly disappointed to see that we were not a part of the last Youth Olympics."
"Eventually, I hope to see futsal played at every University, College, High School and Junior High School across the country, and it is a development I will work hard to assist in the United States. We have the infrastructure for the sport already, this is something that Keith Tozer (the former U.S National futsal team head coach, technical director at US Youth Futsal, and commissioner of the Professional Futsal League), and I were discussing at the last U.S Soccer Coaches Convention. Right now, my priority is to do what I can in my home state of North Carolina and that promotion has already started. But, I also plan to approach both the women's league and the US Olympic Committee about the sport, and let's see what happens."
You can read more articles about global futsal by going to the top navigation bar or click here
If you like this article and would like to keep updated on Futsal news, developments, etc then you can now follow Futsal Focus via Google News by following our page which will send you an alert as soon as we publish an article so please click here and follow us on Google.
You can also keep updated on Futsal news, developments, etc then please submit your email below in the Subscribe to Futsal Focus option.
Follow Futsal Focus by clicking on Facebook, Twitter, or Instagram or on the social media buttons on the website.