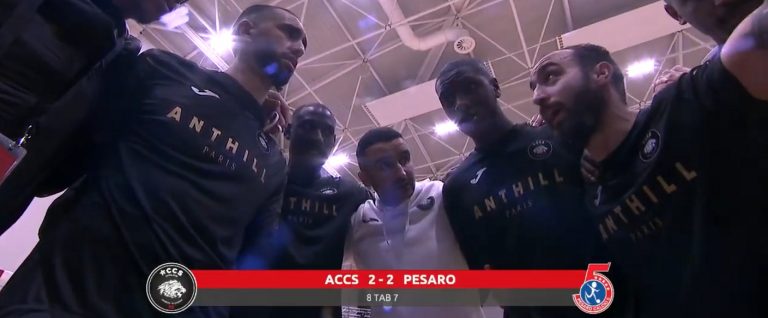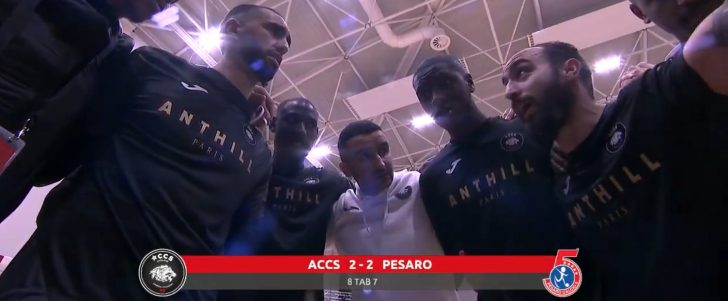 Estimated reading time:5 minutes, 53 seconds
A historic night for French debutants ACCS Futsal Club, who progress out of the round of 32 to the round of 16 after defeating Italservice Pesaro (Italy) in the longest penalty shoot-out in UEFA futsal history!
Should ACCS defeat whoever their opponent is in the next round from Thursday's draw , the club will reach the final tournament. A total of eight teams will play at this stage, which consists of the quarter-finals, semi-finals and final (with no third place match unlike previous tournaments), in April or May 2021.
Today's match was a tense encounter, the eyes of the futsal world where on ACCS Futsal. If ACCS had failed to qualify, there is no doubt this failure would have went viral. ACCS is a project admired by many, and disliked by many as well. Their summer recruitment of Ricardinho, Carlos Ortiz, Bruno Coelho, Humberto, Landry N'Gala and their head coach Jesus Velasco Tejada attracted global attention, but not always positive attention. Humberto's departure from the club already this past week to Kairat Almaty brought criticism as well. Therefore, failure in this match was not an option for ACCS, who have invested considerably in their club. This investment has not just been on player and coach recruitment but on their marketing, partnerships and media development. An example of this happened this week, ACCS, launched France's first online Futsal Show called Futsal Club with Yanis Djouder. Yanis regularly appears on CNews and Canal + Sport sports broadcasts. The shows first guests were Ohplai, influencer Azdine Aigoun, player of the French Futsal Team, and Philippe Couchoux the vice president of the FFF futsal committee.
Due to the above, it was clear to see the pressure was on the court, and Italservice Pesaro, currently second in the Serie A in Italy who would be no push over for any club, gave ACCS a hard time and could have won the match which finished 2-2.  Not every match is going to be a wonderful performance, but ACCS put themselves under needless pressure, countless times…, especially for a team filled with the talent, and experience they have.  When N'Gala scored the penalty to win, you could see the relief on each of the players and coaching staff faces at the end of the match.
The next round is going to be a lot different, ACCS have now shown that they can compete among the elite in Europe, the courts at the next stage will be better, and the players can start to relax a bit more now that they have progressed this far. Their project, though a risk, has proven to be a worthy risk. ACCS are dominating French futsal, attracting domestic attention that the team has not known previously and now they will be drawn with 15 of Europe's best clubs this season in the round of 16.
Is ACCS achievement today a major development for futsal? I ask this question because they are a club from a developing futsal nation, to answer it, I would say it is hard to know the answer at this time. All sports are currently being overshadowed by COVID-19. The pandemic has definitely affected ACCS hopes of national attention at a scale that will impact French futsal development. However, the club itself, can certainly be proud of the impact they are having through their own efforts on and off the court.
Thinking on it further, should ACCS be successful this season at home and in Europe, it will depend on how they use that success and how they market it to reap the benefits of their hard work this season for next season. Hopefully, next season will see a larger audience coming to watch their games once we have found a way to live with COVID-19 with the roll out of the vaccine. Success could see increased sponsorship but national television will always be the goal, but is the French league as a whole ready for this, I don't think so.
Watching even ACCS match today, the lines all over the court are not nice to look at, and for any novices to the sport, it would be very confusing. Increased coverage via FFF TV, for now, seems to be the best stepping stone for the French league. Clubs will need to get their own facilities, better courts and for ACCS this is the next step as their recruitment, marketing and promotion has been excellent, the other clubs will have to increase their club development too. Once this has happened, French futsal will be ready for national TV. However, clubs in France cannot negotiate individual deals, it has to be a collective league negotiation which is why there is an emphasis for needed improvement across the board.
Based on ACCS performance today, can they can progress further? There is definitely room for a lot more improvement, if they can control their nerves and the expectation, it will just depend on who they draw. However, the next round won't be easy for any club. Tonight's results were:
Luxol St Andrews (Malta) 2-3  Dobovec (Slovenia)
Minerva (Switzerland) 1-5  SL Benfica (Portugal)
Chrudim (Czech Republic) 4-0  Differdange 03 (Luxembourg)
Inter FS (Spain) 6–2  Hovocubo (Netherlands)
ACCS (France) 2-2   Pesaro (Italy) – ACCS win 8-7 on penalties
Olmissum (Croatia) 4-1  Charleroi (Belgium)
Sporting CP (Portugal) 12-1 Gentofte (Denmark)
AEK (Greece) 2-5  Aktobe (Kazakhstan)
Viten Orsha (Belarus) 3–5  Kairat Almaty (Kazakhstan)
Prodexim Kherson (Ukraine) 5–1 Shkupi (North Macedonia)
Hohenstein-Ernstthal (Germany) 0-2  Vytis (Lithuania)
Salines (Bosnia and Herzegovina)  2-5  Gazprom-Ugra Yugorsk (Russia)
MIMEL Lučenec (Slovakia)  1-7  KPRF (Russia)
Omonia (Cyprus) 0-2 MVFC Berettyóújfalu (Hungary)
Rekord Bielsko-Biała (Poland)  3-6  United Galați (Romania)
Progressing to the next round are:
Dobovec (Slovenia)
SL Benfica (Portugal)
Sporting CP (Portugal)
Chrudim (Czech Republic)
Inter FS (Spain)
ACCS (France)
Olmissum (Croatia)
Aktobe (Kazakhstan)
Kairat Almaty (Kazakhstan)
Prodexim Kherson (Ukraine)
Vytis (Lithuania)
Gazprom-Ugra Yugorsk (Russia)
KPRF (Russia)
MVFC Berettyóújfalu (Hungary)
United Galați (Romania)
The experience and talent is definitely in the team but can they put that together against tougher opposition and keep their nerve?? We will have to wait and see. From the list, you can see, whoever any club gets, it will just be based on who performs best on the night as each of these clubs are a difficult match for most of the teams. If you didn't get the chance to watch ACCS match, you can watch it via this link: https://bit.ly/3sx6Yz2
You can read more articles about domestic futsal by going to the top navigation bar or click here
If you like this article and would like to keep updated on Futsal news, developments, etc then you can now follow Futsal Focus via Google News by following our page which will send you an alert as soon as we publish an article so please click here and follow us on Google.
You can also keep updated on Futsal news, developments, etc then please submit your email below in the Subscribe to Futsal Focus option.
Follow Futsal Focus by clicking on Facebook, Twitter, or Instagram or on the social media buttons on the website.