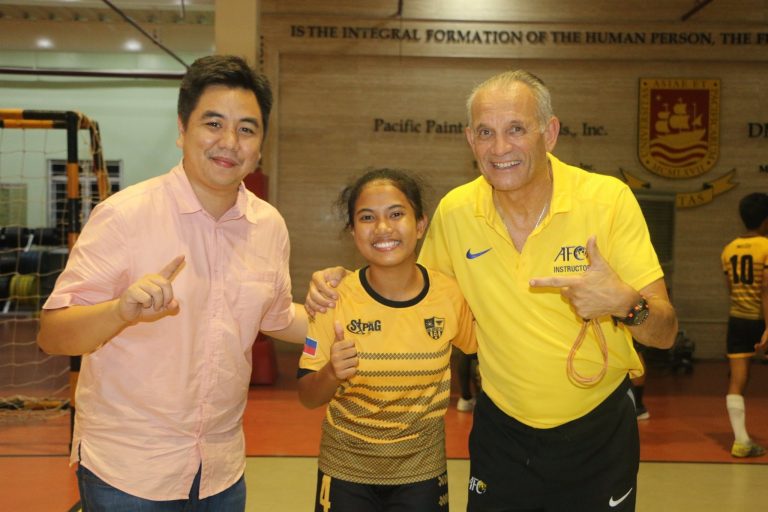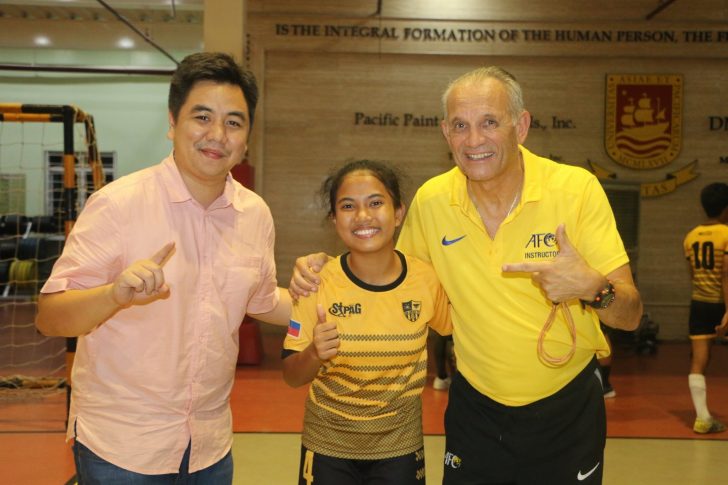 Estimated reading time:21 minutes, 36 seconds
"Unfortunately, a combination of lack of financial support, politics, egos, and mismanagement plagued Philippine futsal for much of its history." Kevin Goco, Head of the futsal department at the Philippine Football Federation
Futsal is growing exponentially across Asia and we have seen examples of this in Indonesia, Malaysia, Thailand, Myanmar, Japan among others. However, recently we started to see more news coming out of the Philippines, therefore, we reached out to the Philippine Football Federation to find out more and Kevin Goco (main page on the far left with Vic Hermans), head of the futsal department agreed to speak with us. We were also delighted to learn that he has been following Futsal Focus for many years. After a great conversation via Zoom, Kevin took some time to write this article to give a Futsal Focus in-depth, insightful understanding of futsal development in his country, and to his credit, he has written one of the best articles we have published on our website and recommend all of you to read this article to this end. Kevin starts by introducing himself:
My name is Kevin Goco. I am a Filipino national who spent significant time living in several countries outside of the Philippines. I was born in Bangkok, Thailand, and lived in Indonesia, Hong Kong, the Philippines, and the United States. In terms of education, I went to college at Boston University where I graduated with an Economics & International Relations degree – Cum Laude. In 2020, I recently completed the FIFA Masters in Management, Law & Humanities of Sport with Distinction and as the Class Valedictorian. I attended the FIFA Master as a program scholar funded by the Asian Football Confederation (AFC).
I started my career in finance but felt that although the money was great, finance was not something that I wanted to do as a career. My true passion was in using sports as a development tool for society. I, therefore, started a community-based football club called Gawad Kalinga SipaG as a sports' for development program to mainly serve highly marginalized slum youth living in the streets of Metro Manila. My initial sporting love was football, so I naturally focused on football as the medium in reaching out to these youth. However, in densely populated slums in the Philippines that do not have much space to play, I learned that it was incredibly difficult to play football. Given this lack of football facilities, we ended up having children play 3 to 5 a side indoor street football in basketball courts that are prevalent in almost every Filipino community. Soon after adopting this approach, I learned about the futsal game through a former coach of mine who played on the futsal national team, and I shifted the focus of our community program to futsal, inspired by children who played the game in the streets, gyms, and favelas of Brazil.
In the Philippines, basketball is the most popular team sport and religion to many. As a result, almost every community in the Philippines has access to an indoor gym or basketball court. Our weather also poses a lot of logistical challenges when it comes to outdoor sports. Half of the year it is usually too hot to play outdoors, and in the other half, we have heavy monsoons and at least 20 tropical cyclones. These are some reasons why indoor sports like basketball and volleyball are so popular in our country and flourished when they were introduced to us by the Americans through the YMCA. With the Filipinos affinity to indoor sports and the presence of indoor sporting facilities, I saw an opportunity where futsal could be used as a tool for nation-building and provide access for people to play, fall in love with sport, and challenge themselves to be better people.
Although we started as strictly a sport for development program with Gawad Kalinga, I soon realized that several of the youth we were working with went on to develop their skills to be able to play elite futsal and football for private schools, elite local clubs, and even the national teams. These kids went on to secure academic and athletic scholarships to local universities and lead productive lives. Some of the youth even became licensed futsal coaches and referees with the Philippine Football Federation (PFF). I then saw first-hand how futsal had this incredible power to provide avenues for a better life for the outcasts of our society. My purpose soon turned into a hybrid of using futsal to contribute to nation-building, but also in developing the sport of futsal itself.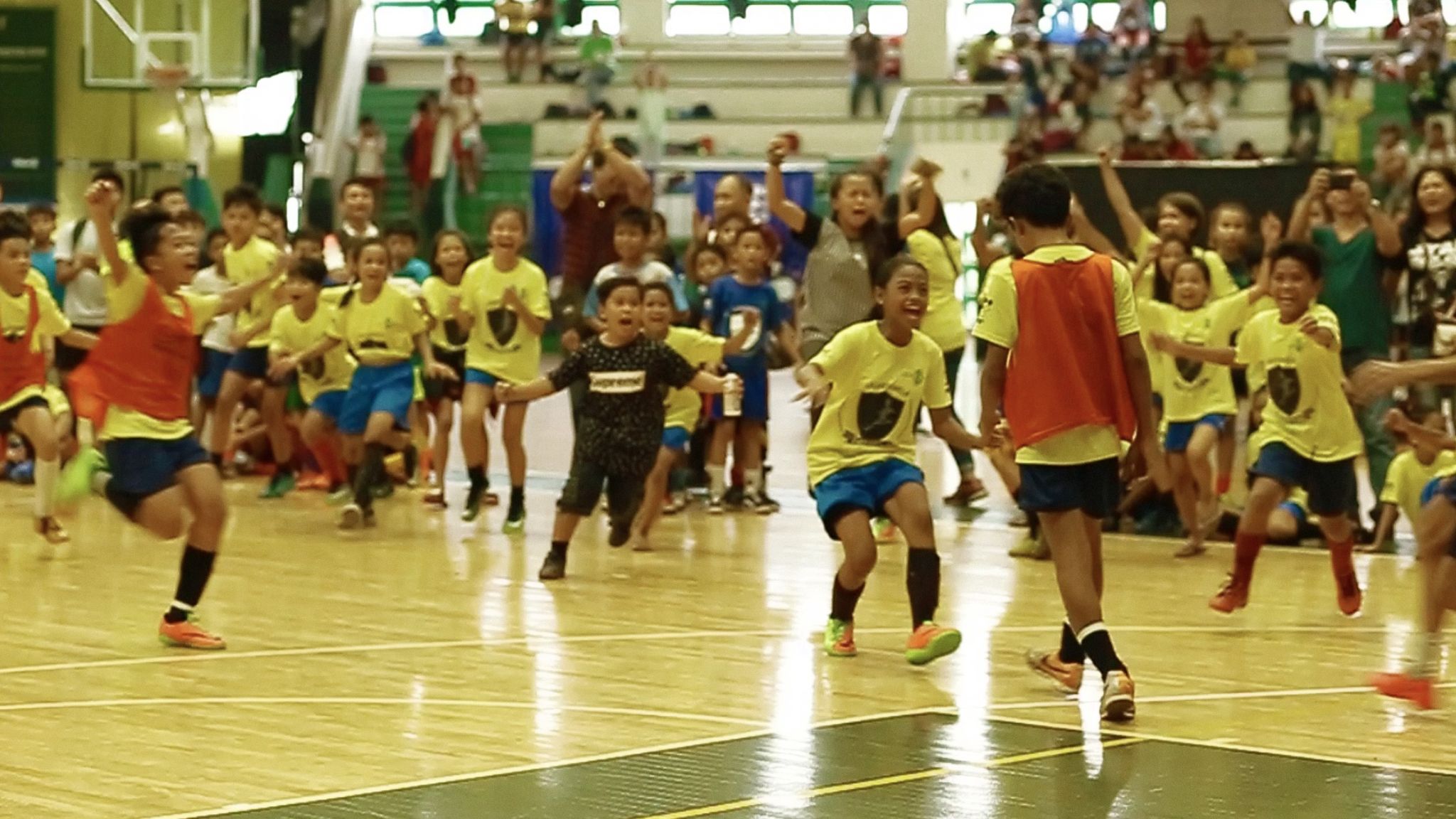 Buoyed by this sense of purpose, I sought to apply this futsal for development model with other groups and worked and collaborated with other local non-profit foundations such as the Henry V. Moran Foundation and our Department of Education in promoting the game of futsal to children all over the country. From 11 schools in 2015, we were able to grow futsal participation to over 300 schools in 2017. The take-up was immense mainly because futsal was an easy sport to play and implement in the community setting in the Philippines.
Eventually, the President of the PFF and a FIFA Council Member, Mr. Mariano Araneta, took notice and attended one of the futsal tournaments we organized for the public schools. He liked what he saw, and soon after I was invited to join the football association in 2017 as its Futsal Department Head. I am now in charge of running futsal in the PFF and my responsibilities include managing the administrative duties of the department where I oversee and work with colleagues on marketing, finance, strategy, stakeholder engagement, and technical development of the game.
Futsal position currently in the Philippines
Futsal in the Philippines started in the late 1990s when the Philippines sent a team of football players to compete in the Tiger 5's. Unfortunately, a combination of lack of financial support, politics, egos, and mismanagement plagued Philippine futsal for much of its history. We had some highlights, like our women's team winning Bronze in the 2007 Southeast Asian Games, but successes like those were outliers mainly due to lack of support. Predecessors working in futsal before me always had an incredibly difficult challenge in growing futsal largely due to the lack of resources and support made available to them. The Philippines does not have a strong footballing culture, and football is far from being a popular team sport in the country. As a result of this lack of popularity for football, a bulk of the funds that the PFF spends on football is sourced largely from FIFA and AFC solidarity funding, and it has always been a struggle for the federation to find local sponsorships from the private sector to cover development needs. In such a challenging funding environment, futsal is probably the last on the list of so many priorities that the PFF has to look after in an archipelagic country that has a population of over 100 million people. We are a nation of over 7,000 islands, and conducting sports programs on a nationwide scale can be a nightmare for any sporting federation in terms of costs, logistics, and monitoring.
Due to this lack of support, the focus of the futsal program in the past was largely focused on what can be done with what was available to the federation – putting together national teams to compete internationally. The teams were usually prepared on short notice, with very minimal support backed by a flimsy base. A professional futsal league was also established, but although having the best intentions to promote the sport, it could not be sustained after a few seasons. Although the league was considered professional, it was in reality semi-amateur. Fans hardly attended the games, and with no sponsorship and low fan engagement, it eventually folded.
When I came in to the PFF, we had to be creative beyond just relying on the solidarity funding that futsal could get, and we had to grow our sponsorships by engaging private and public sector groups and individuals to help us raise the profile of the sport together with supportive member associations of the PFF. Today, Philippine futsal is at the stage where it is growing and developing at its base. We want to build futsal's popularity and it's fan base from the ground up by getting as many people to play and know about the sport. With this base, we hope to create pathways to better opportunities – national teams, jobs, and livelihood in the sport.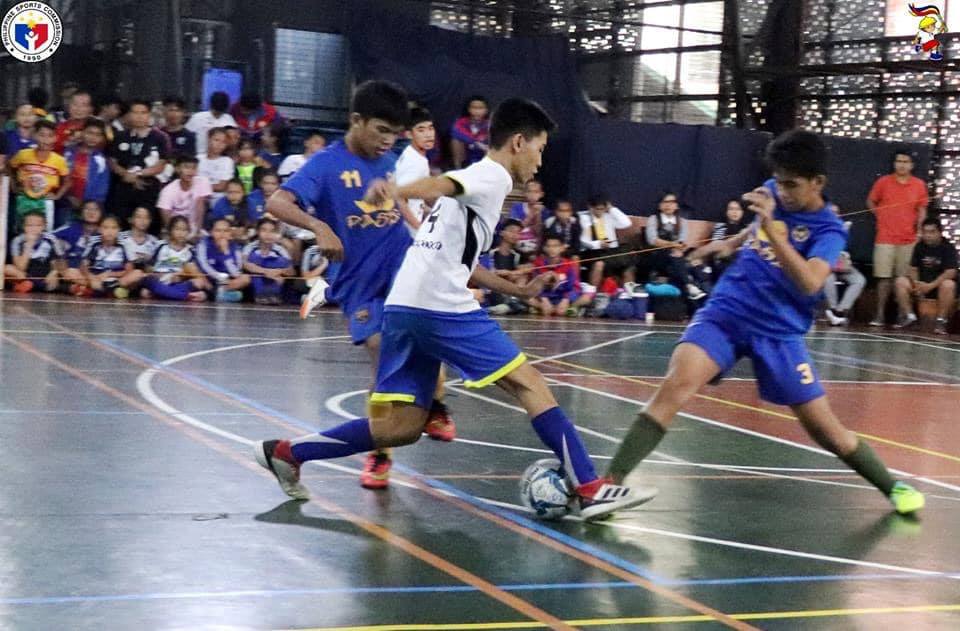 There have been some nice developments with key stakeholders in the past few years. In 2016, the Department of Education made futsal an official sporting activity in the Palarong Pambansa (National School Games) for high school girls and this lead to a massive uptake in female participation in futsal all over the country. In the Philippine public school system, women's futsal is prioritized over women's football. In 2018, the Philippine Sports Commission brought futsal into the U13 and U15 age categories for the National Youth Games for both boys and girls. The National Youth Games do not have football as an event, but they opted to prioritize futsal over football. Allianz, which is a major sponsor for football in other countries, decided to support futsal in the Philippines by organizing the country's first National Youth Futsal competition for boys and girls ages 14 and 16 years old. Another key stakeholder is the Henry V. Moran Foundation, a private foundation that helps support the PFF with its futsal development programs. The foundation, together with the Department of Education implemented a successful futsal for public schools program called "Liga Eskwela Futsal". Liga Eskwela organizes futsal awareness activities in public schools all over the country. It aims to train PE teachers to conduct futsal activities in their schools, and organize festivals and school league competitions between various schools. From 11 public schools in 2015, this program in two years grew to over 300 schools in 7 regions across the Philippines. More importantly, some of the gym teachers who knew nothing about futsal prior to the attending the program have become futsal evangelists who promoted the game in local communities. Some of these teachers even ended up becoming futsal referees and futsal coaches through the PFF's futsal licensing courses.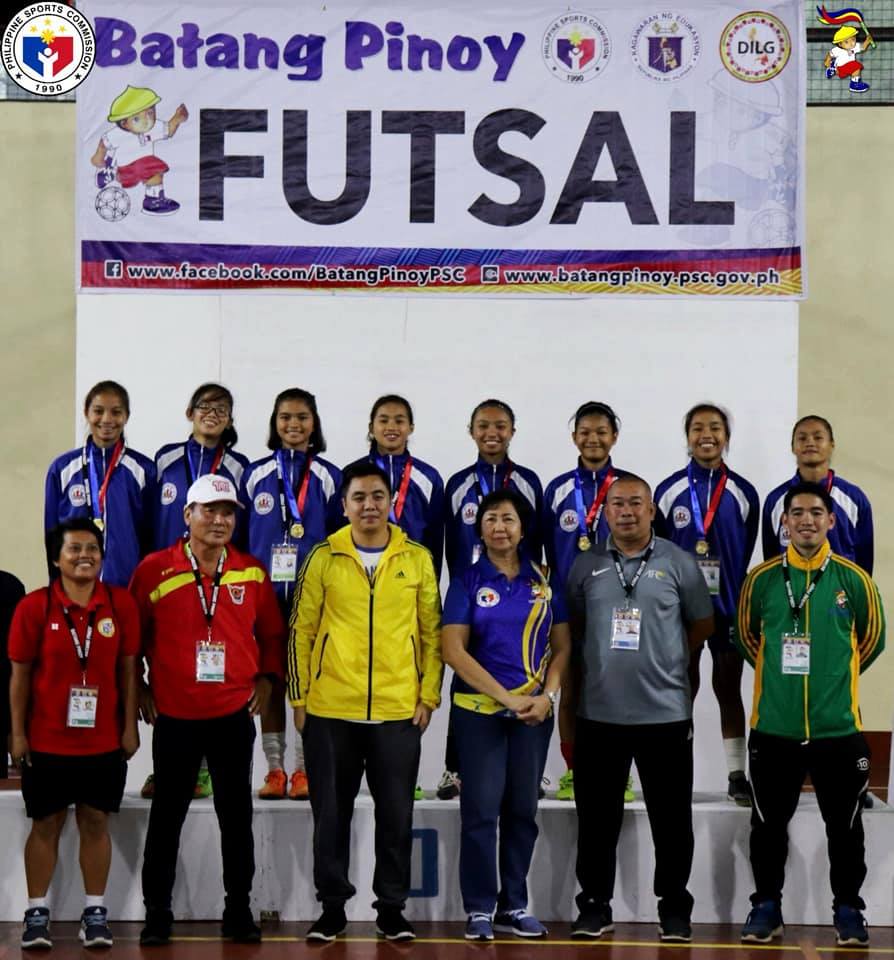 We are now at the stage where with all this development at the base, we are seriously thinking about how all this activity will lead into a funnel for the development of national teams and eventually more sustainable futsal competitions, perhaps even a relaunching of a futsal league. We recognize that national teams, especially if they are successful and composed of players from the local community, can inspire a nation and the next generation of youth to take up the sport. Technically speaking, we are looking to dividing the country of over 7,000 islands into 7 main technical areas of development for futsal. Each area will have a technical person reporting up to a Technical Director. Within each technical area, we will run regional age-group leagues and begin identifying talented players to be trained for regional selection teams that can serve as a pool for future national teams. Not only will we focus on developing players, but also young futsal referees, futsal coaches, and futsal administrators.
My vision for Futsal in the Philippines
I see futsal mainly as a tool for nation-building. Every community in the Philippines has access to a gym or a basketball court, and this low lying fruit has the potential to allow futsal to make a positive impact on the lives of millions of Filipinos. Given my background in sports for development and community work, I have seen first-hand how futsal can provide positive opportunities for several Filipinos to have fun, improve, and excel as human beings.
My vision for futsal is inspired by other sports. When I took the FIFA Masters last year, I learned about the Gaelic Athletic Association (GAA) and I was blown away by their sporting development model that was closely tied to nation-building. The GAA was based on the ethos of promoting Irish culture and Irish national identity. They set out in using their sport to make an impact in their society and to create a love for Irish culture. The GAA established clubs that were deeply embedded in their communities, and the leagues and competitions they organized were played entirely by amateur players. Although their players were amateurs, they trained like professionals and were immensely skilled. They played for something bigger than themselves – their community and their nation. This deep connection to the community made the GAA one of the biggest sports in Ireland, even bigger than football. Fan engagement as a result was immense. In the Gaelic football matches, games attracted over 80,000 fans. This popularity and widespread community engagement lead to a lot of commercial sponsorship and marketing activities for corporations to support the GAA movement, which funnels a lot of its funds back into community development.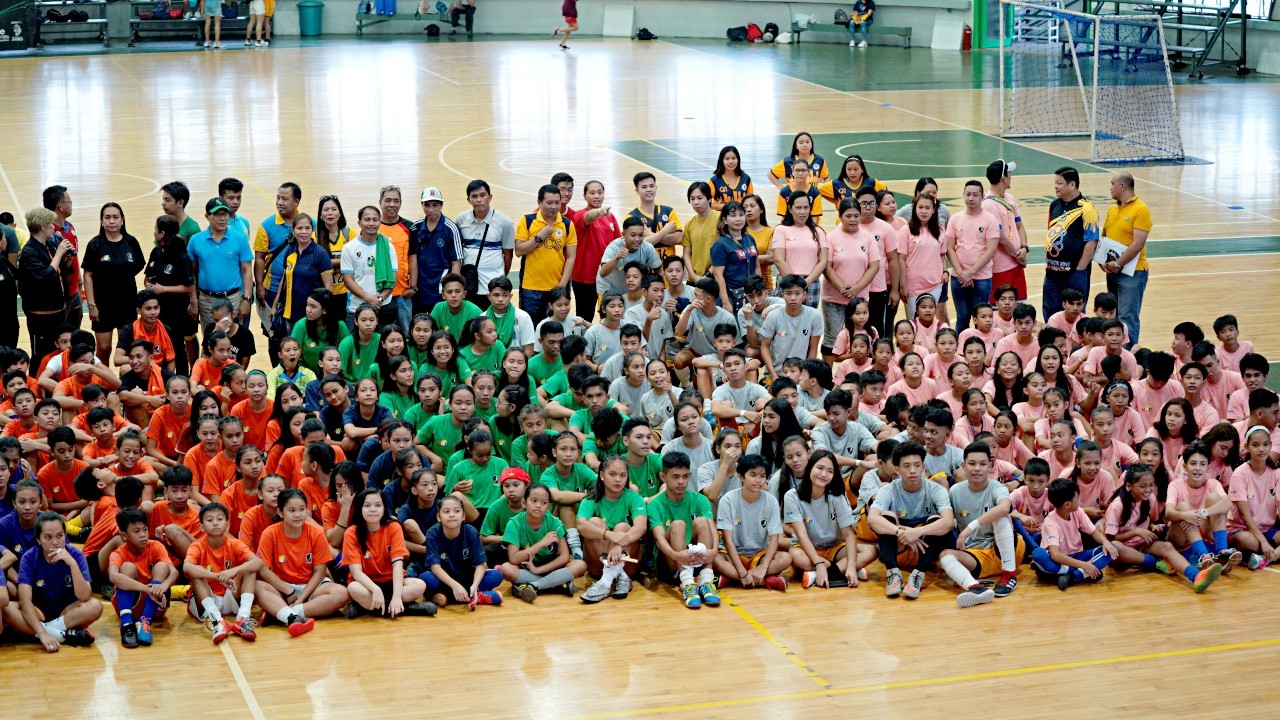 I also want futsal to be one of the world's most popular sports, supported sustainably by strong customer/consumer/fan demand. Achieving this form of sustainability is something that I know is challenging to attain in many countries. In sports, we often rely on the "sugar-daddy" model wherein we look to a rich individual or a specific organization to fund all the activities within the pyramid. This is especially prevalent in my country. Yes, finding a rich person can help develop a sport tremendously at the start, but it also creates a culture of mendicancy that is hard to sustain and shift away from. I want to see if there is truly a way for us to move away from this "sugar-daddy" model to grow fustal from the ground up via a community-based approach that leads to more inclusive stakeholder engagement and increased commercial opportunities. Once you have fans who are engaged in your sport, it is easier to market the sport to sponsors. With that level of commitment from a fanbase, it is, therefore, easier to setup and sustain professional leagues that will ultimately feed your national teams.
I also want futsal to be a top form of entertainment for Filipinos. I get inspiration from basketball. Basketball is the #1 sport in the Philippines (FIBA and the NBA see us as a key pillar in their global marketing efforts). Basketball, especially the NBA, they are brilliant when it comes to marketing their stars, their game, and their competitions. You can argue that basketball was simply just a niche sport in the 1970s, but due to sound management, marketing, and vision (due mostly to the NBA), basketball became the second most popular team sport in the world behind football. In fact, I see more similarities between basketball and futsal, more than I do between football and futsal. Like futsal, basketball is quick, free-flowing, action-packed, and transitions quickly between defense and attack. There are two 20 minutes halves, unlimited substitutions, accumulated fouls, and timeouts where a coach can really impact a game with strategic adjustments. These are qualities Filipinos love when they view their sports. Filipinos also enjoy the tactical substitutions and adjustments in strategies that are done by teams, and this is the appeal futsal can have over football. If Filipinos can be fanatics of basketball, then I don't see why they can't be fanatical about futsal.
Vic Hermans 
To help us realize our plan, we are very fortunate and blessed to have Vic Hermans as our lead person in technical development. I will be the first to tell people that I am not a technical expert in futsal, so my philosophy is always to tap people who can shore up my weaknesses and who I can learn from. Vic will be with the Philippines to help guide us and realize our hopes of solidifying the futsal base and creating pathways and opportunities for those playing the sport up to the national team level. As a fan of futsal, I have known of Vic's accomplishments, especially in Asia. In fact, when he was coaching Thailand, I was an admirer of the Thai team because the Thais were physically built like the Filipinos, and they were doing extremely well in both AFC and FIFA futsal competitions.
Vic first came to the Philippines in 2015 when he conducted the FIFA Futsal Course here in the country. I was not able to meet him as I was not involved in the PFF at that time, but I heard that the coaches and our FA leaders loved him. I also received feedback that he also fell in love with the country and our culture.
When we were trying to put together a plan for Futsal for our 2020-2023 cycle back in 2019, we needed someone who could help us out. I spoke to a people working in futsal and I asked them which individual can help us the most from a technical aspect. The common name that came up when I spoked to different people involved in the sport was "Vic Hermans" given Vic's experience and knowledge of the Asian region. In 2019, Vic was no longer committed to a national team, so we set out to ask him if he would like to come back to the Philippines. Through a common friend, we arranged a Skype call with Vic and we were surprised that he enthusiastically jumped on the offer to visit the Philippines. We then arranged with AFC to have him teach the AFC Level 2 and AFC Level 1 futsal courses in the country, but before conducting those courses, we had Vic tour around the entire country for a month long futsal assessment. We sent Vic to watch our youth playing in our public schools both in the cities and in the rural countryside. Vic also visited non-profit foundations using futsal as a tool for community development. He went to regions where there is a history of armed conflict with insurgents just to see how people played futsal there. We had him observe and scout all the youth tournaments organized by our Department of Education, the Philippine Sports Commission, the Henry V. Moran Foundation, and Allianz. In those tournaments, he ran mini-coaching development workshops with the local coaches of the participating teams.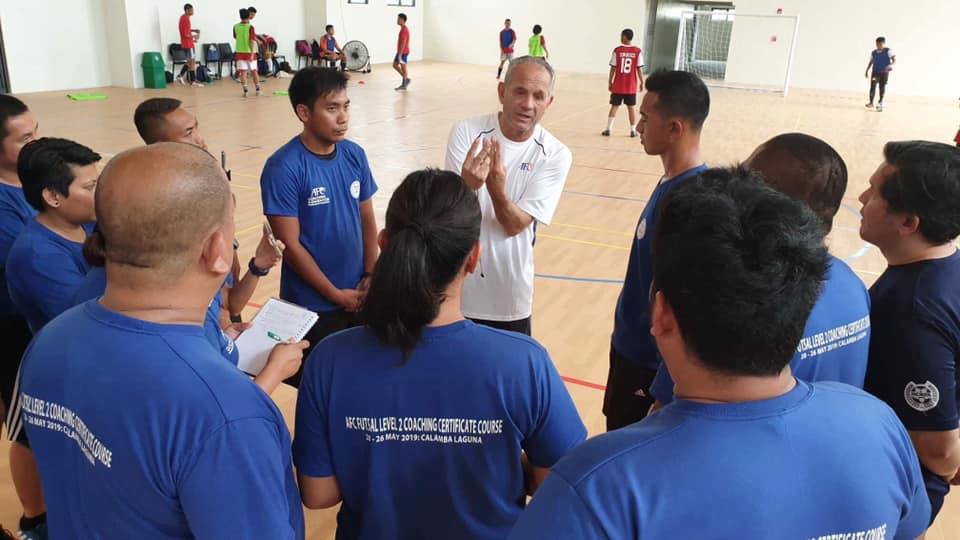 After his nationwide tour, Vic was blown away with the potential for futsal in our country given our young population of over 100 million people. He already identified exceptional (but raw) talent that can be molded only with proper guidance. In particular, Vic saw the incredible potential and good technical qualities with our women and suggested that in the Philippines, the women may possibly lead the way in the sport's development. This took me by surprise as it seemed like a complete paradigm shift for a man who for his entire career focused on men's futsal and developing men's national teams.
Not only was Vic impressed with the players, but he also saw massive potential in the coaches he worked with in the AFC Level 2 and AFC Level 1 futsal courses. What I liked about Vic was that he understood that he will not be coming in as some imperialistic saviour of Philippine futsal. Instead, he would work and collaborate together with the local coaches to come up with a solution on how we can take this sport forward together. He also understood that you can't copy what he did in another country and paste it in the Philippines. The Philippines will need its own unique approach, and he was humble enough to say he did not know what this approach would be but we will find the solution together with the local coaches.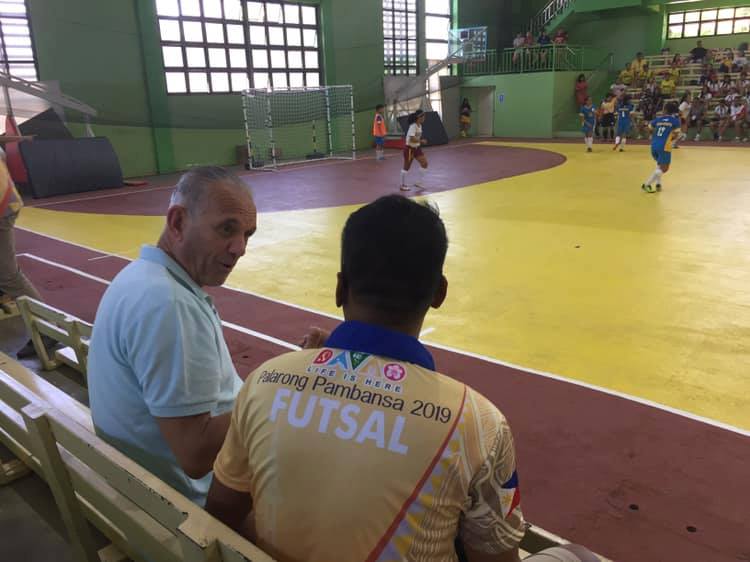 After Vic conducted the month-long assessment and the AFC courses, we then got into a discussion about him leading futsal development in the Philippines. I knew after 1 month that he was truly the right man for the job. We spoke about giving him a blank canvass to paint and create something that could potentially impact the lives of millions of Filipinos. He bought into the vision of using futsal as a tool for nation-building.
In fact, together with the support of the MVP Sports Foundation and the Henry V. Moran Foundation, we will be forming a pilot academy (once the pandemic ends) at the Inspire Academy Raya High School for Sports. The program at the Inspire Sports Academy aims to train high potential girls who we identified in our local youth tournaments to live and train in a facility under the supervision of Vic Hermans and the local futsal coaches who Vic will mentor. We hope to replicate this academy model in other regions of the Philippines not just for the girls, but eventually for the boys as well. We hope that in 2 years, this program will yield the initial core group of a young women's national futsal team.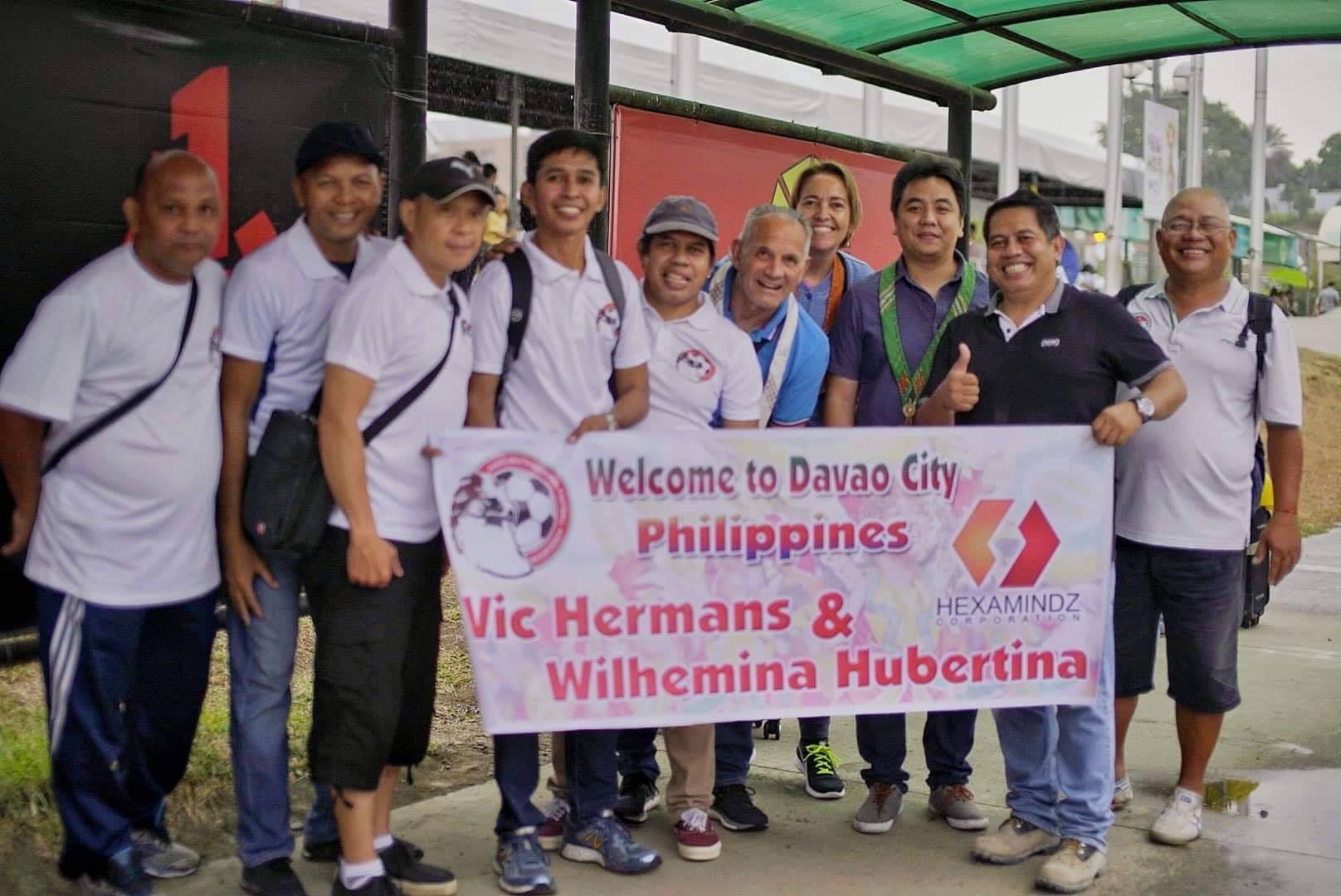 Summary 
I know that in futsal there is this huge debate on whether or not the sport should be marketed as a development tool for football. I think there is no clear answer to this debate because it really depends on the context and situation. In my country, we have been able to attract sponsorships and support by saying to some groups that futsal is a good development tool for football because it has proven to be true. One of our best football players on the national football team was also our best ever futsal player and developed out of futsal. Also in the Philippines, football is not as entrenched as in other countries, so there are fewer issues or clashes between futsal and football officials as compared to countries with a more entrenched footballing tradition. In the Philippines, futsal and football are seen as complementary, and we help each other out. That is how we got Allianz to pump resources into funding youth competitions that promote futsal because football people here saw the power of futsal to engage untapped and unreached communities who do not have access to play in the Philippines. At the same time, I completely understand the argument that if you continue to market futsal as a development tool for football, and underscore that message as your key strategy, it may at some point work against you.
Honestly, I think that an approach to this debate lies in the fact that you can still market the game of futsal as a development tool for football and still communicate that futsal is a fantastic, unique, and exciting game in its own right. In any basic marketing class, you learn that you have to break your target market into different segments, and each segment will have its own unique strategy and approach when it comes to promotion and communication. Thus, you can market futsal as a development tool for football to one portion of your market segment (perhaps to the football traditionalists and the corporate sponsors who put a lot of value in this truth), but at the same time, you can also drive home the message that futsal is a unique fun and exciting sport in its own right without having to have to mention football or piggyback on the popularity of football.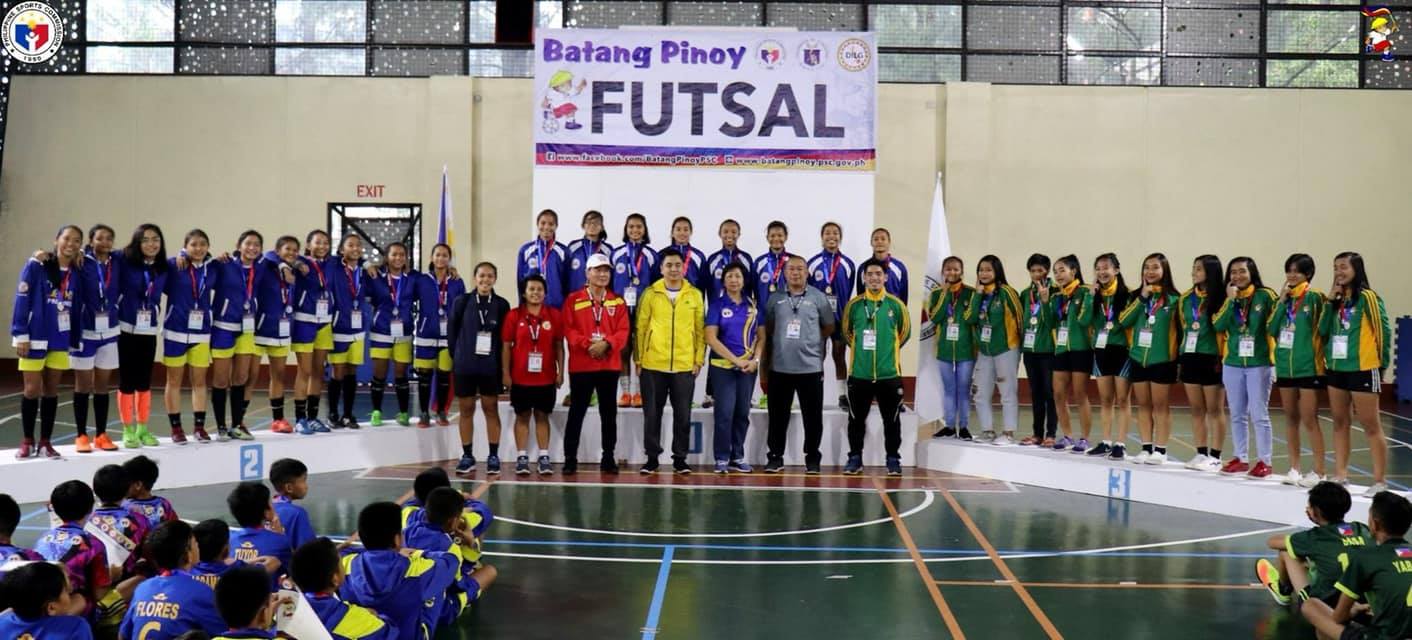 My hopes for this sport are very simple. I hope that globally, futsal can grow into a sport that is just as popular and commercially successful as basketball, where we have stars that millions of kids around the world (especially in China and the Philippines) look up to. I hope futsal can be a sport that does not have to rely so much on the funds generated from football but can in fact stand on its own and even help support football in a win-win relationship. I hope futsal can be a powerful platform where everyone (regardless of background, race, gender, age, or religion) can get a fair chance to play a sport that they love, have fun, develop, and achieve success as an amateur, professional or national team player. In fact, for the Philippines, I hope that if developed and supported properly, futsal can one day even become more popular than football because it will go beyond just being a sport to the people of my country; it will connect to their desires to build a better country. I know it will be very challenging to achieve these hopes, but we are going to give it our best shot!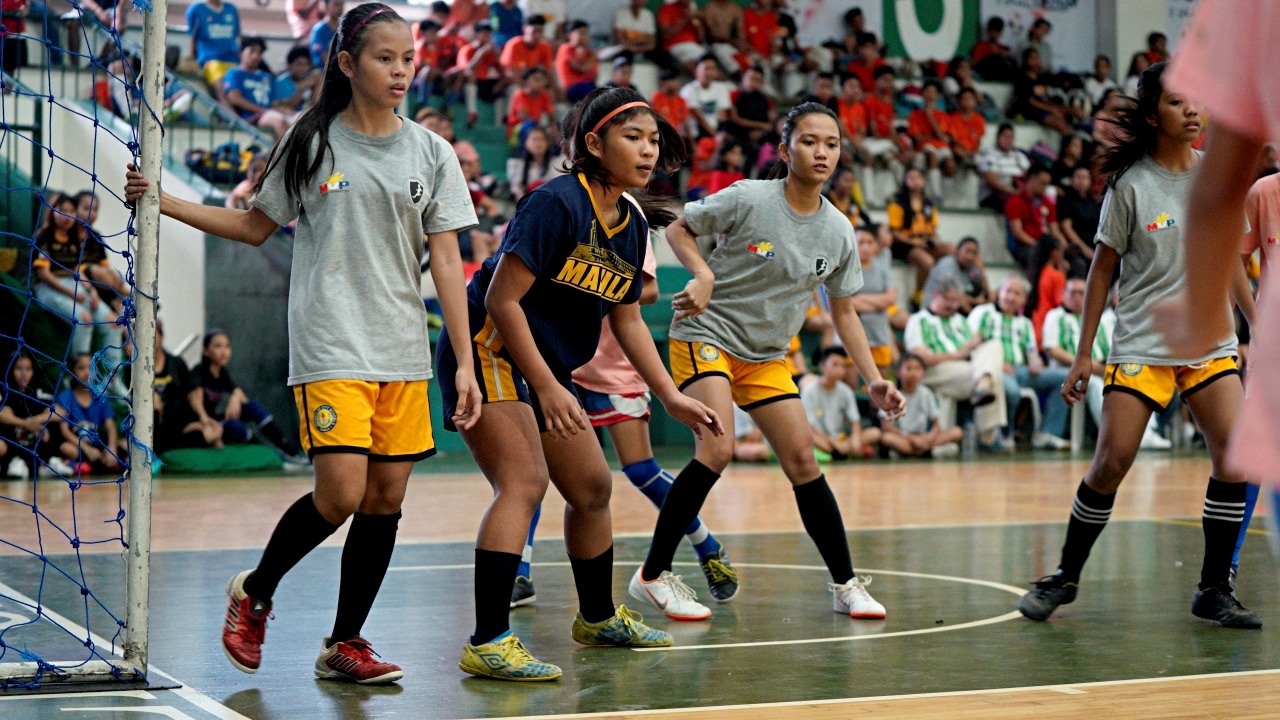 Press conference – Philippine Football Federation to lay out their plans for futsal
On Monday at 4 pm local time, 8 am UK time, the Philippine Football Federation (PFF) will have a press conference and we welcome Futsal Focus followers to join us. PFF officials led by president Mariano Araneta, Jr, general secretary Atty. Edwin Gastanes, together with Henry Moran Foundation Chairman Danny Moran, and PFF Futsal Department Head Michael Kevin Goco will attend the press conference to lay out their plans for futsal in the upcoming future.
To begin the press conference on-time, we advise everyone to log-in to the link provided 10-15 minutes before the start of the event. If you have any questions to any of their panelists, please use the Chat function during the Q&A session.
You can watch the press conference via this link on Monday: https://bit.ly/36UMh5Z
You can read more articles about global futsal by going to the top navigation bar or click here
If you like this article and would like to keep updated on Futsal news, developments, etc then you can now follow Futsal Focus via Google News by following our page which will send you an alert as soon as we publish an article so please click here and follow us on Google.
You can also keep updated on Futsal news, developments, etc then please submit your email below in the Subscribe to Futsal Focus option.
Follow Futsal Focus by clicking on Facebook, Twitter, or Instagram, or on the social media buttons on the website.