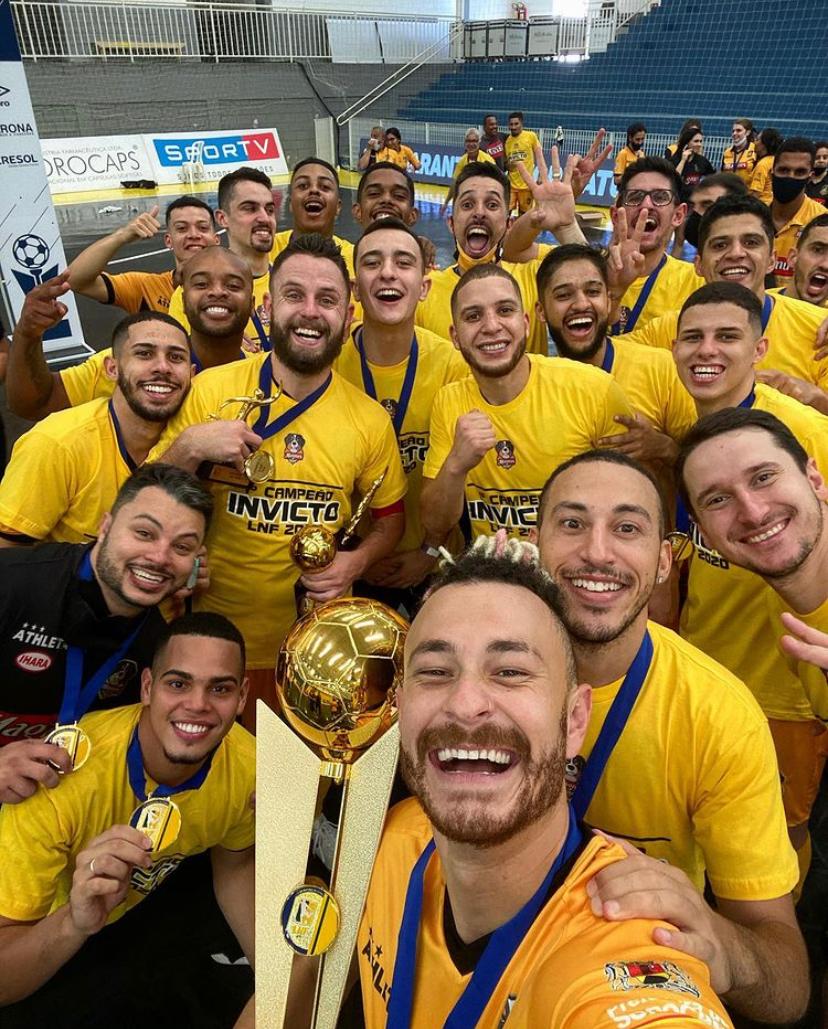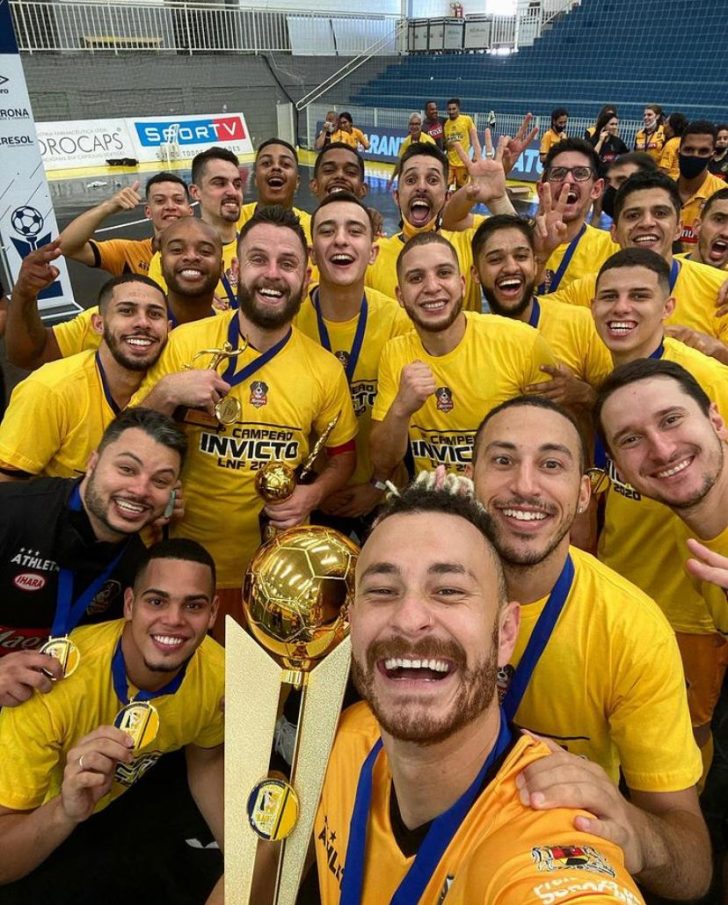 Estimated reading time:13 minutes, 42 seconds
In the futsal industry, Europeans regularly talk about clubs such as Barcelona, ElPozo, Movistar Inter, Sporting de Portugal, Benfica, Kairat Almaty, ACCS Futsal among others. This season, however, in Brazil Magnus Futsal raised the bar on and off the court.
Of course, Magnus Futsal and the Brazilian Futsal league are very much respected and famous around the world within the industry, and are famous for their success, players, coaches, along with the league for its clubs etc. However, in 2020, Magnus Futsal went above and beyond the rest, attracting not only domestic, but international interest and were recognised for their fantastic marketing and promotional work, coupled with, an incredible season.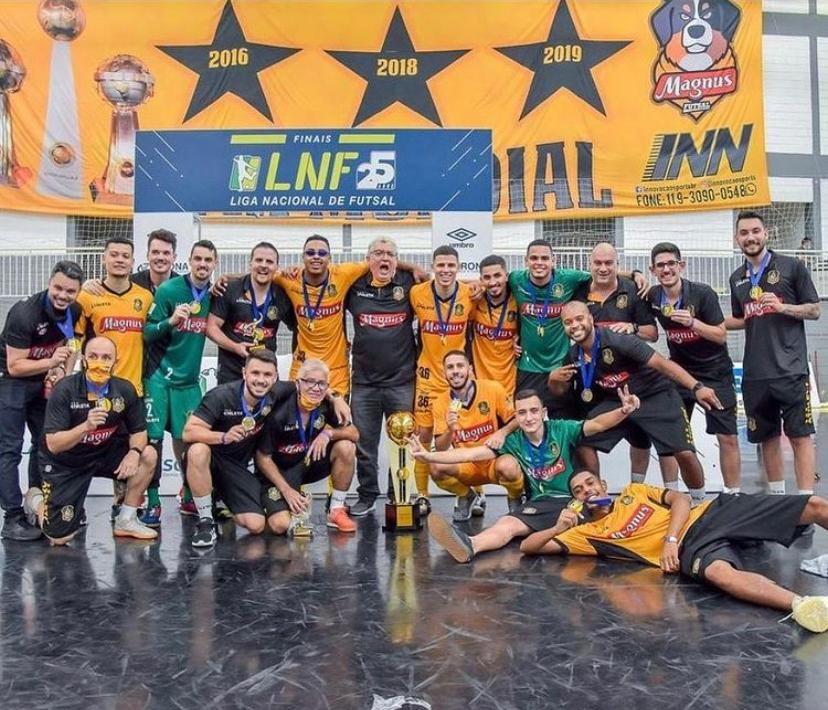 Futsal Focus got in touch with the club's President Fellipe Drommond to find out how long they had been planning for this season when it comes to their marketing activities, and the creation of their web series hit "Vai Pra Cima Fred". In addition to recruiting an undefeated team in the National Futsal League (LNF) and the Sao Paulo State Championships, and to learn how they plan to build on this success for their and futsal's benefit.
FF: Fellipe, firstly let me say congratulations on an incredible… season on and off the court. Before we start to talk about last season and the wonderful achievements of you, your staff and players. For those reading about your club and you for the first time, can you please give us a summary of Magnus Futsal club? What were you doing before Magnus and how did you become involved with the club as its CEO?
FD: Hi Stephen, it is a pleasure to speak with you and Futsal Focus followers. Congratulations on your work, I have been following Futsal Focus for many years. What you do is important to the development of Futsal around the world.
I started my life in futsal, firstly when I was a child. I was 7 years old when I started to play and train with the dream of one day becoming a successful player. However, I think God decided a different plan for me, saying "My son, you should focus on studying haha". I played futsal until University where I studied Journalism then when I finished my degree, I opened an office and focused on sports media. We worked with soccer players and Olympic athletes, but to continue our development I started to work in marketing and sponsorship with clubs, TV rights, advertising sales, project management and event production as well.
In March, 2013, I met with Falcao concerning an advertising opportunity with our client Brasil Kirin. At that time, he spoke with me about the possibility of setting up a new team in Sorocaba. Falcao lived in the city and he informed me about the Sorocaba Arena construction project. He had the dream, and I decided to make it a reality. My business team and I started a special project focused on developing a communication platform that would lead to the creation of a futsal team. As a result of marketing activities, promotions, fun interactions with fans, we were able to build an audience with high engagement to justify the investment that would be needed to attract brands and secure sponsors. Everything worked out! We approved a budget large enough to sign Falcão, Rodrigo, Tiago, Ricardinho with Vander Iacovido as coach and Reinaldo Simões as team manager (The link between the coaching staff, players and the business side to the club). A giant was born, winning all the competitions we were involved in 2014, and in 2015 we were the champions of the Libertadores da América. Despite this success, Brasil Kirin decided to end their sponsorship to sell their company to Heineken and this decision was a big shock for us. It seemed like the end for the club, but during this difficult period we found the perfect match.
In 2016, our naming rights were acquired by Adimax, a feed factory for dogs and cats, and the owners of Magnus, Origiens and Fórmula natural brands. We will always be grateful to Adimax and a special mention must go to Mr. Adir Comunello, Diego Comunello and João Piza who embraced our project, and bought into our idea to transform this team into one of the greatest clubs in the world of futsal.  Our goal would be achieved through wide communication platforms, with increased marketing and media engagement for brands coupled with great results on the court – a revolution in the Brazilian sports industry. Thus, Magnus Futsal was born, now the most victorious young club in the history of futsal.
FF: This season, you launched Vai Pra Cima Fred, a web series with YouTube Originals and Desimpedidos. How long was this project planning in the making, whose idea was it, how did you come up with it, what was the purpose of it, tell us everything…?
FD: We started to put this project together in mid-March of 2019. At the end of 2018, we first worked together on a partnership with NWB and Canal Desimpedidos, when we held an edition of Superclássico Desimpedidos at the Sorocaba Arena with the participation of Magnus Futsal players, and Fred as a great character. The project was a success and together we won an important sports marketing award in Brazil, which was the Máquina do Esporte trophy, as the best digital marketing activity in the country in 2018. This success caught our attention and we started thinking about alternatives to have Fred closer to our team. The idea then arose to propose the production of a reality show, in a conversation between Guilherme Mansueto and me (our press officer and producer of digital content).
After talking with Guilherme, I spoke to Rafael Groisten (CEO of NWB) and he proposed that we delivered it as a web series instead of a reality show. So that it would be in a format more suited to the digital world, and especially to the Desimpedidos audience, but we were later told that it would be almost impossible to have Fred for three months due to his work schedule. We knew if we were to make this project happen we would have to increase Fred's interest in it. From this, the fundamental role of Rodrigo (Our captain) entered the project. Fred had scheduled to shoot the Fred + 10 challenge with our captain and teammates again at the Sorocaba Arena. I spoke to Rodrigo and asked him to talk with Fred about the idea  in more detail so he could catch a glimpse of what we were trying to achieve. Rodrigo spoke to Fred, and this conversation sparked the interest and genius of one of the greatest communicators in the world in the 21st century, Bruno Carneiro, Fred.
We held a meeting together at TFW Marketing's office, Fred discussed all his ideas, and the project became so big that we decided to present it to YouTube Originals in Los Angeles to become the first sports web series. At this point, we are still in April 2019, several meetings followed before we reached the development of the technical aspects of the project, and the script creation for the web series. The script creation was done in partnership with the production company SPRAY led by the brilliant CEO Andre Giusti and the exceptionally talented directors Eduardo Sallouti and Leo Ferraz who approved all stages with YouTube before the recordings started. Fred started training in August 2019 under the guidance of our coaching staff so he could arrive in January at the level needed for high-performance athletes. It was a success; Fred is a phenomenon, and he raised the bar in Brazilian Futsal. There was an entire generation of young people who had no love for the most practiced sport in the country, and Fred made these boys/ girls fall in love with the sport again and attracted a new audience as well to futsal. More than 30 million people were impacted, it was the largest YouTube web series in Latin America, the team's online following grew more than 200% across social media, our athletes participated in several marketing actions, and we strengthened our communication platform, along with rejuvenating the profile of our fans. We were able to prove that with planning we could deliver a big marketing project in parallel with the development of high-performance athletes and still win titles. We are incredibly grateful to Fred, we will be forever grateful, he is now a part of the Magnus Futsal family and we hope to build much more together for the good of global Futsal.
FF: Over 30 million people have watched it, did you expect it to be as successful as it was?
FD:  We all knew the potential that this partnership could bring us, after all, Desimpedidos is one of the largest YouTube channels in the world, with more than 8M subscribers. I believe that the positive result exceeded the expectations of everyone involved. The delivery of this project by all parties involved was amazing, everything came together perfectly which was fundamental to the magnificent result.
FF: You followed this with an additional online series "Invictos" looking at your undefeated season, how well has this been received in Brazil?
FD: Undefeated is part of a different proposal, Desimpedidos and Fred are on another level, after the #VaiPraCimaFred we had the determination to take advantage of the positive wave to increase the performance of our YouTube channel by producing our own content. We worked throughout the year creating content, which today positions us as the futsal club with the largest YouTube channel in the world, and we were confident that we would have a great season. Therefore, we were storing previously unseen footage, already thinking about the possibility of a successful season. I often say that producing and archiving is invaluable, because even if it is kept for decades, when it is discovered the positive impact and enjoyment people will get is immeasurable. Within the reality of Futsal, the Invictos series has been an absolute success, with almost 200 thousand views, considering that our channel has 140 thousand subscribers. These numbers demonstrate the strength of our club in front of a new audience that now admires Futsal.
FF: On top of this fabulous marketing campaign, despite all the attention, your team showed true professionalism, carried all the expectation, and still went out and won both the national league and state championship. How do you feel now at the end of this season? Could you have predicted this beforehand? How much time was spent on the recruitment of players prior to the season began, and who were the standout/role model players for you in the squad?
FD: We knew that with the series, some would be concerned that this could be a distraction and could impact our season. Therefore, our biggest challenge was to prove that the players and coaching staff were prepared to change their daily routines, dividing it with cameras and filming, and still produce on the court. The 2019 LNF final defeat was a result, we as a group were determined to rectify in the new season. However, certainly, nobody imagined that we would end an entire season without losing any games, it was spectacular. We promoted eight young athletes from the U20s. Mister Ricardinho led this process alongside all the competent technical committee by linking young players to the experience of Rodrigo Hardy, Danilo Baron, Kevin, Lucas Oliveira, Djony, Marinho and Leandro Lino (who in my opinion is the best player in world futsal activity for the last 2 years). Magnus Futsal managed to reach a level of game excellence that we have not seen in world futsal for a long time. The team played well with offensive futsal, agility in the transition of defense, always putting pressure in search of the ball and won all possible competitions, reinforcing our title as the most successful young team in the history of world futsal.
FF: Ahead of the new season for Magnus Futsal, has recruitment already begun, how do you think you can replicate such as great season?
FD: I think it is almost impossible to repeat an undefeated season without losing any games. This has never happened in the history of Brazilian futsal, in 25 years of LNF – the National Futsal League we were the first and only undefeated champions. But, as for recruitment, we usually start in the middle of the previous year, that is, in July 2020, when we start to make contracts for the beginning of 2021. We renewed with the entire base of the team, we didn't lose any of the main players and we managed to maintain a good structural stability for the 2021 season again with great chances of winning important titles in Brazilian and world futsal. The only recruitment we have done was the signing of the experienced pivot Sinoe, who will join the goal scorers Charuto and Alisson to maintain our offensive power at a high level.
FF: With the marketing success you have had, are you planning more similar initiatives, and can we expect to see more documentaries etc… being made by your club?
FD: We are looking for innovation all the time, we are relentless for news and we want to create news. We are eager to continue creating projects that excite and draw attention to futsal and our club. This month we launched the INVICTOS series which is available on our YouTube channel at www.youtube.com/magnusfutsal, where we show behind the scenes of the 2020 season, and Rodrigo Hardy commentates on the footage. There are 4 emotional episodes, the first episode starts with the creation of the  Vai Pra Cima Fred series and ends with the title of the National Futsal League.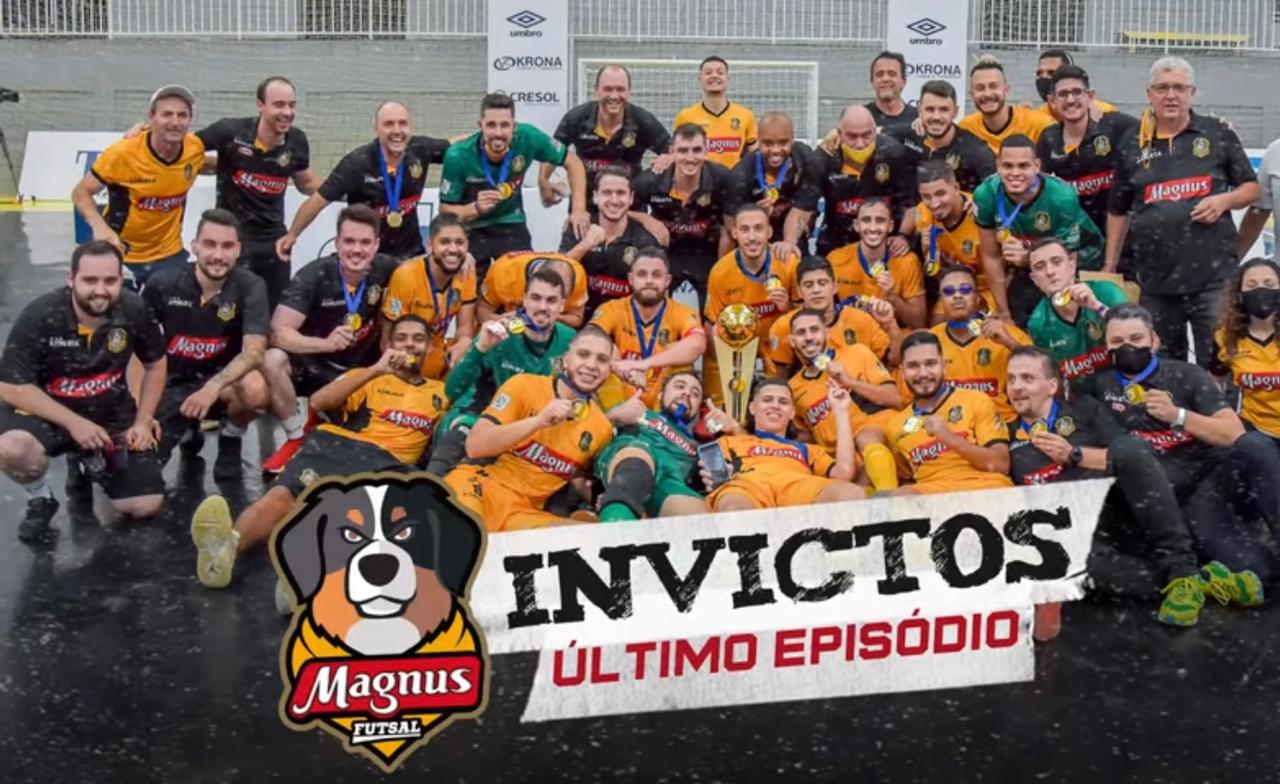 FF: Our final question is, how would you like to see the others clubs in Brazil improve their marketing, what sport outside of futsal do you look to as an example for the rest of the futsal industry in terms of marketing and the presentation of their product?
FD: Futsal has the potential to be the Brazilian NBA! We have big companies that support the sport, we have the top players in the world. The product alone presents several enjoyable factors, with many goals, lots of emotion, but for that to happen it is necessary to understand that we as promoters of the sport need to generate content that appeals to the emotion of fans and ignites interest in novices. If clubs are not concerned with improving the presentation of our sport, in my opinion, the sport alone will not attract the attention of young people. It is necessary to respect the new communication formats, the characteristics of this new generation and, above all, make the brands loyal to the franchises so that there is a long-term engagement between fans and the clubs they love. These are processes that can be driven by LNF's management and the support of all the top clubs of the sport in the country. Futsal is genuinely Brazilian, it is part of the DNA of our people, after all, all children in Brazil have their first contact with a ball on a futsal court. I always say that the child today starts playing on a court, with a futsal ball and a futsal boot yet thinks he/ she is playing football. My wish is to see this child not lose his/ her love for the sport, and to continue admiring the game that gave them their first opportunity to enjoy kicking a ball with their friends.
Thank you Fellipe for this interview, it was great to talk with you about your club and we look forward to seeing how 2021 is for Magnus Futsal.
(Main picture is Fred holding the trophy with the Magnus players)
You can read more articles about domestic futsal by going to the top navigation bar or click here
If you like this article and would like to keep updated on Futsal news, developments, etc then you can now follow Futsal Focus via Google News by following our page which will send you an alert as soon as we publish an article so please click here and follow us on Google.
You can also keep updated on Futsal news, developments, etc then please submit your email below in the Subscribe to Futsal Focus option.
Follow Futsal Focus by clicking on Facebook, Twitter, or Instagram or on the social media buttons on the website.