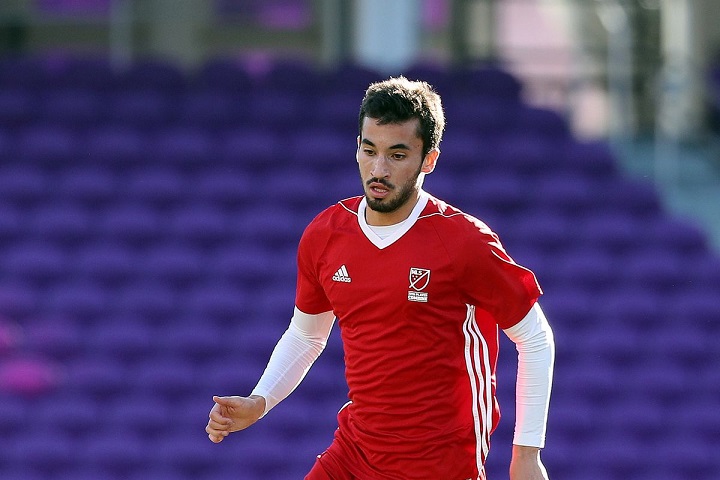 Estimated reading time:3 minutes, 20 seconds
Futsal Focus is dedicated to the development of Futsal and the growing opportunities the sport has to offer young players. However, the Futsal court has always been a fruitful venue for Football club scouts and with the growth of Futsal and awareness of the sport's development benefits, the across over of players who may prefer to play Football will always continue. But, be in Futsal or Football, the most important path is the path to opportunity whichever pathway a young boy or girl chooses. FutsalFocus has been approached by Football coaches interested to know examples of this transition from Futsal to Football and MLS player Rafael Santos is a great example of this development pathway.
MLS player Rafael Andrade Santos was a product of a Futsal development transition to the larger field. Rafael's dream of playing professional Football began at the Futsal courts in his native Rio de Janeiro, Brazil.
Santos, 22, began honing his skills with the ball when he was 6 years old. By 8, Brazilian club Flamengo noticed his talent and signed Santos to the club's academy, where he instantly joined the team's futsal academy before transitioning to soccer.
"I played futsal for four to five years. They would choose some of the best guys to transition to the field," Santos told Pro Soccer USA. "By that time, I would play on the field in the afternoon and play futsal at night… that was my schedule until I ended up staying full time in the field.
"It's cool because futsal prepares you with a lot of technical abilities to develop, the spaces are tighter, fewer players and the game is more intense… it really develops your thinking of the game as well as your technical ability."
Santos felt very comfortable in Flamengo, but his mother suggested he consider a move abroad.
"She wanted me to leave because she wanted me to keep studying and pursue my academics and eventually earn a degree in college. She was very strict with me that way," Santos said.
It took a while for what he called his "mother's wisdom" to sink in, but a year later he joined 2SV Sports, a company with offices in Brazil, the U.S. and Germany that helps young athletes find exchange opportunities, grants and scholarships to American schools.
In 2012, Santos left one of Brazil's best clubs to play for one of the best prep soccer programs in the United States: Montverde Academy.
"I had a great time there. The coaching staff is amazing," Santos said of the Soccer Institute at Montverde Academy also known as SIMA. "[It] prepared me so well for college."
After two years in Central Florida with SIMA, the center-attacking midfielder went to play collegiate soccer at Virginia Commonwealth University. But college didn't start off very well.
Santos didn't score as a freshman, but he continued to learn each year with the Rams. By his senior year, he scored a career-high 12 goals and recorded five assists in 18 games played.
After breaking out last year at VCU, Santos finds himself one of 70 prospects at the MLS Player Combine in Orlando. All of them aim to impress MLS coaches early this week in the hopes of getting selected in Friday's MLS SuperDraft in Philadelphia.
Though his journey started back at the futsal courts in Brazil, Santos still dreams of playing professionally in America.
"I have a really good affection here in Central Florida," Santos said when asked where he'd prefer to play. "But whoever selects me, I'll be much more than happy."
If you like the information provided, you can read more articles about grassroots futsal by going to the top navigation bar or click here
If you like this article and would like to keep updated on Futsal news, developments etc then please submit your email below in the Subscribe to Futsal Focus option.
Follow Futsal Focus by clicking on Facebook, Twitter or Instagram or on the social media buttons on the website.