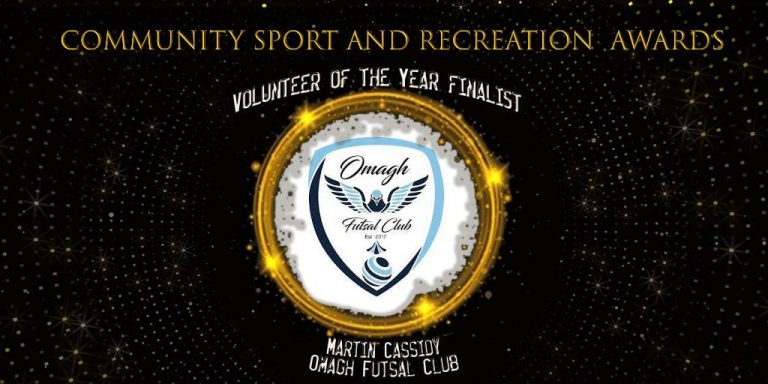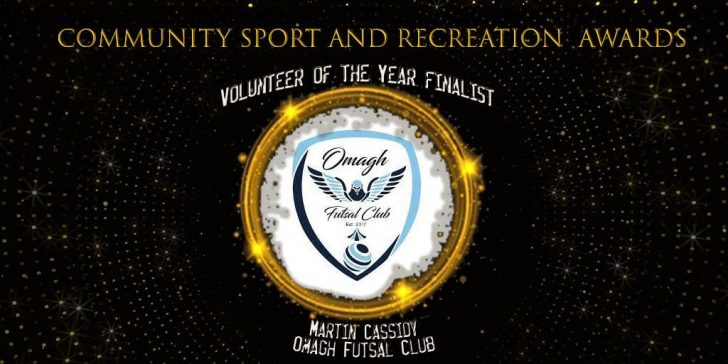 Estimated reading time:5 minutes, 45 seconds
Omagh Futsal Club was established in 2017 by Founders Martin Cassidy and David Alonso. In the beginning the clubs sole aim was competing in the Men's Futsal National League in Northern Ireland. Club Chairman Martin Cassidy said, "Our goals for the first 2-3 years was growing the name of the sport and the club locally. We competed well in our league, but we never really had a plan moving forward. We wanted to enjoy the sport for what it is and give local people an opportunity to engage with it, experience it and play competitively if they were interested but then the pandemic came along, and we took time to reflect on why we were doing this.  The club's format at that time was unsustainable. We lost most of our team and needed to rebuild."
The club are 1 year into a 3-year club development plan. In the last year with help from Sport NI and multiple other funders the club has delivered the Irish FA Futsal Introductory Award for 20 local coaches, Irish FA Futsal Level 1 Award for 10 local coaches and a Futsal UEFA B Licence for their Head Coach. In addition to a Futsal Academy for ages 6 – 11, Futsal camp with local college, Futsal schools programme, girl's only futsal programme, over 35's social futsal, refugee futsal programme, futsal competitions and free futsal equipment for local schools and venues.
Martin continued "Over the past year, we have really embedded our club within the community. Now people know what futsal is. We have had around 500 people in the last year take part in our programmes. The objective now is to become a sustainable club than delivers for everyone in our community".
Omagh Futsal Club's Head Coach David Alonso commented "The club has transformed as have we over the past few years. I have now completed my futsal UEFA B qualification and the next goal is the UEFA A license. We are changing the culture of our club from it being a past time or afterthought for participants to being their main sport. The club is now a club, no longer just a team. Our senior team recently fielded a match day squad averaging just 18 years old. This is the future we want to create. 5 of our players got trials for the Northern Ireland National futsal squad and 2 of them recently made their debuts. It is the youth we need to concentrate our energy on to continue growing this sport."
Going forward the club have numerous short term, and long-term objectives:
Win the senior national men's league and compete in the UEFA Futsal Champions League
Launch the next phase of our academy to cater for 12- to 16-year-olds
Create futsal programmes and opportunities for all
Coach and volunteer development programme
Growing the sport locally and across Northern Ireland for those who want to compete and those who just want to enjoy the sport
The aim of the club is to move away from amateurism and progress towards professional amateurism which they are currently planning to work towards. To achieve this, they aim to expand their board, create a project programme management team to assist with the various functions of the club and provide opportunities for people at an operational level to assist in their development.
Recently, their club President Martin Cassidy was nominated for a UK Sport & Recreation Alliance –Community Sport & Recreation Awards – Finalist 2022 for category Volunteer of the Year Award. This is a fantastic achievement by Martin to receive this recognition from a credible and distinguished organisation such as the Sport & Recreation Alliance, for his work and commitment to the sport, his club and community. Martin wants such opportunities to become available for those who choose to support his club as volunteers, helping the club to manage itself professionally whilst in an amateur setting. Omagh futsal have the right outlook to development, build your foundation, build your club, support your community and in return, your community will support you. When we asked Martin, what his aims were for himself, he said, his aims don't centre around himself,
"It is wonderful to receive recognition for the hard work, but for me and David, every day is only about – Creating a legacy and history for the people of Omagh to be proud of, and for them in turn to want to be a part of it."
Futsal Focus supports the Donate4Dáithí campaign
To follow the Donate4Dáithí campaign, you can visit their website here: www.donate4daithi.org  or on Facebook at: https://www.facebook.com/Donate4Daithi you can also donate money to their campaign at: https://www.justgiving.com/crowdfunding/donate4daithi
Learn more about the Donate4Dáithí campaign by going to our article here
Futsal Focus
You can read more articles about domestic futsal by going to the top navigation bar or click here
If you like this article and would like to keep updated on Futsal news, developments, etc then you can now follow Futsal Focus via Google News by following our page which will send you an alert as soon as we publish an article so please click here and follow us on Google.
You can also keep updated on Futsal news, developments, etc then please submit your email below in the Subscribe to Futsal Focus option.
Follow Futsal Focus by clicking on Facebook, Twitter, or Instagram or on the social media buttons on the website.