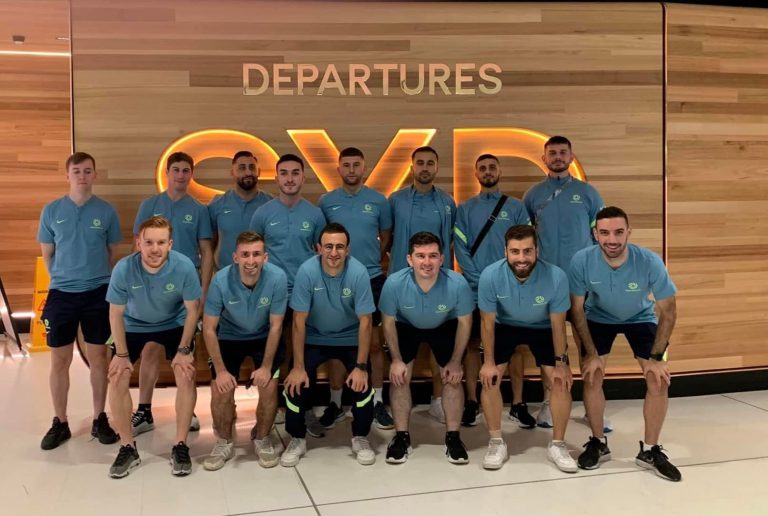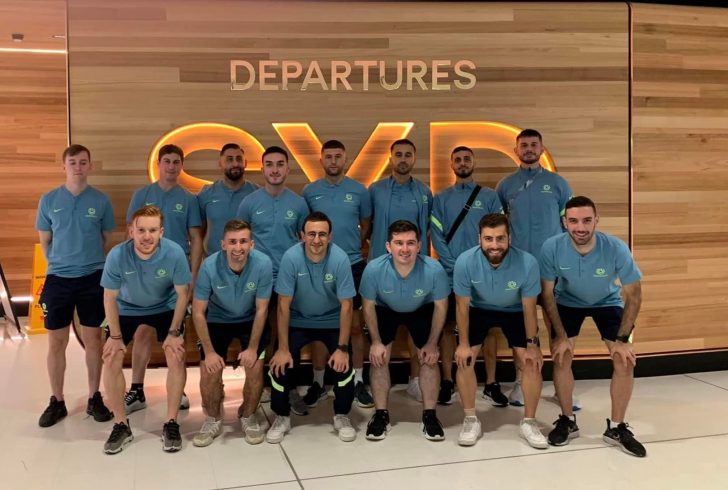 Estimated reading time:6 minutes, 36 seconds
The last time the Futsalroos took part in the AFF Futsal Championship was in 2019 but the team was suspended soon afterwards. Now, they are back, and ready to compete on the international stage.  The squad and coaching staff departed for Thailand where they will enter the competition in Group B. Joining them in the group is Vietnam, Myanmar and East Timor. The new Australian national futsal team selection divided opinion, but united all in support for their countrymen, hoping they can make an impact and perform well.
When the national team programme was reinstated and officially announced, the Australian futsal community along with many in the global futsal community were delighted to read the news, and celebrated Football Australia's decision. Especially, when their announcement stated that they new head coach Miles Downie will not only lead the national team, but will drive the development of Futsal in Australia to ensure that Futsal is more deeply integrated into Football Australia's technical strategy and vision.
The national team announcement, however, was followed by the decision to not recall their previous Futsalroo players, but to open up the roster to national trials. A decision which excited many players and coaches eager to see their players pull on their national jersey and represent their country. Players from every state give it their all to make the final cut, but only 14 can make the team, and when the squad was announced, it was met with strong divided opinions, anger, support and excitement.
Australia's new coach Miles Downie is also the current Head Coach of Futsal in New South Wales for Eastern Suburbs Hakoah Futsal Club, and because the majority of his new national team squad come from New South Wales as well (12 out of 14 players with 2 from Canberra and Melbourne and 2 reserves from New South Wales), biased was felt by many.
Former futsalroos who had dedicated their lives to futsal and always made themselves available for the national team were overlooked and not spoken to (It is claimed – he may have spoken to some but not all), a decision which also angered many. Players who travelled for the trials and were told they didn't make the squad were also hurting, feeling the squad didn't reflect the talent available across the nation. But, at the end of the day, the new head coach is a former Futsalroo and a former professional futsal player who competed in Brazil, Portugal, and Japan (the only Australian player to have ever played in Portugal's or Japan's top divisions). Furthermore, he has a Master's degree in Exercise Science, is an AFC Futsal Coaching Instructor, and is an AFC Futsal Fitness Instructor. He also works as a Strength and Conditioning Coach for Sydney University's Elite Athlete Program, with his portfolio including a number of Olympic athletes along with teaching at the University. Miles' playing career has provided him with a unique perspective on Football and Futsal. His resume screams knowledge backed by experience, he will understand how the players feel, he will understand how the community feels, but he is making the decisions he feels are right, and every manager will be judged on their decisions, and his team's performance when the competition is over , all of which he will be more than aware of.
When announcing the new national team, Football Australia described the team travelling to Thailand as Australia's brightest emerging Futsal players, a statement which shows they back their national team manager, his decisions and the team's chances in Thailand to progress to the knockout stage.  On arriving, the team is scheduled to take on local Thai futsal clubs, Thonburi University and Thammasat as they prepare to compete in the championship. Finishing first or second in their section will see them advance to the Semi Finals, which would then provide the team with the opportunity to qualify for the AFC Futsal Asian Cup to be held later this year. However, winning the group will be difficult, Vietnam may not be a strong opponent in football terms but in futsal they are one of the strongest nations in Southeast Asia. The nation will be looking to make their own history in the competition. Despite their success, Vietnam has failed to qualify for the Asian Championship for seven years now, and the team will want to change that in April.
Downie will be fully aware of  the challenge ahead of him and his players as will his newly appointed assistant Gold Coast Force Futsal Head Coach Bruno Cannavan who said participation in the AFF Championship will provide his chargers with invaluable exposure following Australia's extended absence from international Futsal. Myanmar have been preparing for the competition by competing in the NSDF Futsal Invitation and kicked off the tournament with a winning start against Mongolia. In 2019, Myanmar finished in fourth place in the AFF Futsal Championship and East Timor's best placed position in the same competition was in 2016 when they too placed in fourth.
The AFF Futsal Championship might have come too soon for Australia, but this isn't a nation starting off in Futsal, the sport has been played there for many decades. Whether they progress in this competition or not, there is no doubt, if futsal and the national team continue to be backed by Football Australia, the team will soon be challenging again for a place in the FIFA Futsal World Cup which they last qualified for in 2016.
2022 will mark Australia's sixth participation at an AFF Futsal Championship. The Futsalroos finished as Runners Up in 2007, 2013, 2014, and 2015.
The top three nations at the AFF Futsal Championship 2022 will secure qualification for the AFC Futsal Asian Cup 2022, which will be held in Kuwait in September and October this year.
Futsalroos fixtures for AFF Futsal Championship 2022 and are being streamed on Facebook via Futsal Thailand's Facebook page: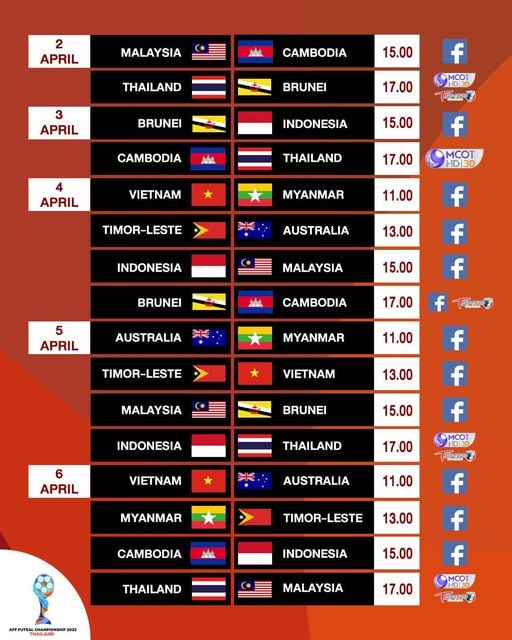 April 8, Semi Finals
April 10, Finals
Futsalroos Squad | AFF Futsal Championship 2022 | Bangkok, Thailand (alphabetical order)
| | |
| --- | --- |
| Name | Member Federation/Club |
| Shervin Keshavarz ADELI | Football NSW / Enfield Allstars |
| Jonathan BARZEL | Football NSW / Inner West Magic |
| Jacob BASDEN | Football NSW / Dural Warriors |
| Mark BRACKENRIG | Football NSW / Mountain Majik |
| Robbie EZEKIEL | Football NSW / Eastern Suburbs Hakoah |
| Daniel FORNITO | Football NSW / Inner West Magic |
| Wade GIOVENALI | Football NSW / Dural Warriors |
| Jordan GUERREIRO | Football NSW / Mountain Majik |
| Anthony HADDAD | Football NSW / Inner West Magic |
| Dylan NISKI | Football NSW / Inner West Magic |
| Nicholas RATHJEN | Capital Football / Boomerangs FS |
| Scott ROGAN | Football Victoria / Fitzroy Futsal Club |
| Admed SWEEDAN | Football NSW / Dural Warriors |
| Emmanuel TZANAKES | Football NSW / Eastern Suburbs Hakoah |
If you would like to learn more about Australia's new national team head coach and assistant coach then click on this link to read our related article: https://www.futsalfocus.net/football-australia-announced-miles-downie-as-their-new-futsalroos-head-coach/
Futsal Focus supports the Donate4Dáithí campaign
To follow the Donate4Dáithí campaign, you can visit their website here: www.donate4daithi.org  or on Facebook at: https://www.facebook.com/Donate4Daithi you can also donate money to their campaign at: https://www.justgiving.com/crowdfunding/donate4daithi
To learn more about organ donation or to sign up, you can visit https://www.organdonation.nhs.uk/ and to sign up: https://www.organdonation.nhs.uk/register-your-decision/donate/
Learn more about the Donate4Dáithí campaign by going to our article here
Futsal Focus
You can read more articles about global futsal by going to the top navigation bar or click here
If you like this article and would like to keep updated on Futsal news, developments, etc then you can now follow Futsal Focus via Google News by following our page which will send you an alert as soon as we publish an article so please click here and follow us on Google.
You can also keep updated on Futsal news, developments, etc then please submit your email below in the Subscribe to Futsal Focus option.
Follow Futsal Focus by clicking on Facebook, Twitter, or Instagram or on the social media buttons on the website.