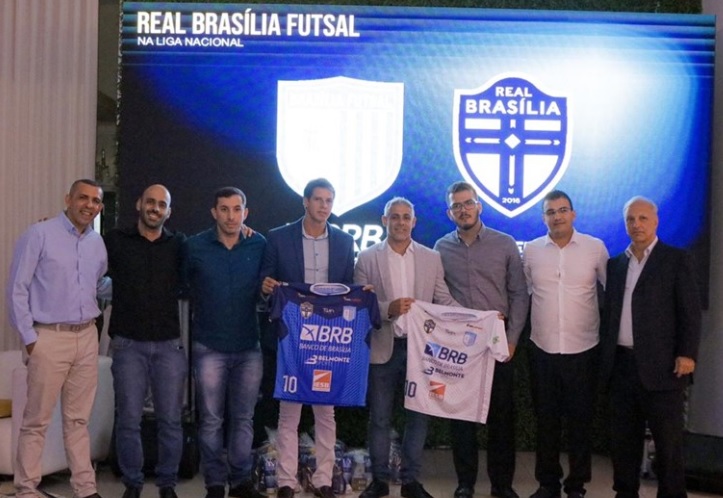 Estimated reading time:1 minute, 48 seconds
Real Brasilia Futsal has been approved by the Liga Nacional de Futsal (LNF) council in Brazil to compete in next season's elite league
The capital of Brazil will have a representative club in the country's futsal elite from 2020. Real Brasilia / BRB has provided the necessary guarantees to compete in the National League and will be one of 20 teams challenging for the title when the games begin on March 27th.
Coach João Carlos Barbosa starts working with his squad on January 25. The intention of the team is to play their games at the Cruzeiro and Sobradinho gymnasium. The National Futsal League (LNF) has yet to visit their venue but plan to this week and to give their endorsement.
According to Real Brasilia / BRB president Tiago Fernandes, the full squad will be officially presented to the public on February 3rd. "We are planning to play an excellent campaign in order to rank among the eight teams," plans Tiago. "The idea is to participate for two years as a guest and in the third year of LNF acquire a franchise."
The current champions of the National Futsal League are Pato Futsal. The team from Paraná secured the championship for the second time after a 6-0 rout over Sorocaba, away from home. The achievement was last Wednesday.
The Real Brasilia Futsal / BRB Technical Commission:
General Manager: Tiago Fernandes;
Supervisor: Marlon Sérgio Lima Silva;
Administrative Supervisor: Marcelo Laitano;
Coach: João Carlos (Banana);
Technical Assistant: Luciano Luiz Gonçalves de Araújo (Mistura);
Technical Assistant: Manoel Pereira dos Santos;
Goalkeeper Coach: Guilherme Anjos de Oliveira;
Physical Trainer: to be defined;
Physical Therapist: Renato Carvalho Moterani (Brazilian Women's Team);
Nutritionist: University Center for Sports Nutrition – Nune;
Coordinator: Paulo César
If you like the information provided, you can read more articles about domestic futsal by going to the top navigation bar or click here
If you like this article and would like to keep updated on Futsal news, developments, etc then please submit your email below in the Subscribe to Futsal Focus option.
Follow Futsal Focus by clicking on Facebook, Twitter or Instagram or on the social media buttons on the website.