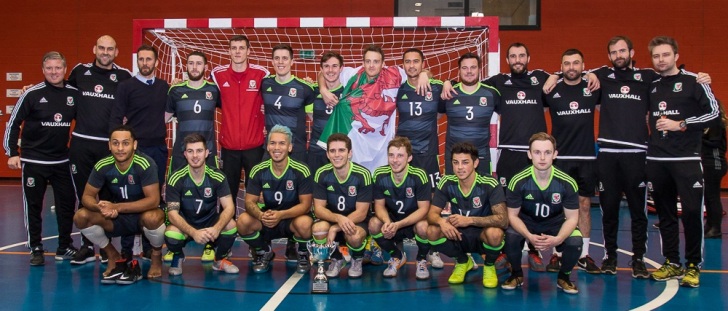 Estimated reading time:10 minutes, 8 seconds
Wales recently won the first-ever Home Nations Futsal Championships and Futsal Focus spoke with their Head Coach Richard Gunney after the event:
How does it feel to win the first-ever futsal home nations championships?
To win the championships is an incredible experience and I'm delighted with all the exposure the championships have received. We knew it wouldn't be an easy task but we were ambitious to be the first nation to lift the trophy and we knew that as a squad it was something we were more than capable of doing. The players showed great desire and quality across the three days and we were determined to perform in front of a passionate home crowd. International futsal is such an intense environment for players and coaches with such fine margins making the difference. It can be a very frustrating place after a game with plenty of "what ifs" racing through your mind but thankfully for us we put together three fantastic performances and it was a great feeling to see so much hard work from so many people come to fruition.
How did the futsal home nations come about?
A few years ago I spoke with my good friend Simon Walker and we discussed trying to stage a Home Nations once all four nations were established with a futsal national team.  As soon I heard the news that Northern Ireland were developing the game I set about trying to coordinate the nations signing up and committing to the tournament. Unfortunately, Simon is no longer in the post with the English FA which is a real shame as he has contributed so much to the game in England.
When I mentioned it to the international department at the Football Association of Wales (FAW) they encouraged me to set it up and even said we would host the first one. The FAW have shown great support to futsal both internationally and domestically over the last five years and I was confident the home nations would be a great competition to raise awareness in the UK and support the development of the game further. Pleasingly my counterparts in England Scotland and Northern Ireland felt the same and we worked together to develop the idea and get it agreed by our respective associations. Jonathan Michael, Mark Potter, Ian Bateman, and Michael Skubala deserve a special mention in making this happen along with Mark Evans and Amanda Smith from the FAW international department.
What were your ambitions for Wales in the tournament?
Our ambitions were simple, we wanted to win. However, we knew it wouldn't be easy and we had to prepare thoroughly for all three games. We have an important qualification tournament in January which we are preparing for but we wanted to go into the preliminary rounds in January as UK champions full of confidence. We have been on a roller coaster of a journey and I'm so pleased for the players and staff that they can bask in the glory of winning the tournament at the first attempt. We have been competitive from our very first international only losing 2-1 to an experienced Andorra team but technically and tactically it has taken time to educate the squad on the complexities of the game on the international stage. We have had to experience the lows of defeats and many near misses where we have been in winning positions but lost by just one goal. This is a great feeling that the players have thoroughly deserved and is a testament to their hard work and quality on the court.
Northern Ireland played their first-ever international games, how do you think they did against you in the first game?
Northern Ireland has now made that leap into the international arena and it's a brutal place, unlike football. You can get away with much more margin for error in football but in Futsal, you give a player half a yard of space and they punish you. Scores can be very high and to the untrained eye, it paints the wrong picture. Northern Ireland has now experienced that frustration themselves and it's so tough. It's a very painful place after a game following a loss and results on paper never reflect accurately how close games can be. In the first game of the tournament Northern Ireland was only losing by one goal to ourselves with one minute remaining of the first half. They had hit the post so it was a great first performance for eighteen minutes. We had played very well in possession and created good chances so with the game at 1-0 it was finely balanced. In Futsal, you can concede two goals in a matter of seconds and thankfully for Wales we executed a set play and a quick counter-attack to score moments before half time which changed the game. Unfortunately for Northern Ireland they might have to experience a few frustrating nights like that as they gain knowledge of the international game and the only way forward is to play internationals and expose the players to the tactical situations. I think they have plenty of potential to work with and we have all experienced the start of the journey so I'm sure they will be even tougher opponents in twelve months time and pose a threat for sure.
Were you confident going into the Scotland game?
We were definitely confident with our own game but by no means did I think we couldn't lose the game. After a solid performance against Northern Ireland we knew we would face a tough Scotland team. We were not quite as slick in attack against Mark Potters team mainly because they put us under more pressure on the ball and we got a little bit tense knowing we wanted two wins so desperately. Again it could have been so different. We were winning by two goals for a large amount of the game but that could have so easily been taken away from us so we had to keep our discipline and manage the game well. Mentally this was very pleasing for me to watch the players close out the game to secure their first-ever back to back wins and set up the excitement of a winner takes all contest against England.
How did you prepare for the decider against England?
We have always been a very hard working group of staff analysing everything that we do and every opponent. We prepared for England the same as we always do which is in great detail. Once the final whistle went against Scotland attention immediately turned to preparations for England but we had already produced videos of all our opponents. We set about gathering any trends and common themes to make players aware of what to expect. We also reviewed our recent performances in the first two games ensuring players knew the game plan and their individual roles and responsibilities. The staff were up until 2am every night during the tournament working on tactics and preparations which is normal for us. The players are so responsive to information so as staff we try and put as much hard work in to provide the detail to the players so they are well equipped for every eventuality.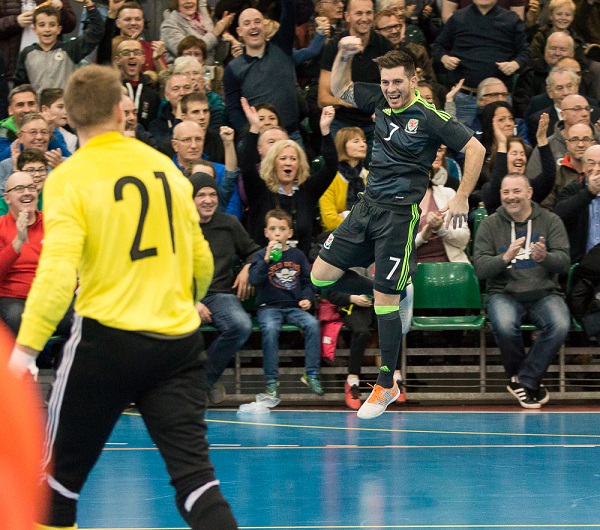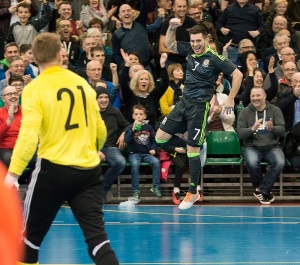 Were you confident you could beat England and win the tournament?
England are a strong experienced team seeded one for the preliminary qualification rounds in January so we knew they would be dangerous and we have endured close contests with them before coming out on the wrong end with a defeat. However, I think our recent draw and performance against Latvia had a profound effect on the mentality and belief of our players. We have never disgraced ourselves on a Futsal court playing big nations in the form of Slovenia and Holland only losing by a few goals. That has been due to the huge defensive efforts of the players and to keep one of the strongest preliminary round teams out in the form of Latvia was a nice confidence booster for our squad. We spoke about belief and mentality before the game and I was always confident it would be a very close game decided by fine margins because we are a very good team now. Our captain Lloyd Jenkins spoke up before the game in a team meeting instilling a message of belief with all the players. We can take so much confidence and belief from the tournament moving forward and I believe there is still more to come from this special group.
How was the England game won and lost?
We were not at our best in the opening minutes of the game against England and they hit the post to almost take the lead. However, once we settled, I was very pleased with our discipline defensively and how clinical we were at taking our chances that we knew we would create. Our goals in the tournament have all been straight off the training court so it was immensely pleasing to watch the games back and see the things we had worked on in training over the last few months coming off in the game. The game had everything including a two minute four v three period due to the red card and England utilising the attacking fly. I think watching the game back we executed our game plan very well, we kept our discipline and showed great qualities to be clinical in attack.
How proud are you of this achievement?
It was an extremely proud moment watching the players reaction to scoring and eventually securing the win. The goal celebrations, the support from the crowd, the players on the bench jumping up and applauding any good play and the whole squad embracing at the end demonstrated what it meant to the players. We have worked hard to have a strong togetherness and follow the example set by Wales  in the Euros this summer. Our players have a great attitude and they put their bodies on the line for each other so winning the tournament was thoroughly deserved. I was just so pleased for the players and staff as I have seen the sacrifices they have made.
What will this mean for futsal in Wales?
Winning the event will be hugely beneficial to us moving forward. We have had to develop the game from scratch in Wales over the last six years and creating a national team was part of that strategy to develop an awareness of the game as well as being a competitive nation in Futsal. We have plenty of work still to undertake on the domestic and international front but this tournament now gives us a platform to support future work and it's a great feeling knowing we are champions of the UK for the next twelve months. We will be excited for the next installment of the Home Nations Futsal Championships and I'm sure everyone will be striving to take the trophy off us so we cannot standstill.
What is next for the Wales squad?
Attention quickly turns to the preliminary qualification rounds in January for ourselves and I sent my assistant coach Gareth Wallwork straight to the airport to fly out and watch our first opponents Moldova. We will again be aiming to win the group and progress to the main round stage for the first time. The players will be full of confidence and belief now and we are in great form with four games unbeaten including two strong performances against pot one opponents. I'm sure it's going to be very tough and we are going to need to focus on the tough task ahead of us but it's one we are now more than capable of achieving.
If you like the information provided, you can read more articles about global futsal by going to the top navigation bar or click here
If you like this article and would like to keep updated on Futsal news, developments, etc then please submit your email below in the Subscribe to Futsal Focus option.
Follow Futsal Focus by clicking on Facebook, Twitter or Instagram or on the social media buttons on the website.