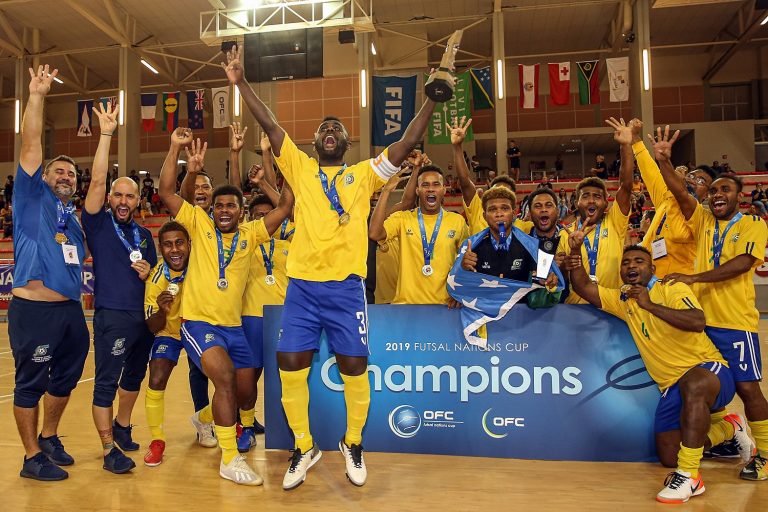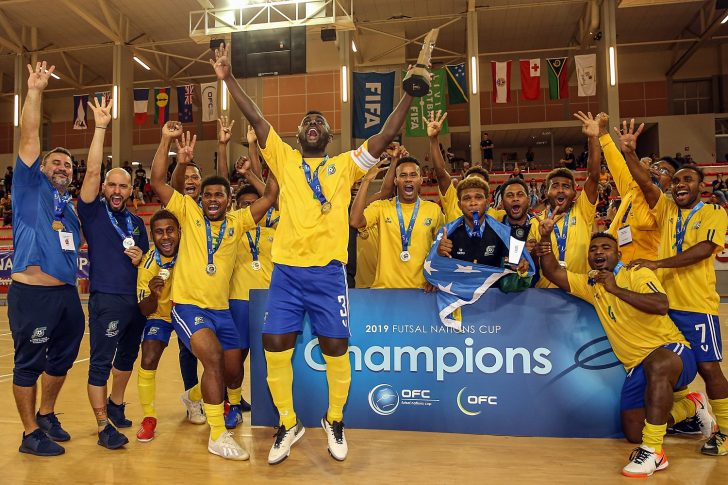 Estimated reading time:6 minutes, 10 seconds
Defending champions the Solomon Islands and New Zealand met today in a blockbuster final at the OFC Futsal Nations Cup 2019 tournament to decide which nation will represent Oceania at next year's FIFA Futsal World Cup in Lithuania.
The Futsal Whites were one step away from a place at a first-ever World Cup after coming from behind to win a thrilling OFC Futsal Nations Cup semi-final 3-2 against Tahiti in Noumea.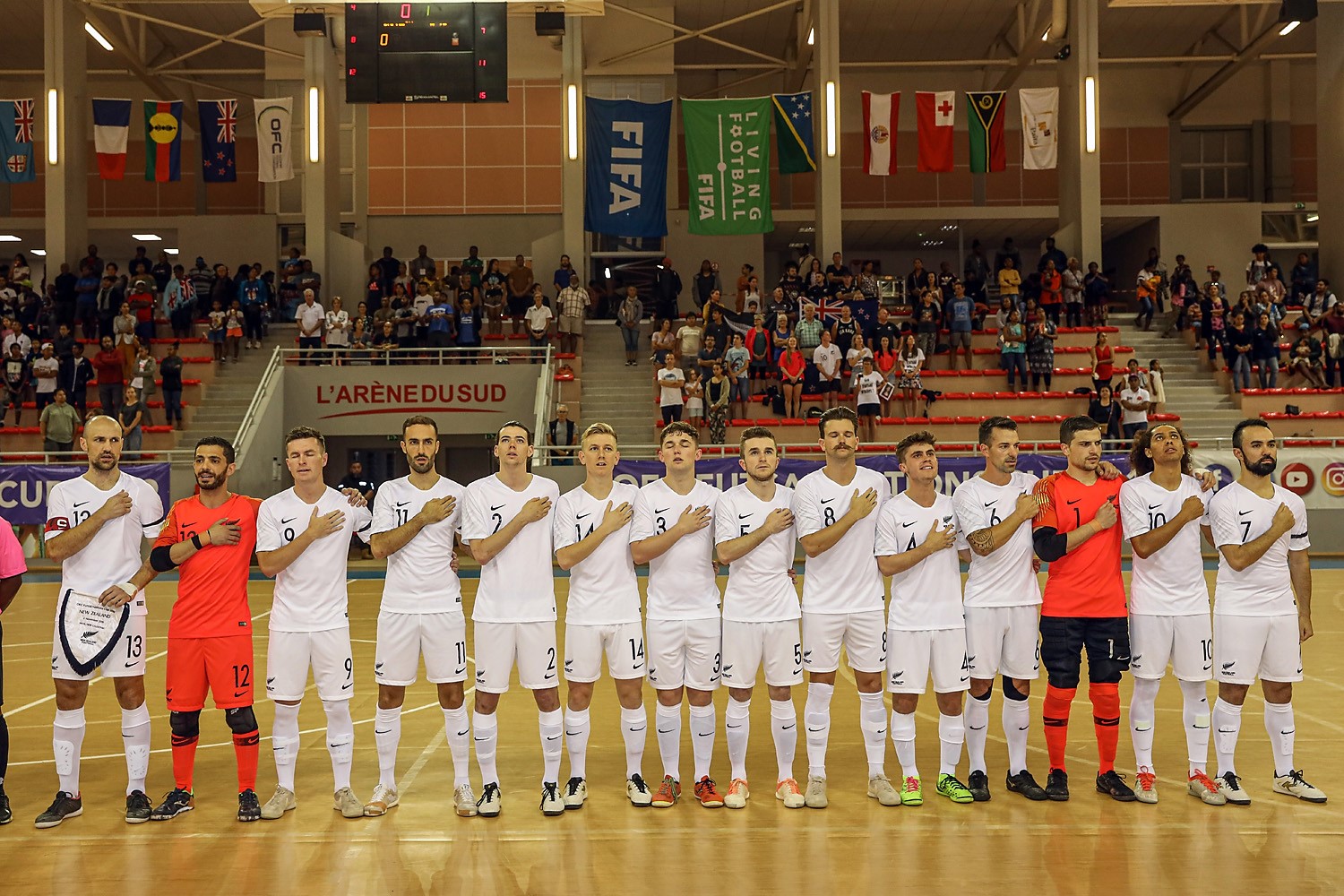 At half-time, the Futsal Whites led 1-0 courtesy of Micky Malivuk's opener, but seven more goals made for an outstanding second half of action. At one stage, New Zealand pressed ahead into a seemingly unassailable 4-2 lead, only for Alvin Hou and Arnold Maeluma's goals – the latter of which came just 20 seconds before the end of regulation time – sent the game into extra time.
The Solomon Islands went ahead for the first time in the game in the first period of extra time through Jeffery Bule, only for the Kurukuru to be pegged back almost immediately by Stephen Ashby-Peckham's effort. It finished 5-5, meaning the drama of penalties ensued. Anthony Talo's save from Lucas Silva's penalty was the all-important moment that saw Vicius Laite's side named continental champions, thereby booking their ticket to Lithuania with a 7-6 penalty shoot out win.
The Solomon Islands have not lost a match at this tournament – other than against invitational opponents – since 2004.
From around the world, messages of support were tweeted and posted for the Kiwis, here are a few:
Dave Payne, former New Zealand Football COO who also lead on Futsal development posted:
"So proud of you lads. You gave it all. Come home and be loved by your families now. Nothing but respect awaits you"
Kiwi Futsal Coach in England, Matt Fejos posted:
"Absolutely devastated for these boys. A penalty shootout away from the ultimate futsal world cup dream. No team has ever had a greater reason to win than to honour the loss of one of their own. Because of that you can see how much it hurts. It's hard for them to know now but kicking a ball into a net isn't all they needed to do to do Atta and their families proud. They'd already won that."
Kris Fernandes of Futsal Canada:
"I'm not from New Zealand but my heart goes out to the tenacious All Whites for losing a PK shootout in the final and missing the World Cup by a hair."
Final Standings from the OFC Futsal Nations Cup 2019
Solomon Islands
New Zealand
Tahiti
New Caledonia (Hosts)
Fiji
Vanuatu
American Samoa
Tonga
You can watch highlights of the Final by clicking on the video below:
Despite this defeat, New Zealand has made great development progress and will surely test the Solomon Islands again for a place in the World Cup in 2024.
More domestic opportunities for the players to continue improving kick off this year in December with the first edition OFC Futsal Champions League will be held in Auckland, New Zealand. The OFC Futsal Nations Cup and the OFC Futsal Champions League launch is also helping to attract more people to the sport with demand for futsal coach education courses throughout the region at an unprecedented high.
Fiji, New Caledonia, New Zealand, Tahiti and Vanuatu have all undertaken courses at both certificate and licence levels. OFC Futsal Development Officer Paul Toohey has been on-hand at numerous courses and is delighted with the enthusiasm of participants throughout the region to build their knowledge, understanding and qualifications in the popular small-sided game. Paul told the OFC website:
"In many ways the driving force behind the courses is the increased competition we are seeing in the region.
"Of course we have our premier regional international competitions, but we are also seeing the launch of new youth and senior regional and national competitions in some countries," Toohey said.
"What we are now experiencing is genuine demand – from the many enthusiastic coaches – to obtain qualifications that will help them understand more their role in preparing their players for competition."
After attending FFA's Senior and Youth Futsal Certificate courses in Suva in March, Toohey was on hand for the FCF-hosted OFC Senior Futsal 'C' Licence – the first licenced futsal course in the region to be held outside of New Zealand – in Noumea, in May.
The last week of May also saw a combined VFF Senior and Youth Certificate course in Luganville, with more certificate and licensed courses to follow in other member associations in the second semester.
Toohey says FFA are progressively introducing new competitions throughout the country, and taking a long-term approach in developing futsal.
"FFA are working methodically and looking towards a new generation of players and we hope to see new youth men's and women's competitions this year.
"Many of the coaches we saw in May are young themselves, have experience as players, and as such, are ideally placed to work with school-aged players."
FFA Futsal Development Officer Mira Sahib was pleased FFA were able to offer formal futsal qualifications for the first time.
"The course was a big step for us on the qualification pathway.
"It also gave time for coaches to prepare their teams before the IDC and leagues," Sahib said.
The OFC Senior 'C' Licence Course in New Caledonia, meanwhile, was conducted in support of the well-established FCF Futsal Super Ligue.
One of the exciting things about the C licence in New Caledonia is we had coaching staff from most of the Super Ligue teams, the longest running national league in our region.
"The coaches had considerable experience and knowledge of futsal, and as part of the course work we were able to conduct video analysis of Super Ligue teams," Toohey said.
"The challenge now for the coaches is to continue put their knowledge of the coaching process into practice on a weekly basis and work towards achieving their licence before the end of the year.
Toohey said his visit to Luganville was one of the highlights of a busy year so far.
"It was really wonderful to spend a productive few days in Luganville – we always know how important it is to conduct coaching courses outside the main centres and in particular for the passionate communities like the futsal communities in Espiritu Santo.
"This was their first futsal coaching course for nearly a decade and the coaches worked extremely hard during the week. We challenged them, and their response was impressive," he said.
"It made a difference that we were able to use some excellent youth players for the practical exercises – natural players with great speed and terrific skills
"As a result of this collaboration, the coaches made tangible progress throughout the week. We hope now they will all work with the teams in the new youth leagues planned for the second half of the year," Toohey added.
Pictures from the Oceania Football Confederation Facebook page.
If you like this video and the information provided, you can read more articles about international futsal by going to the top navigation bar or click here
If you like this article and would like to keep updated on Futsal news, developments etc then please submit your email below in the Newsletter section or by clicking on the Subscribe to Futsal Focus option on the header.
Follow Futsal Focus by clicking on Facebook, Twitter or Instagram or on the social media buttons on the right sidebar.