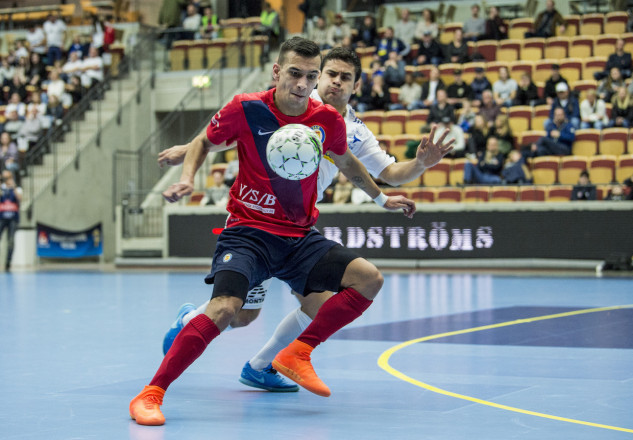 Estimated reading time:1 minute, 45 seconds
This year's edition of the Swedish Futsal League – Svenska Futsalligan (SFL) will be the last one with the current way of deciding a national champion.
The two top divisions of today, north and south, and the playoffs will disappear completely for the benefit of the new setup. The Swedish FA approved the club suggestion and the new SFL will be played from autumn 2018 to spring 2019 and will contain 14 teams which will face each other once at home and once away. The winner after all 26 rounds will be the Swedish champions.
A few weeks ago the Swedish Football League (SEF) and the Swedish Futsal League (SFL) decided to work together to develop the SFL. A historical decision for Swedish futsal as the futsal clubs from now on are a part of the Swedish Football League, although as their own branch.
As a consequence of this Lasse Ternström, assistant head coach of the Swedish national futsal team will start to work full time at the Swedish Football League developing the national futsal league.
"I will try to develop Svenska Futsalligan by trying to focus on the commercial needs in the league. I will also help the clubs to organize themselves. I will have a dialogue with the Swedish FA and I want to develop manuals for how events needs to be conducted to attract audiences, and I want the sport to grow. We are quite far behind the rest of Europe in Sweden", Lasse Ternström says.
Per Broberg, the Swedish FA Futsal Development Manager said, "I think this is a model that can work in other countries as well."
If you like the information provided, you can read more articles about domestic futsal by going to the top navigation bar or click here
If you like this article and would like to keep updated on Futsal news, developments, etc then please submit your email below in the Newsletter section or by clicking on the Subscribe to Futsal Focus option on the header.
Follow Futsal Focus by clicking on Facebook, Twitter or Instagram or on the social media buttons on the right sidebar.