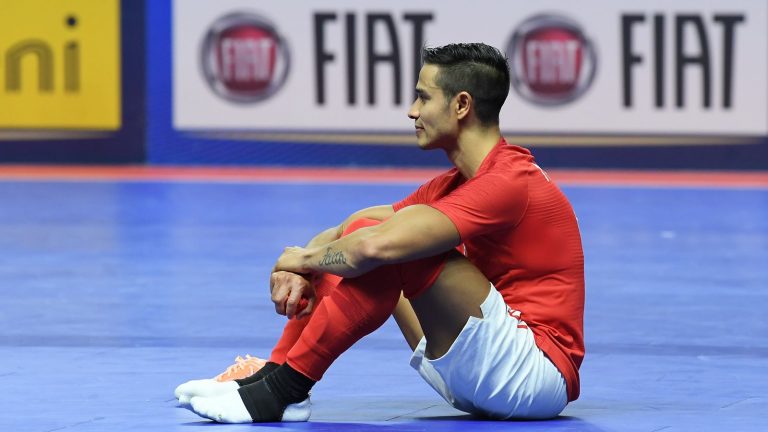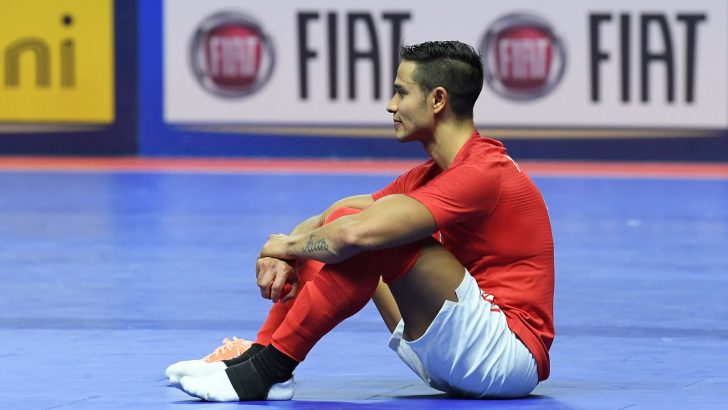 Estimated reading time:6 minutes, 10 seconds
The England national futsal team have been training and preparing for their UEFA Futsal EURO qualifier against North Macedonia without the support of the FA even though they could have easily refused to play the fixture in protest. St Georges Park, where the team would have normally prepared, now only  shows the national team on a screen in the reception as Doug Reed tweeted:
This weekend the @England futsal team should be preparing for a crucial UEFA playoff in the futsal arena at the £100m @StGeorgesPark1 built as the "Home of the England National Teams". However, @fa removed any support for us so our only presence there is on the reception wall. pic.twitter.com/vNF3by36sS

— Doug Reed (@DougReedFutsal) October 25, 2020
For England, this fixture against North Macedonia on the 8th of November is the biggest game of their international career. Should they lose then that is the last time we will see a futsal international in an England jersey for the foreseeable future unless the English FA reverses their decision. If the England team win, what a moment in history that would be for this group of players to continue the journey into the group stage and to also keep up the pressure on the FA. It seems like a long time ago, though it is just two years since the FA launched a six-year strategy for futsal, underlining their commitment, the £900,000-a-year investment, a small amount for an organization with a turnover in the hundreds of millions – has now been cut to the nominal amount they receive from UEFA. The England U19 side has been withdrawn from UEFA competition and the long-promised women's team will no longer be happening. However, the England players have not given up and have been working hard to garner support:
Today, another article was published, this time by Sky Sports titled 'Futsal helped Max Kilman so why is the FA now scrapping the England team?'The players have also received support from futsal players and professional football players such as Chelsea's Emerson Palmieri:
I'm surprised with The FA's decision to stop all England Futsal Teams. I'm sad for the kids who dreamed to play futsal for their country. Sign this petition and help the sport I grew up playing to survive. #FutsalForAll @savefutsal @raonimedina9 ??https://t.co/yuR5z5y98F

— Emerson Palmieri (@emersonpalmieri) October 21, 2020
What can futsal enthusiasts do in England when the football establishment doesn't see futsal as a priority, this outlook was confirmed in their press release when they cut the elite futsal programme stating 'We have to prioritise our core functions that regulate and serve English football and also have a duty to support our men's and women's senior teams in their efforts to win major tournaments. This has led to difficult financial choices, but ultimately has forced us to focus more than ever on our key priorities.' In the end, this is a governance issue for FIFA to address with its confederations and associations as the governing body of the sport. UEFA has to also look at the money they provide to organize national leagues and national teams, and the prize money for winning a place in the UEFA Futsal Champions League preliminary round. Outside of governance, another issue in the U.K is the image of 5 a-side in general. Even before futsal, British traditional 5 a-side was seen in a negative light in comparison to the 11 a-side game. An article in the Mirror reflects this type of attitude, to paraphrase (source https://bit.ly/3kyR2I5):
11 a-side being the "Proper game" and 5 a-side being "Fat blokes sweating and Lionel Messi wannabes falling over their own feet."
When talking to people in football across the U.K, Futsal Focus came across this attitude/ imagery/ opinion when organizing the world's first futsal business conference in 2017 in England even when the people we approached to attend the conference had never seen futsal at all. These people quickly associated the 3G/ artificial grass form of 5 a-side to futsal when there is no relation, and it was difficult to get them to see it differently.
UEFA Futsal EURO qualifiers
Elsewhere in Europe, the other nations are also preparing for the UEFA Futsal EUROs. The UEFA Futsal EURO 2022 qualifying play-offs run from 2 to 11 November and decide the last seven spots in the new home-and-away qualifying group stage beginning in December.
The nine UEFA Futsal EURO 2022 qualifying round group runners-up and five third-placed teams with the best record against the top two in their group enter the qualifying round play-offs.
The play-off winners join the qualifying group winners and FIFA Futsal World Cup elite-round contenders in the qualifying group stage played as home and away groups over six matchdays between December 2020 and April 2021.
Fifteen teams will eventually join the Netherlands in the finals in Amsterdam and Groningen from 19 January to 6 February 2022.
Play-off guide provided by UEFA
San Marino progressed through around for the first time in any UEFA competition at any level to reach this stage.
Israel also got through a round of futsal competition for the first time.
Turkey qualified for the 2012 finals.
Lithuania will compete in the 2021 FIFA Futsal World Cup as hosts.
Both legs of the tie between England and North Macedonia will be played in Skopje
Already in the qualifying group stage
Teams who competed in the 2020 FIFA Futsal World Cup elite round: Azerbaijan, Belarus, Croatia, Czech Republic, Finland, France, Italy, Kazakhstan, Portugal (holders), Romania, Russia, Serbia, Slovakia, Slovenia, Spain, Ukraine
Qualifying round group winners: Albania, Belgium, Bosnia and Herzegovina, Georgia, Hungary, Latvia, Moldova, Norway, Poland
First Legs
2 November – Montenegro vs Lithuania
3 November – Israel vs Cyprus
4 November – San Marino vs Denmark
5 November – Bulgaria vs Armenia
6 November – Turkey vs Greece, Switzerland vs Germany
8 November – England vs North Macedonia (played in North Macedonia)
Second legs
7 November – Cyprus vs Israel
8th November – Denmark vs San Marino, Lithuania vs Montenegro
9 November – North Macedonia vs England, Germany vs Switzerland
10 November – Greece vs Turkey
11 November – Armenia vs Bulgaria
Qualifying group stage draw
Group 1: San Marino/Denmark, Croatia, Albania, Ukraine
Group 2: Bulgaria/Armenia, France, Georgia, Russia
Group 3: Turkey/Greece, Azerbaijan, Slovakia, Moldova
Group 4: England/North Macedonia, Romania, Serbia, Bosnia and Herzegovina
Group 5: Israel/Cyprus, Kazakhstan, Hungary, Belarus
Group 6: Switzerland/Germany, Spain, Latvia, Slovenia
Group 7: Montenegro/Lithuania, Italy, Belgium, Finland
Group 8: Poland, Portugal (holders), Norway, Czech Republic
Play-off
Eighth-ranked runner-up vs Seventh-ranked runner-up
Two-legged tie from 14–17 November 2021.
You can read more articles about International futsal by going to the top navigation bar or click here
If you like this article and would like to keep updated on Futsal news, developments, etc then you can now follow Futsal Focus via Google News by following our page which will send you an alert as soon as we publish an article so please click here and follow us on Google.
You can also keep updated on Futsal news, developments, etc then please submit your email below in the Subscribe to Futsal Focus option.
Follow Futsal Focus by clicking on Facebook, Twitter, or Instagram or on the social media buttons on the website.