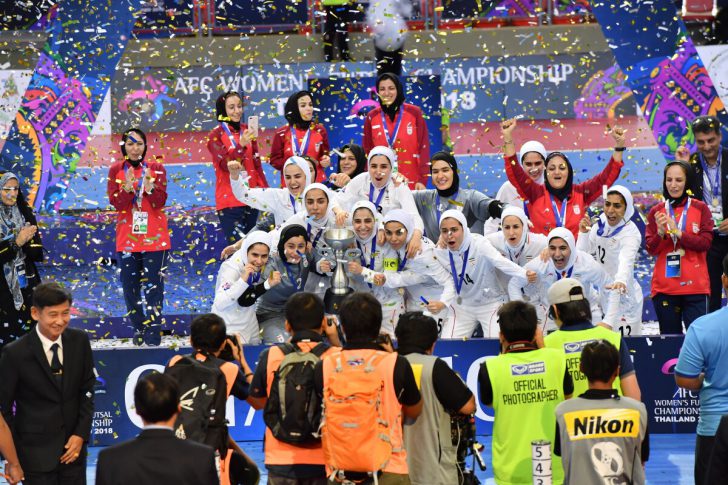 Estimated reading time:12 minutes, 57 seconds
Women's futsal continues to gain ground in the futsal and sports world, especially with the long-awaited announcement on December 16 by FIFA to create a FIFA Women's Futsal World Cup.
(Main Picture. Iran champions of the 2018 AFC Women's Futsal Championship. Source: AFC)
Women's futsal continues to gain ground in the futsal and sports world, especially with the long-awaited announcement on December 16 by FIFA to create a FIFA Women's Futsal World Cup. Representatives of the women's game, AJFSF (Women's Futsal Players Association in Spanish known as Asociación de Jugadores de Fútbol Sala), have been campaigning for many years, but this year, a successful campaign supported around the world was finally heard by FIFA.
No more details about the championship have been released so when it will happen, where it will take place, or what format it will take in are still unknown, but this announcement widens the light at the end of the tunnel and shows how equality between the men's and women's game is getting closer. Although there are still many steps ahead such as a UEFA Women's Futsal Champions League in Europe or equivalent continental championships in Africa, North and Central America, and Oceania.
The growth of women's futsal in Europe in recent years has been impressive. In 2023, the Final Four of the UEFA Women's Futsal EURO will be held again. The competition is held every two years, and this will be its third edition, although with a format that leaves doubts among fans about its wider impact due to its brevity compared to the men's championship. Despite this, from market to market, there are successful examples, the last final in Gondomar was watched on RTP1 (Portuguese public television channel) by a total of 1.7 million viewers, with an average of 550,000 people and a peak of 929,000 viewers and a 21% share of the channel's viewership that day. In the final, Spain won its second consecutive title, defeating Portugal for a second time, in a repeat of the first final in the history of the UEFA Women's Futsal EURO which took place in February 2019. Russia and Ukraine were the other two participants in the first Final Four that year, though, in the last edition, Hungary replaced the Russian team as the nation was sanctioned due to their invasion of Ukraine. For the new 2023 edition, which will be played between March 17 and 19 in Debrecen in Hungary. Spain, Portugal, Ukraine, and Hungary make up the final four again. It is also worth noting other strong teams in European women's futsal such as Sweden, Finland, the Netherlands, Italy, and Poland.
In the U.K., the first and only nation to launch a women's national futsal team is Northern Ireland and they have really embraced the sport in the men's and women's categories. There is a women's national league, but currently, it only plays in the winter period and there are national school competitions. However, positive news has recently come out of England, a nation that has regressed on the international stage since they announced the suspension of their national futsal team pathways although even at this time, they had yet to develop a women's team. However, recently an announcement via the Guardian Newspaper's online site confirmed their intention to create a U19 men's and women's team. Though a second statement announcing the creation of England Futsal, an independent venture, which will partner with The FA over an initial five-year period, with the aim of providing long-term stability and growth for Futsal in England, stated that the U19 teams would be on a 2-year trial base. What that means, or why a trial bases, was not discussed. A nation that has had futsal for over 2 decades and launched its men's team in 2003, saying this is a trial period, makes no sense at all. But, anyway, it is still great news to see women's futsal on their international agenda, and hopefully, FIFA's announcement of a women's world cup will encourage the FA to continue backing the sport, though the existing men's world cup didn't help their men's futsal team so let's not go counting our chickens just yet.
In women's European club futsal, the main leagues are in Spain, Portugal, Finland, and Italy. In Portugal, in the final of the women's Taça de Portugal, Nun'Álvares beat Benfica, and it was watched by half a million people. In addition, the sixth European Women's Futsal Tournament was recently held in Italy, and hosts Città di Falconara were victorious, beating S.L Benfica, 3-2, a first edition of the competition without a Spanish champion. The tournament is similar to the men's UEFA Futsal Champions League, although, this is not a recognized nor organized format by UEFA but the clubs themselves organize it.
In South America women's futsal has significant participation numbers with established and successful teams in Brazil and Argentina, who are also the champions and runner-up respectively of the last Copa América. Colombia are the current holders of the AMF Women's World Cup, and Paraguay are the champions of the last South American Games. At the club level, these countries are also the dominant nations, whose representative teams were the top four in the Copa Libertadores: Taboão Magnus (champions, Brazil), San Lorenzo (runner-up, Argentina), Sport Colonial (third, Paraguay) and Fundación Juventas (fourth, Colombia).
Asia, however, is where women's futsal is gaining more and more prominence from the Middle East to as far East as Japan, passing through Central Asia and Southeast Asia. Asian women's futsal is led by Iran, winner of the last two editions of the AFC Women's Futsal Asian Cup, where Japan finished in second place, and Thailand in third, who are also two leading nations in the development of the women's game in their own right. Except for the AFC Women's Futsal Asian Cup which covers all of Asia, the rest of the national team competitions are organised by geographical area.
In Western Asia, the WAFF Women's Futsal Championship (West Asian Football Federation) takes place, and the last edition was won by Iraq who prevailed over their opposition and became the champions for the first time in their and the competition's history, after beating Saudi Arabia 2-4 in the final. Both were followed closely by Bahrain (third) and Kuwait (fourth). Palestine and Oman came in fifth and sixth place respectively, and in previous editions, Jordan, Syria, Lebanon, Palestine, and Qatar have also participated.
In Central Asia, the organizing body is the CAFA (Central Asian Football Association), and their competition is called the CAFA Women's Futsal Championship. Which nation hosts the tournament depends on who enters such as Afghanistan, Iran, Kyrgyzstan, Tajikistan, Turkmenistan, and Uzbekistan. In the last edition, only four participants took part, and Iran was crowned champions over Uzbekistan (second), Kyrgyzstan (third), and Tajikistan (fourth). Iran has organised women's futsal for decades, many would consider their standout player of all time to be Fereshteh Karimi, once ranked among the top ten in the world. The Iranian Women's Futsal League, the highest level, was first held in 2005 with 8 teams, but today, the competition has 14 teams. In 2021, the top goal scorer for the league was Maral Torkaman, and the current champions are Peykan Tehran.
Finally, we have ​​Southeast Asia, governed by the AFF (ASEAN Football Federation) whose leading nations are Thailand, and Indonesia. Indonesia recently launched a women's professional futsal league, and it was won this year by Pusaka Angels FC. It is also worth noting countries such as Malaysia, Vietnam, and Myanmar. In addition, the Philippines resumed the activity of its women's team under the direction of the legendary former player, and coach, Vic Hermans. Other countries like Australia, which changed from the OFC to the AFC, lack the presence of a national league as well as a women's national team but there are rumors that the federation plans to have a women's team in 2023, as well as a National League but you wouldn't be wrong if you felt that we shouldn't hold our breath. Football Australia has shown a serious lack of consistency when it comes to backing the development of futsal. Despite that, Australia has organizations such as Pro Futsal in Perth and Futsal Oz in Melbourne committed to the sport's development.  Australia's first female professional player competes in Italy, Zoee Spadano, a 19-year-old who played for South Perth Futsal Club, but signed in the summer for Kick Off C5 Milan in the Serie A Femminile.
Other regions of the world such as Africa, Central, and North America, and Oceania lack continental competitions, something that will surely be addressed now that a FIFA Women's Futsal World Cup is coming so that representative national teams can be organised. In Africa, Morocco created a women's national team in 2021 including a women's U-23 team. Other countries such as Nambia and  Uganda have announced their intentions to create national women's leagues, and Uganda has also made plans to enter national teams into the 2026 Youth Olympic Futsal tournament in Senegal. Hopefully, we will see representative teams in both the men's and women's categories.
For its part, the United States currently leads the development of women's futsal in North and Central America with the launch of the first women's league by the NFPL and even US Soccer published a job offer for a women's national futsal team head coach, it is no longer available to apply for so we look forward to hearing who they will appoint. Independent organizations such as the US Youth Soccer, United Futsal, US Youth Futsal, and U.S Futsal are also driving the sport's development at the grassroots level. At the University level, Westcliff University in California recently launched a men's team and will launch a women's team in 2023, the University has already started the recruitment process and is trying to be the leading University of the sport's development in the country to inspire other Universities to get involved and we hear through our contacts in the U.S that other Universities are considering futsal.
Regarding Oceania, the most notable country is New Zealand, which has up to three players playing for Bloomsbury Futsal in England's FA Futsal Women's Super Series such as Hannah Kraakman, Dayna Manak, and Tessa Leong. They also have a national team and different national competitions such as the Ford Futsal Superleague won by Papakura City FC in the 2022 season which was broadcast on Sky Sports. The Youth Futsal Championships with categories for Under-15, Under-17, and Under-19 along with the Tertiary Futsal Championships and NZSS Futsal Championships. New Zealand Football had also hoped to host the men's World Cup in 2021 but lost out to Lithuania. The wrong decision, in our opinion, by FIFA as hosting the world cup in New Zealand we believe would have had a huge impact on the sport in the region and in the country due to the sport's exploding popularity and would have benefited the development of men's and women's futsal.
You may be thinking, who are the standout players in the women's game, and the one who stands out above the rest is Amandinha. The Brazilian plays for MSC Torreblanca FS in the Spanish first division, and she has been chosen eight times as the best player in the world at the FutsalPlanet Awards in 2014, 2015, 2016, 2017, 2018, 2019, 2020, and 2021. Spanish player Patricia González 'Peque' (Pescados Rubén Burela) and Anita Luján (Futsi Atlético Navalcarnero) are also considered among the best in the world, in fact, 'Peque' came second in the last two editions of the FutsalPlanet Awards as did Anita three years ago. In the goalkeeper category, Portugal's Ana Catarina, from Benfica, leads, followed by another Spanish player, Silvia Aguete, from Marín Futsal as the best goalkeepers in the world.
There are also many clubs that each year contribute to the growth of women's futsal. The most successful in Spain is Pescados Rubén Burela FS, last season they were champions of the Spanish Super Cup, the Futsal Women's European Champions (hosts/ organizers), and the Copa de la Reina. Julio Delgado, their head coach was chosen as the best coach in the world for women's club futsal. As for national coaches, Spain, Portugal, and Brazil are the strongest nations led by Clàudia Pons (Spain), Luís Conceição (Portugal), and Gabriel da Silva (Brazil).
The aim of this article was to give you an insight into the world of women's futsal and break down what the industry looks like at the international and club level. Reading this article back to myself ignites a feeling of optimism for the development of women's futsal throughout the world and even more so now that a FIFA Women's Futsal World Cup will be created. Hopefully, the competition will be the catalyst to grow the women's game around the world in new markets and give that needed boost to women's futsal in established futsal nations so they can reach new heights of awareness, interest, and commercial support. Below is an old but great clip of the Iranian national team for you to enjoy and to finish this article.
Author of the interview
My name is Alejandro Méndez and I was born in Cartagena. I discovered futsal in 2017 and it fascinated me. Since then, I immersed myself in this amazing and beautiful sport. I support Jimbee Cartagena, and I write and talk about futsal in Efesista.es, and for Futsal Focus.
Futsal Focus
You can read more articles about global futsal by going to the top navigation bar or by clicking here
If you like this article and would like to keep updated on Futsal news, developments, etc then you can now follow Futsal Focus via Google News by following our page which will send you an alert as soon as we publish an article so please click here and follow us on Google.
You can also keep updated on Futsal news, developments, etc then please submit your email below in the Subscribe to Futsal Focus option.
Follow Futsal Focus by clicking on Facebook, Twitter, or Instagram or on the social media buttons on the website.