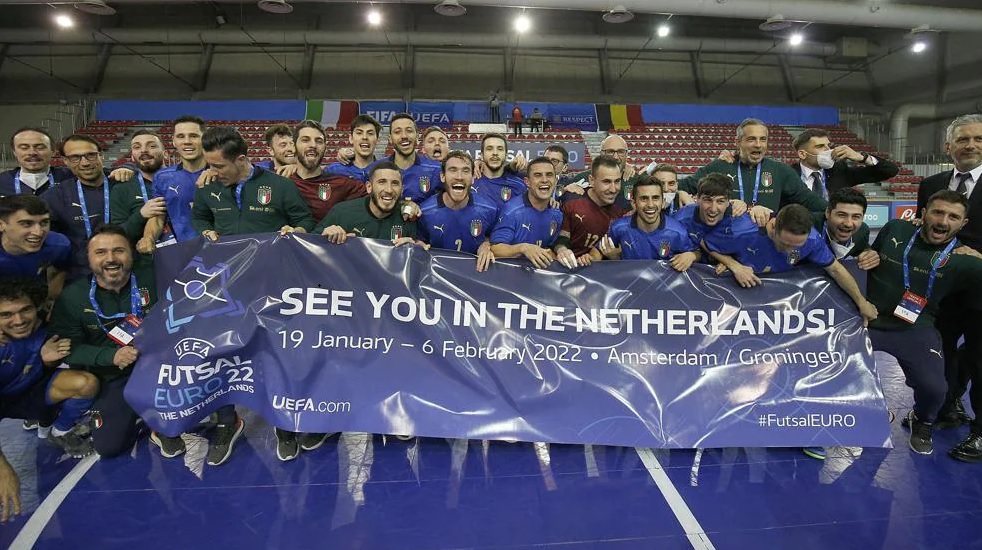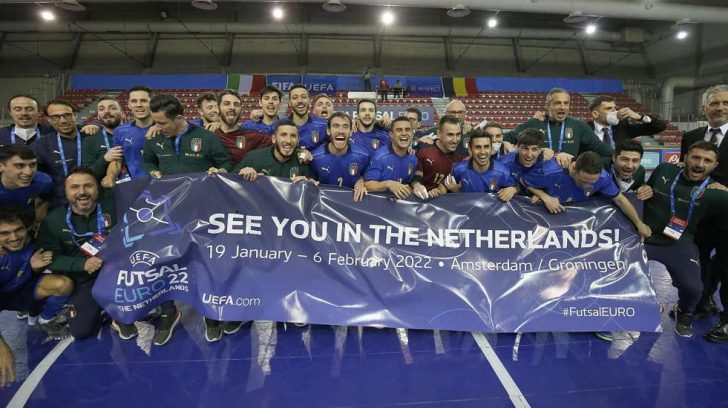 Estimated reading time:9 minutes, 26 seconds
Hard times have fallen on Italian futsal, but this was not a sudden occurrence, but a development that has been brewing for many years. The elimination of the Italian futsal men's national team in the group stage of the 2022 UEFA Futsal EURO final tournament in the Netherlands was a confirmation of the dark period that our sport has been going through in our country.
The last title our men's national team won dates back to the 2014 UEFA Futsal EURO final when we defeated Russia. It is clear now, however, how much of a difference there is between the victory of 2014 and the team's elimination in February which is entirely down to the technical differences of the players available to both managers, Roberto Menichelli (Coach in 2014) and Massimiliano Bellarte (current coach).
The draws with Slovenia and Finland and the defeat against Kazakhstan demonstrated how little futsal has developed in our country. The entire movement, even before the 2014 victory, has been impacted by the decline in the management of our sport from a business and coaching perspective, both important aspects of the management of our game have failed to enhance this fantastic discipline. The theories on the causes vary such as a lack of facilities, poor visibility, a lack of investment, lack of an adequate youth sector, and a lack of training courses for professionals (especially technicians).
It is true, futsal in Italy has always been lacking on all these points, but it is also true that we can no longer make comparisons with the top countries who have made futsal a real priority.
In many parts of Brazil, certainly from a cultural perspective, children are encouraged to practice futsal at an early age at elementary, middle school, high school and Universities. The fact that a country considered to be one of the birthplaces of modern day football, and has won the most world cups out of any other nation starts their children playing futsal first, and then progresses them to football, is an indication of the respect futsal has there, and an acknowledgement of its player development value. The facilities in which you can practice futsal in Brazil are countless among school sports facilities, private facilities and public multipurpose sports centers: the presence of the facilities can facilitate the promotion and practice of the sport but it is equally true if we were to try and replicate this in Italy, that without a radical development strategy for futsal alongside an engaging communication strategy to the public, facility construction, consequently, won't have the desired impact. Some may argue if you build it they will come, but as I mentioned already there are many facades to a successful futsal development plan.
In many parts of Brazil, the practice of futsal and football goes hand in hand at specific age groups: futsal helps the young players to think more quickly, to consider the pressure of the opponent at a distance of one meter, to touch the ball more times, to get used to the idea of ​​participating in the defensive phase as much as in the offensive phase, in the intelligent use of countermovement. We can find the same dynamics even closer, in Europe, in Spain and Portugal. It is no coincidence that Spain and Portugal have a monopoly on European and world competitions (Spain World Champion in 2000 and 2004, Euro Champion in 2001, 2005, 2007, 2010, 2012, 2016 and Portugal World Champion in 2021, Euro Champion in 2018 and 2022).
In Italy, where the general futsal movement certainly saw a sharp decline due to Covid 19, something had began to change in recent years with the birth of the "Futsal in Soccer" project: this project, introduced by coach Alessio Musti, who was the coach of the national futsal team from 2018 to 2020, involved many professional Serie A football clubs who recognized futsal as an excellent method of growth and development for their young players. This initiative started so effectively that Juventus decided to hire Alessio Musti in a full time role to implement training from the Under 7s to the Under 14s with specific futsal sessions. Returning to the present day, following the elimination from 2022 UEFA  Futsal Euro Championship, the President of our Futsal Leagues (we have to consider that futsal in Italy does not have its own federation and the sport is supervised by FIGC, the Italian Football Federation) Luca Bergamini, elected one year ago, has decided to implement change that is a turning point for the sport: from the 2022/2023 season, new and important strict rules have been introduced concerning the registration of players "not developed" in our youth sector. This rule was made operational for the national categories – Serie A1, Serie A2 and Serie B, and it's purpose is to encourage the clubs to invest more in their youth sectors. The response of most clubs has been harsh because they have been challenged at short notice with a lack of time to be able to reorganize all their management and technical plans. The President of Italservice Pesaro, who won the Italian championship in 2019 and 2021, threatened to leave futsal and invest in basketball, another sport which is very popular in Italy especially in Pesaro where they have a professional basketball team called Unione Sportiva Victoria Libertas Pallacanestro.
There is no doubt, however, that this rule will lead to an overall decline in the technical level of the top divisions due to a reduction in the number of players from abroad participating. This decision by the Italian Futsal Division confirms how much we really want to make progress in the long-term for futsal with a focus on our young players. We are aware that in the immediate years to come, we may see a technical decline. It is also true that in parallel with the introduction of these new rules, it is also necessary to operate at the promotional level of the discipline: technical promotion and marketing promotion. The previously mentioned problems (facilities, sponsors, youth sectors, media) are all issues that, if addressed individually, will not lead to real development: however, if progress is made at the same time then I am convinced we will be able to assist the resurgence of interest in our sport. In my opinion, it is necessary to involve all stakeholders (players, coaches, families, sponsors, and television) to make them understand how much the development of this sport can really benefit everyone. If football would embrace futsal more as a potential preparatory discipline for its cause we would see an increase in participation and the talent pool as players start to realise they either prefer the sport or their skillset is more suited to futsal, of course there will be those who continue playing football. Let's not forget that Italy is in danger, for the second consecutive time, of not qualifying for the final phase of the next FIFA World Cup in Qatar. The futsal-football combination should not be underestimated as countries like Brazil have always made it their strong point. Whilst developing this relationship with football, it is vital that futsal is given a clear separate identity, and continues to be respected as a sport and opportunity in its own right. The message about our beautiful sport cannot be diluted and presented as simply a tool for developing football players.
The path to be taken in Italy will be a long and difficult one, but we have to focus on the significant number of 4 million futsal players along with coaches in Italy who give away a significant amount of their time dedicated to our sport. We need to improve their development pathways and give them the opportunities they deserve to reach the very top of Italian futsal. Others news, in recent days concerns a new rule that has been introduced which will allow all players from next season to participate in both futsal and football championships: something which for a long time was impossible to do. Yes, you can argue that we will lose some players to football, but football will also lose players to futsal, and this back and forth could be fruitful for both sports as players recognise their skillsets, and preferences as already addressed.
This article started by discussing the impact of Italy's failure on the international stage, and how it highlighted the issues our sport is facing. However, it is great to finish this article on high, due to the performance of our u19 national team coached by Massimiliano Bellarte as well. The U19s beat Turkey, Montenegro and the Netherlands to qualify for the UEFA Futsal U19 EURO which is taking place in Jaén, Spain from the 4 to 10 September, this year. The achievement provides a little bit of hope for the future, and it is the first time in their history to qualify for the final tournament of the UEFA Futsal U19 EURO.
Author: Stefano Iorio (The opinions in this article are those of the author)
I'm Stefano Lorio, the former Assistant Director of Operations at Roma Football Club, and a Co-founder of  Sport Events Society. Outside of work, I am an avid futsal player since the year 2000. For 20 years, I have also had the opportunity to work in futsal in different positions, whilst playing I have also coached, and I was an athletic trainer, and marketing and communication manager. Due to my business, marketing and long association and knowledge of futsal, I know I can help improve the development of Italian futsal because I have lived and breathed this sport from more than 20 years. I have also made many connections within the sport, many of whom are International futsal figures. I think we need to engage with various sports, not just football, and by doing so and by sharing ideas and projects between different countries, we can really make a difference and widen our horizons, only this will lead to a turning point for the growth of futsal.
Thank you to Futsal Focus for this opportunity to write my thoughts on Italian futsal. Keep up the great work!
Futsal Focus supports the Donate4Dáithí campaign
To follow the Donate4Dáithí campaign, you can visit their website here: www.donate4daithi.org  or on Facebook at: https://www.facebook.com/Donate4Daithi you can also donate money to their campaign at: https://www.justgiving.com/crowdfunding/donate4daithi
Learn more about the Donate4Dáithí campaign by going to our article here
Futsal Focus
You can read more articles about domestic futsal by going to the top navigation bar or click here
If you like this article and would like to keep updated on Futsal news, developments, etc then you can now follow Futsal Focus via Google News by following our page which will send you an alert as soon as we publish an article so please click here and follow us on Google.
You can also keep updated on Futsal news, developments, etc then please submit your email below in the Subscribe to Futsal Focus option.
Follow Futsal Focus by clicking on Facebook, Twitter, or Instagram or on the social media buttons on the website.