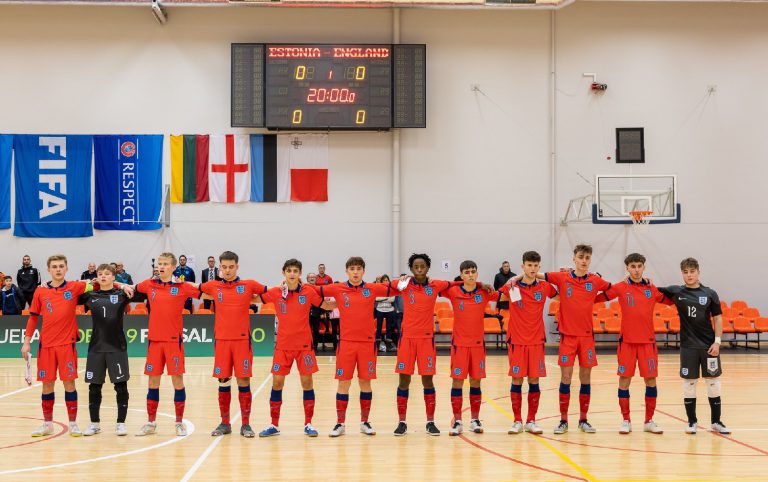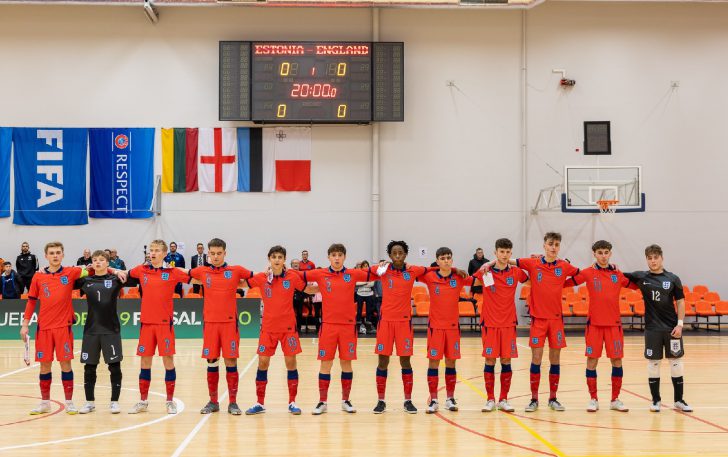 Estimated reading time:5 minutes, 19 seconds
English international futsal is back, though the senior Men's team has yet to be restablished,  the U19s recently took part in the UEFA U19 Futsal EURO 2023 preliminary round.
England was drawn in Group A with hosts Lithuania, Malta and Estonia, and they were lead in the competition by a new coaching staff which includes Ben Tadmor, Team Manager, Sion Kitson, interim Head Coach, Pete Vallance, Assistant Coach, and Stuart Cook, Assistant Coach.   The U19s had trained together for a short space of time, they didn't have a significant amount of time with their coaching staff either. Despite this, the talent pool knew what they could do and went into the competition with the goal of making a statement and representing their clubs. The clubs deserve recognition for the great work they have done through COVID to continue developing futsal and their players. England kicked off the competition with a 6-0 victory over Malta and secured their place in the main round qualifiers when the defeated Estonia in a close fixture, 4-5. The team entered the court, in their final fixture, knowing they had already qualifed and won the match against Lithuania, 0-3. England made history qualifying with a game in hand and now face Italy, Turkey and the Czech Republic in Group 7.
After the qualifers we got in contact with Sion Kitson to discuss the preliminary success:
FF: Sion, after a 3-year break from international futsal and a new group of U19 players, how would you complement the domestic development at home which has contributed to the development of these young players and their success in the preliminary round?
SK: The role of the clubs in developing high-potential young players is the cornerstone of any talent development programme. Given the challenges the sport has faced over the last 3 years, as a result of the pandemic, the achievements of our club game to continue to nurture young players is nothing short of remarkable.
A strong national team's programme is built on a strong domestic game and hopefully, the return of the England Futsal programme can add further impetus to player development within domestic clubs. The role of clubs in recent years has been a major factor in the u19's success in Lithuania and long may that continue.
FF: What did you see in your Group that gives you confidence going into the main round?
SK: Every member of the squad brings a strength to the team that fits into the way we want and need to play, not just at the main round level but beyond. Much of the squad has grown up playing futsal for many years developing a technical proficiency and a game intelligence that has helped them cope with the experiences they have been exposed to in such a short space of time and we believe that will help them come the main round.
The group has a wonderful ability to absorb new information and skilfully adapt within a game. It has been a pleasure to see them gel as a group supporting each other with every new experience. We have tried to create a calm environment around them to enable them to thrive and they have been a credit to themselves approaching each new challenge head-on.
FF: England has faced Italy before and won, what do you think England needs to do in order to be competitive in Group 7 and give themselves a chance of qualifying for the first time to the finals of the competition?
SK: There are so many different ways to play the game and that's why it is so exciting, presenting a fantastic opportunity to all teams in the main round. We will need multiple game plans to disrupt our opponents and create problems for them to solve. Tactical flexibility will be important.
It is also fundamental that as a group we bring brilliant basics to every game from a technical capacity and I'm confident that this group has the attributes to present many problems to our opposition, especially when in possession of a number of super strengths across the group.
Moreover, maintaining physical intensity over 3 games at the international level is critical. Coupled with retaining emotional control and utilising the whole squad will be important factors in retaining physical and psychological freshness across what will be 3 challenging games.
FF: What domestic developments would you like to see that you think would aid the England setup going forward in international competitions when it comes to player development?
SK: I think there is a fantastic opportunity through England Futsal to support and connect the club game to the national team's programme. The transfer of knowledge is pivotal to this, sharing information on how we play and how we coach as well as on the direction of travel the national programme is taking over the next 5 years. Sharing what matters most with coaches across these core aspects of player development and education could be extremely beneficial in supporting club-based youth development.
In addition, if we are going to generate a growing talent pool of young players that can effectively deal with the demands of international futsal, we need to develop a competition structure that aligns with such a vision. Within that structure needs to allow for progression and more best vs best opportunities that inspire and stretch future generations, all contributing to a player's journey of experiences.
You can read more about the England staff and the U19s EURO via the related links below:
Futsal Focus
You can read more articles about international futsal by going to the top navigation bar or by clicking here
If you like this article and would like to keep updated on Futsal news, developments, etc then you can now follow Futsal Focus via Google News by following our page which will send you an alert as soon as we publish an article so please click here and follow us on Google.
You can also keep updated on Futsal news, developments, etc then please submit your email below in the Subscribe to Futsal Focus option.
Follow Futsal Focus by clicking on Facebook, Twitter, or Instagram or on the social media buttons on the website.