Estimated reading time:14 minutes, 38 seconds
As Futsal awareness and participation continues to grow in the UK and Ireland it is interesting to read about players and coaches experiencing the sport at a professional level for the first time and what they thought about their experience. This article is from the personal blog of Carl T Wilkinson from Salford Futsal Club in England who watched Palma Futsal compete against Inter Movistar in the Semi-Final of the Liga Nacional de Futbol Sala in June this year. If you want to follow Carl you can do so via his personal Twitter page @WilkinsonCT .
Recently I spent a week in Mallorca on holiday with my family and whilst out there I was able to make the trip out to the Palau Municipal d'Esports Son and watch a game.
I must say a big thank you to Damon Shaw (@Damon_Shaw) and Palma captain Antonio Vadillo (@AVadillo4) for their help in the days leading up to the game as this wasn't just any game, this was the LNFS Play Off Semi Final [game two of a potential three] vs Inter Movistar. In a game that was expected to sell out, I was able to get a ticket without the worry of arriving and there being none left – really appreciate the efforts from both Damon and Antonio as I know he had lots of people asking the same thing of him.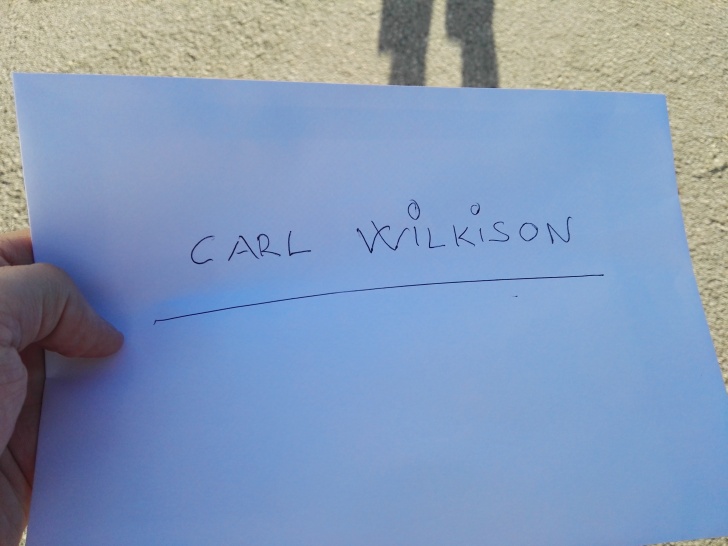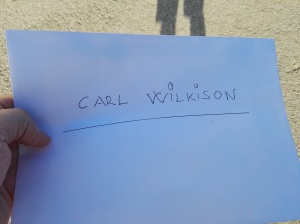 Game one finished Inter 2 – 3 Palma and following that big performance, allied with the fact that Inter were to travel away from home, I would have assumed that Palma was quietly confident of getting the result they needed here.
After traveling via bus, foot & taxi to get there I arrived at the Son Moix a little later than I'd hoped. A little naïve of me beforehand but I didn't expect the place to be as busy. I've seen Palma play at home, on screen, so have seen the crowds etc. but part of me still found it surprising that on arriving there was a real 'hustle and bustle' about the place. I'd seen the Son Moix from street view prior to getting there (I wish I hadn't done this as it took away some of the surprise) but even so, inside I expected more of a sports hall feel – it's an arena.
The area outside the entrance had lots of groups – men & women, children, teenagers (all in Palma shirts), what looked like a grassroots team in kit and it generally had an 'event' feel, on a much smaller scale but the same as you would find at a football match. This really hammered home how much futsal truly is a part of the fabric out there. I don't know why but I just expected something a bit less grande.
Expecting to miss the warm ups I collected my ticket and once I was past the concourse, I walked into the main arena and the combination of music, crowd already in place, the court and lights etc. made it feel really special like something akin to walking out into a football stadium as a child – I remember as a young lad walking up the second tier steps of the Kippax and as the top of the steps met eye level, the entire stadium would come into view – I'm sure others can relate to that. I'm twenty-eight and the Son Moix had that same effect on me – we're really lacking indoor venues in England (I don't class high school sports halls as the kind of indoor venue we need – plenty of them). After I'd taken the first snap I made my over to the left-hand side to find a seat around half way line level.
They're late…
After finding somewhere to sit, it soon dawned on me that there was a problem – there were no players on the court and it was almost time to kick-off. The crowd were (mostly) in their seats and the guy on the PA system was having a ball – albeit I couldn't understand a word he was saying.
Then there was movement in the tunnel opposite – 'Yes! – Wait… Palma are in pink!' They were coming out to warm up and now I really knew that something was up. A quick flick through Twitter told me that the referees were late and the game had been delayed. OK, brilliant – I get to watch the warm ups. Not so brilliant – I hope this doesn't affect me trying to get back to my hotel….
The reception for the players coming out to warm up was brilliant – it was clear that the Palma fans were up for the game. If anything I would say the frustration of waiting for the referees added to the atmosphere, anybody that has seen the way they drive in Spain/Mallorca will know that the Spanish aren't particularly patient!
The game didn't get underway until around 21:15, meaning I still had time to catch some of the warm ups. It's great being in that environment – venue and atmosphere were both superb but if you don't understand a word being spoken it's difficult to grasp what's going on – thank God for Twitter.

Part of the warm ups are captured below but one thing I felt was how relaxed the Inter team looked – almost as though they shared the same belief that their quality would see them through in the end if they did their respective jobs. Given Inter's position (having been beaten by Palma the week prior, now travelling to the Son Moix where Palma could potentially finish the job) I'd have forgiven them for being a little on edge or too hyped for this. Some videos from the warm ups (there was no way I was taking videos during the game):
Highlights from this game [via @LNFS YouTube account]:
The Game!
Then came the game. Six players on each team, age of around eight and off they went! The junior team from outside vs. another team. What an amazing thing for the children (and friends/family) to experience. Some great feet on show and playing with no instruction at all. One big guy stood at the side with a whistle and he signalled the direction of the restarts and that was about it. I'd love to see this kind of thing at Super League matches up and down the country.
I'm not sure if this game was planned or if it was a convenient way to fill the time but either way it was great to see and hear the crowd get behind both teams and any pieces of skill that were displayed. Another squad came out onto the court for a few minutes after the game – no idea who these were or what they had done but presumably it was recognition for a school or academy team.
Futsal in England looks like a fast game. The combination of heavier ball and a hard, flat surface allows for the best experience of football (IMO) but this is a different game altogether. The speed of the pro game is frightening and the ball is often secondary to what is happening.
The weight and precision of the passes mean that within one trap of the sole, the receiver has the ball and is ready to act. It's this aspect of the game that allows everything else to happen. You can't think about your next move if you're thinking about controlling the ball [something all foundation phase players need to be aware of]. You can't make your next move if you're too busy touching the ball for a third time to get it under control. You can't act effectively if the pass/control has left you with no space/time up against a defender. Space and time are at a premium and the pass/control aspect of the game is critical in finding it.
Something I found even more amazing was the constant movement of bodies. It's easy to see when watching on screen but to witness it first hand and to get a 'real' feeling of it was mesmerising. There were times I stopped watching the ball, completely focusing on the movement – particularly of Inter when Cardinal or Humberto aren't on the court. One will burst forward before cutting, another will go and then cut, then another etc. Behind the players, across the players – if this is making me ignore the ball what is it doing to defenders?
I'm yet to do my Futsal L2 (if anybody wants to donate £215.00, I'll send you my account details!) and the UEFA B is my aim for the next four years but I'm always interested to know what information is covered on these courses and the 'cutting' action is something that I think is really important when finding space.
Yes they are professionals and yes they work in shifts but the fitness of these guys is incredible. Constant rotation, almost constant pressure (such as Inters approach immediately after scoring) and then there will be a moment where the ball breaks and you're expected to finish the act without giving possession to the GK! How many have tried to dribble or run with the ball for a short period to find that when they come to shoot their legs don't work? I'm not sure how we describe this but is it something we train? It isn't simply physical endurance or physical resistance, it's game specific with the most important aspect required at the end of it. A weak shot that ends up at the GK can be suicide.
Back to the game and Palma were really up for this. Buoyed by the victory in Madrid a week earlier and bolstered further by the fans (the video I took didn't do them justice – honestly). I didn't have to wait too long for the first goal. Most goals in Spain I would guess are as a result of shifting the ball around the court quickly – a real emphasis on team play so to see someone go at a defender the way Joselito did is always good (though, we do come to expect it of the 'bigger' name players).
Then came the finer details of the game. Watch the first Inter goal and see where Paradynski ends up receiving the ball just before Inter break. These are the margins at the top – how many of us ask our players to focus on specifically where to place the pass? Literally a few cms to the passers left and that goal doesn't happen. In years gone by the detail was always where to plant your standing foot, where to point your shoulder / kicking foot etc. and I think we've come past that now, thankfully but the detail (IMO, again) should include where the receiver needs the ball to be. Great work by Cardinal, mind.
The video doesn't show it but the free-kick for Inter's second came after Palma hit the bar and as the ball went up in the air and stayed in play some of the players were caught cold, ruing their missed chance, and conceded the free kick. Two real lapses where Palma paid the price.
The game didn't really let up at any point – I think Inter got away with a bit more than they should have with the refs but that was great as it made the Palma crowd even louder! 1-2 going into the break and things were tense. At half time the kids were back out onto the court and had almost a full 10 minutes – the quickest I seen any of them run was the GK running down to the far goal. Excited didn't cut it!
And so it all began, again. I was really blown away by everything on show, to watch futsal of this quality live is what I want every week. I ask anybody that hasn't really seen futsal to give it an unbiased watch and to take it on board. As a spectacle, as a sport in its own right & as a development tool for young players – some English players will choose this over football in the coming years, of that I have no doubt.
Then there was an arm involved in the Inter penalty area and I found myself jumping in unison with everybody else around me shouting for handball! Just call me an adopted Palmovian, or whatever people from Palma are called? (Although I drew the line at joining in the Mexican wave, earlier)
The second half flew by and both teams were playing aggressively, Palma matching everything Inter had and vice versa. We'd reached 8 minutes left and both teams were on five fouls – it looked as though something had to give and part of me believed a piece of Inter magic would draw the foul needed.
12 minutes to commit 10 fouls and then for the rest of the half (and two periods of extra time) – not one more foul. The discipline of both teams was immaculate. To commit all of the allowable fouls in the first 10 minutes or so and then nothing for the next 20 shows that it is all part of the game plan. I see people that say futsal isn't physical or aggressive…
I'd been delivered 50 minutes of futsal on my first trip to watch it live and I was about to receive some more – penalties. The decision was made to take the penalties at the opposite end of the Son Moix to where the Palma 'Ultras' were sat with their green & white drapes and wall of noise – cue a quarter of the crowd running en masse down to the opposite end – just in time to see Vadillo have his penalty saved.
The contrast in atmosphere for each team was stark. The Inter penalties were accompanied by the deafening boos and whistling I'd grown fond of and I could hear a pin drop for the Palma penalties. All five remaining penalties were despatched without error and Inter had taken game two. So, so close for Palma with what would have been a historic moment for the club, reaching the final. Credit to Inter for their performance & discipline in that environment and at the time of typing this they have thoroughly outplayed FCB in the final for a victory that grants them a place in the UEFA Futsal Cup.
Overall, one of the best sporting nights I've witnessed and something I intend to do again as soon as money permits. Another thing I found was that on speaking to the few Spanish people that I did (in my very, very limited, broken language), all of them sounded shocked when I told them I was going to (or had been to) the futbol sala.
I'd been asked by three or four different people if I was off to watch futbol and it seems none of them expected me to come back with futbol sala as a response! Then to arrive back at my hotel at quarter to twelve and find that the chap working in the hotel had been following the game on his computer and he was good friends with Joao! Small world…
I've watched lots of live games via streams etc. but to watch them in the flesh was amazing. Speed. Control. Intelligence. Physicality (don't let anybody tell you futsal isn't physical). This really is a game that tests all aspects of your game at all times. The constant rotation of bodies is enough to make the spectators dizzy, let alone defending players. The speed of decision making, acting on cues and triggers – a real 'what next, what next' attitude from each player. Just watch Inter's first goal and see how crucial it is to get the small details right.
Palma was eventually beaten 3-2 on penalties after a 2-2 draw meaning the tie would go to the deciding game three on the following Sunday (from Thursday). For highlights of game three and Inter's progression to the Play-Off final.
If you would like to check out Carl's blog you can do so at this link: https://wilkinsonct.wordpress.com/ . Thank you, Carl, and Futsal Focus wishes you all the best and Salford Futsal Club on your Futsal development journey.
If you like the information provided, you can read more articles about domestic futsal by going to the top bar navigation or click here
If you like this article and would like to keep updated on Futsal news, developments, etc then please submit your email below in the Newsletter section or by clicking on the Subscribe to Futsal Focus option on the header.
Follow Futsal Focus by clicking on Facebook, Twitter or Instagram or on the social media buttons on the right sidebar.