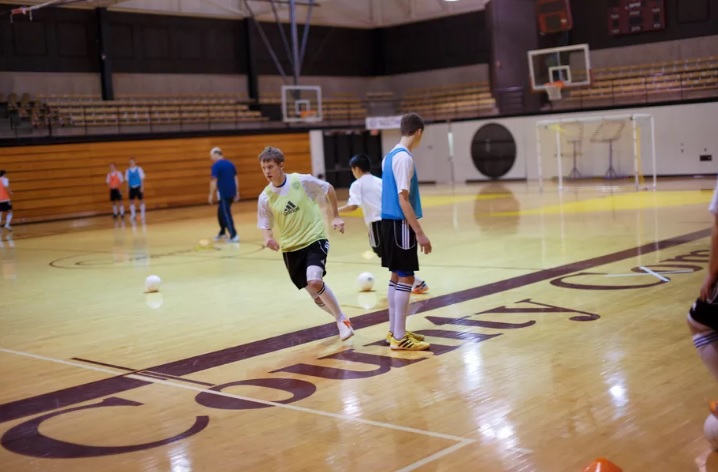 Estimated reading time:2 minutes, 3 seconds
U.S Youth Futsal's 12th annual U.S. Youth Futsal National Championships took place this weekend In Kansas City. Games started Friday and finish Monday at the New Century Fieldhouse and the Roeland Park Sport Dome.
There are 147 teams from across the country representing 19 states and Canada as well. The teams are the best from 685 teams that competed in 8 regional championships in December and January.
National Titles will be awarded for boys and girls in the U9 through U19 divisions.
Referee development program
Four US Soccer Futsal Certified Referees are among the referees for the tournament. FIFA Futsal Instructor Ed Marco is overseeing the referees. Marco is the U.S. Youth Futsal Referee Coordinator and Trainer. FIFA Futsal Referees Shane Butler, Lance VanHaitsma and Sergio Cabrera round out the four experienced officials.
The USYF Referee Academy is a new project starting with this year's National Finals. The Referee program currently sponsored and funded by USYF began 2 years ago and they are expanding the program to start looking toward the future and continue to build their foundations.
"USYF has been a great supporter of the Futsal Referee program with US Soccer." Marco explained. "Through this partnership we all have benefited with the proof being our Rookie FIFA Referee being selected and appointed to the 2016 FIFA Futsal World Cup. It shows what just a little support and planning can achieve. Now imagine what we can now achieve with our new Referee Academy."
"This year I selected 8 young promising and enthusiastic Referees to pair with two FIFA Futsal Referees who by the way are also World Cup Referees. The FIFA Referees will manage a group of 4 each and work a few matches with them all, but most of all spend the entire event mentoring and getting to know and understand these young officials and giving guidance and advice as needed. It's truly a rare opportunity for them," Marco explained.
If you like the information provided, you can read more articles about grassroots and coaching by going to the top bar navigation or click here
If you like this article and would like to keep updated on Futsal news, developments etc then please submit your email below in the Newsletter section or by clicking on the Subscribe to Futsal Focus option on the header.
Follow Futsal Focus by clicking on Facebook, Twitter or Instagram or on the social media buttons on the right sidebar.