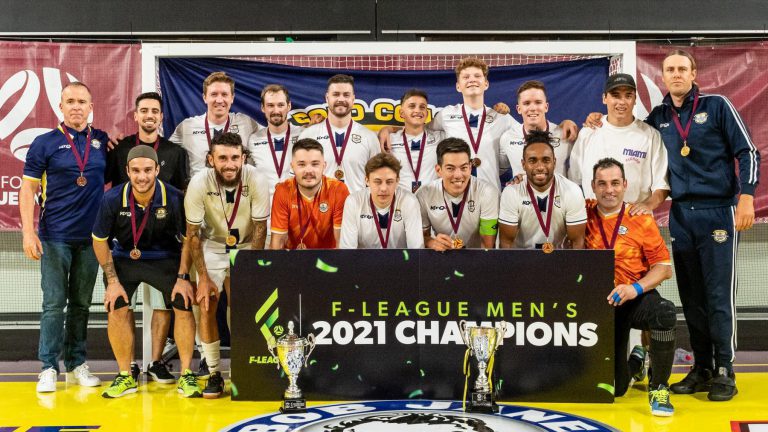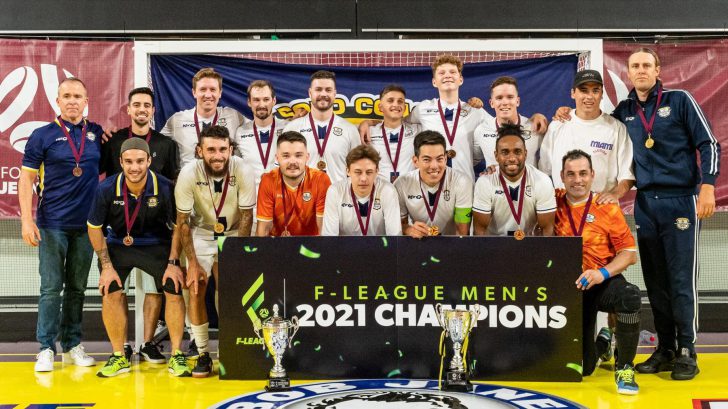 Estimated reading time:4 minutes, 18 seconds
Gold Coast Force Futsal has enjoyed an incredible year, in January, they secured the Gold Coast International Futsal Tournament 2021. The Tournament is a representative regional competition with representative teams from South East Queensland, NSW, Victoria and Oceania competing to see which Association will be crowned as the "Gold Coast International Cup" Champions. The Gold Coast International tournament builds toward the ultimate prize as the clubs compete against each other for the chance to win a place at the world's best grassroots competition at the World Futsal Championships in Orlando, Florida, USA. Gold Coast Force finished the tournament as the winners but with a fantastic record of:
Mens Stats
4 Days
9 Games = 9 Wins
55 Goals Scored
8 Goals Against
Club Stats
x2 Gold
x1 Silver
x3 Bronze
After this prestige competition in their region, the team continued to enjoy success, topping the F-League table and eventually facing off against second placed Crusaders in the final. A week prior to the final, the club and futsal were recognized by Football Queensland at their annual awards night, their coach Bruno Cannavan was voted the Best Futsal Coach, and Rhys Buick was voted Men's Futsal Player of the Year, you can read more about the awards night and Rhys Buick who spent last year in the UAE with Coach Andre Caro & Coach Rafael Fogageiro at Al Nasr, in the related links below:
Related article:
The final was applauded by many fans and pundits as one of the most EPIC finals ever in the competitions history.  Full time, we see both clubs see out a 5-5 draw but over time finished with 6-5 win for Gold Coast Force v Crusaders FC, securing the Premiership and Championship double for the club.  You can watch the final match below:
Leading up to the final the competition enjoyed media attention like it has never had before (embed 9 News YouTube video) below the video continues:
The club's ambitions were backed by their city Mayor Tom Tate:
South East Asia's greatest futsal club Free Fire Bluewave Chonburi Futsal Club Technical Director Benjamin Tuffnell also sent a message to the club:
When the final was over, messages of congratulations flooded in, and former England Futsal Captain, and now BT Sport presenter Raoni Medina, made sure to make time to do the same:
Futsal Focus got in touch with the club's head of marketing and sponsorship Ash Gibb to hear his thoughts about their year:
"Force has been extremely fortunate with their success but don't take kindly to a loss. We are not just a team but also a family "Force Family" which the core has been together for a while with newer players being welcomed and fitting in like nothing has changed. We understand and know how each of us plays which allows us to adapt to most situations on the court contributing to our current success.
I can't say everything that Gold Coast Force is preparing for 2022 and beyond but there are certainly some ambitious goals. We want overseas clubs to think of Force when they think of futsal in Australia. Luckily, I have found that there are some good people in the Futsal World that love to help and understand what clubs like Force are trying to do and support growing clubs to reach that International recognition.
Some reading this may understand Australia's current complex Futsal World and the restrictions there are with getting to AFC/AFF and then some. I believe Force shouldn't be held back by anything and that if there is a will there is a way."
Now, the club has to turn their success this year to their advantage so they can continue to strive forward and build their club.
Futsal Focus supports the Donate4Dáithí campaign
To follow the Donate4Dáithí campaign, you can visit their website here: www.donate4daithi.org  or on Facebook at: https://www.facebook.com/Donate4Daithi you can also donate money to their campaign at: https://www.justgiving.com/crowdfunding/donate4daithi
You can learn more about the Donate4Dáithí campaign by going to our article here
You can read more articles about global futsal by going to the top navigation bar or click here
If you like this article and would like to keep updated on Futsal news, developments, etc then you can now follow Futsal Focus via Google News by following our page which will send you an alert as soon as we publish an article so please click here and follow us on Google.
You can also keep updated on Futsal news, developments, etc then please submit your email below in the Subscribe to Futsal Focus option.
Follow Futsal Focus by clicking on Facebook, Twitter, or Instagram or on the social media buttons on the website.