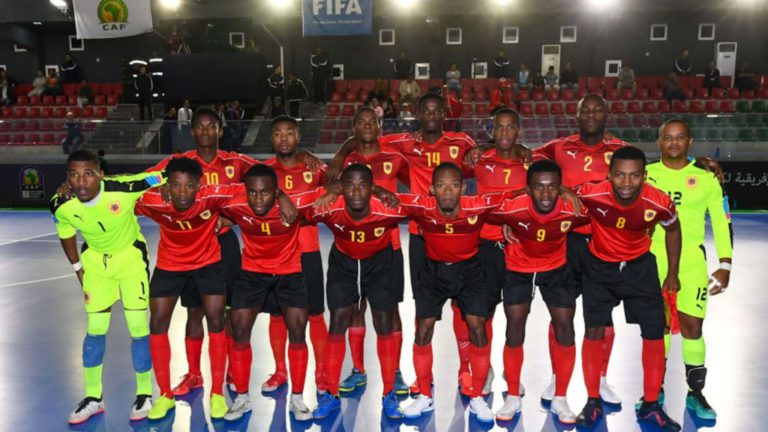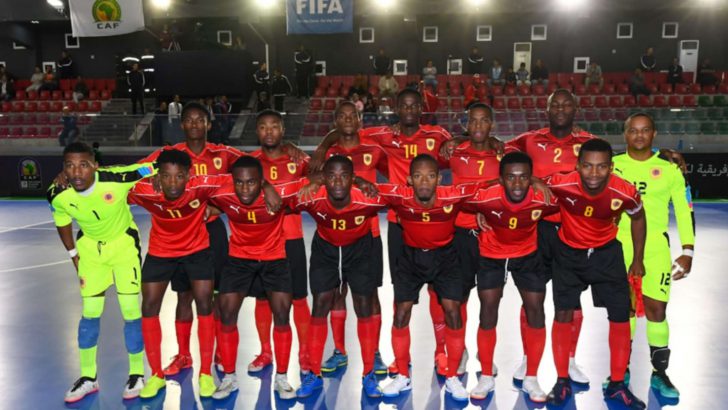 Estimated reading time:10 minutes, 8 seconds
For futsal, Angola is an exciting market. The country has been playing futsal recreationally for decades and the sport is one of, if not, the most popular recreational sport in the country. Home fixtures for the national team also enjoy full house attendances. Due to the success of the national team and the sport's popularity, a professional futsal league is already in the works to launch, once Covid is under control in the country.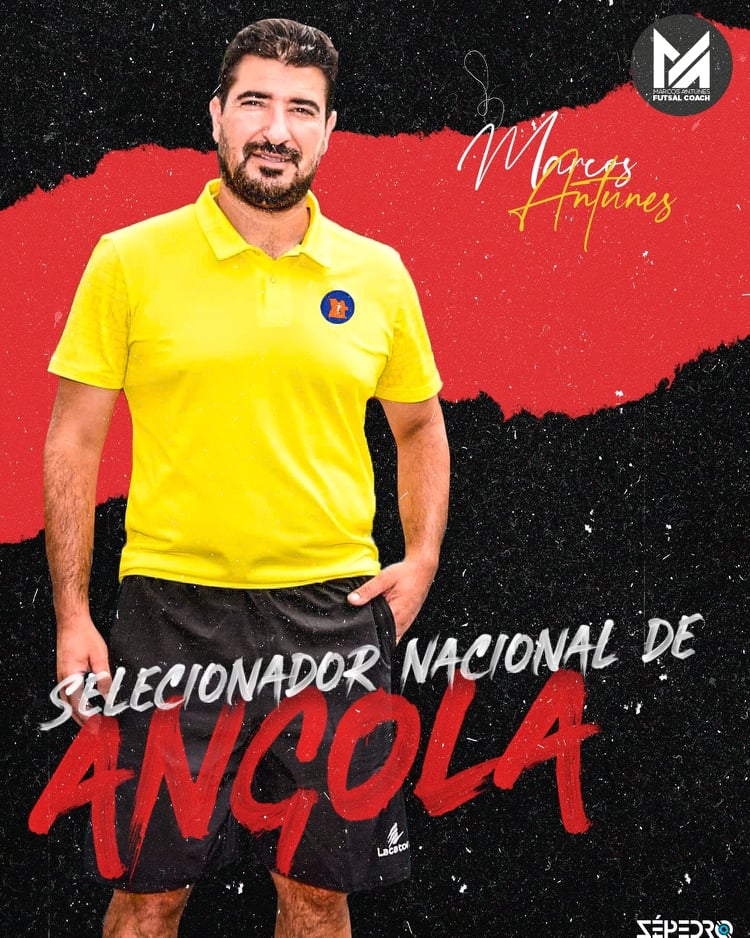 Related articles:
Angola made it to their first futsal world cup last year in Lithuania and although they didn't qualify from the group stage, they still did their country proud in a very difficult group which included Spain, Paraguay and Japan. The nation finished bottom of their group but showed signs of real promise and I have no doubt Angola are going to get better and better. To achieve this, the challenge has been passed to Marcos Antunes who has replaced Rui Sampaio as the country's head coach. Marcos' grandparents and parents were born in Angola, though he was born in Portugal his family connection to the Angola never ended as stories of the country have been a part of his life since his childhood. In Portugal, he has built a very successful coaching career which was recognised by the Portuguese Federation in 2018 with the Quinas de Ouro Award, the most prestigious national prize the institution can give. In addition to the School of Excellence Award for his futsal academy, Os Afonsinhos which has produced some talented players who have went on to achieve many great things in sports and education. Sports and education are very important to Marcos who stresses the importance of each to his players.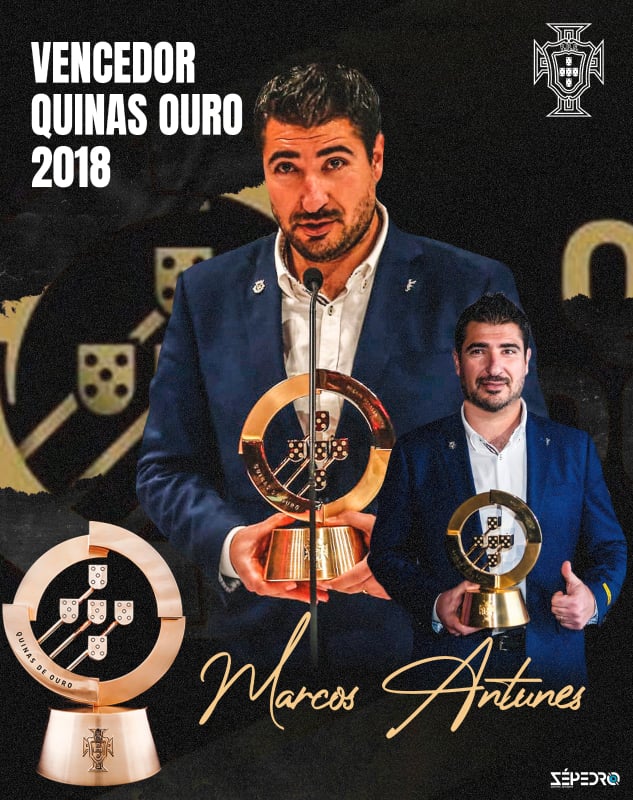 Related article:
Previously, Marcos was hired as a technical director focusing on youth in Angola. He was then recruited to assist the national team at the world cup as the teams technical coordinator. However, now he proudly takes on the head coach role and we are delighted to be speaking with him today.
Marcos, congratulations on your new role and thank you for taking time to speak with Futsal Focus followers:
FF: You have a long connection with Angola, what does this appointment mean to you?
MA: After the World Cup, I received a lot of invitations/ opportunities which is a great position to be in. But, I had to consider many things, many situations, but in the end the friendly/ good relationship I have with the previous technical structure, and with the players made me believe that this was the right project for me at this time. And, from a personal point of view, of course the opportunity pulled on the heart strings as well.
My own objectives/ targets are to gain new experiences, and to develop value through my work as a coach. I believe in people and therefore the project which was presented to me, and the whole structure that is around me was a decisive factor for me to accept this opportunity. I really like to lead, to be involved, but above all, I like to add, to share and to build.
That's the mission I'm on as the head coach!
In the future, I am thinking about returning and working in Portugal… a coach's life is always cyclical. We are always under evaluation but I'm not afraid. To this point, I've gained some prestige, some recognition, but it's always with my own sweat and hard work. With these characteristics, I believe that soon I'll be able to be in an elite level project in Portugal. However, now my project is Angola as their national futsal team head coach. And above all, wearing the nation's jersey with my heart and soul, and with the dedication I am known for. I will work every day to make a difference both to the youngsters and the adult players, because that is my mission, and my focus.
FF: You have been very successful in Portugal, what will you bring to this head coach position which will assist your national team players and staff to develop further?
MA: The biggest challenge is always to do better or as Larry Bird said, "to leave the sport a little better than how we found it."
The idea is to work hard, to focus on what is essential, to adapt methodologies to the context that we have, the African context, and from there create a development plan, a slightly different organisation that allows us to become an African reference of leadership in futsal in the very short term. Those who know me know that one of my characteristics is the organisational side and persistence in winning.  It is with these characteristics that I set out on this challenge. And, the challenge is to help futsal in Angola grow and develop. I mentioned in the previous question that I love to share and build, I believe in people and I enjoy working with people. Therefore, one of my goals is to ensure that I pass on my knowledge and  positive characteristics that will aid the development of my players and staff.
I'm a little limited in how I can answer all the questions due to contractual issues, but the idea is to work hard, show commitment, persistence, a lot of fight so that in the end we can change the process and those who buy into the new process will reap the benefits. It will be a project of expansion, a project of growth and an evolution of futsal. One of our biggest investment will be in Angola's future which is in the development of young players, and the women's game. These two aspects are also a part of my mission and dedication.
FF: You were with the Angolan national team during the 2021 FIFA Futsal World Cup, what are your thoughts looking back at the competition and how the team performed?
MA: The Angola players only played with international teams outside of Africa when they came to Europe on 24 August to a tournament in Portugal. At this time, the preparation for FIFA World Cup started. Playing matches with other international teams in Lithuania as well gave the players a huge amount of experience and knowledge to take home with them.  It also  ignited a fire in their stomach to see futsal grow in their home country. Many returned wanting to get involved and help promote our sport and for developing nations this is one of the wonderful results of participating in a world cup. The players and staff return eager to see their sport develop more.  Our group included Spain, Paraguay, and Japan, who were some of the strongest teams in the competition. They made our team work a lot, we didn't have the dynamics and rhythm that these teams have, and there was an obvious development level difference. However, despite this, I felt the players gave everything, they made us proud and they left a beautiful lasting memory for FIFA, our opposition, and the fans around the world. We were honest, humble, and above all respectful. We left a mark for Angola, which is now reborn and wants to grow, and above all wants to be an impactful project for Angolan Futsal and beyond in Africa. The FIFA Futsal World Cup was the first FIFA competition Angola had qualified for since their national football team qualified for the world cup in 2006 so you can imagine the interest there was in the national team especially when futsal is so popular.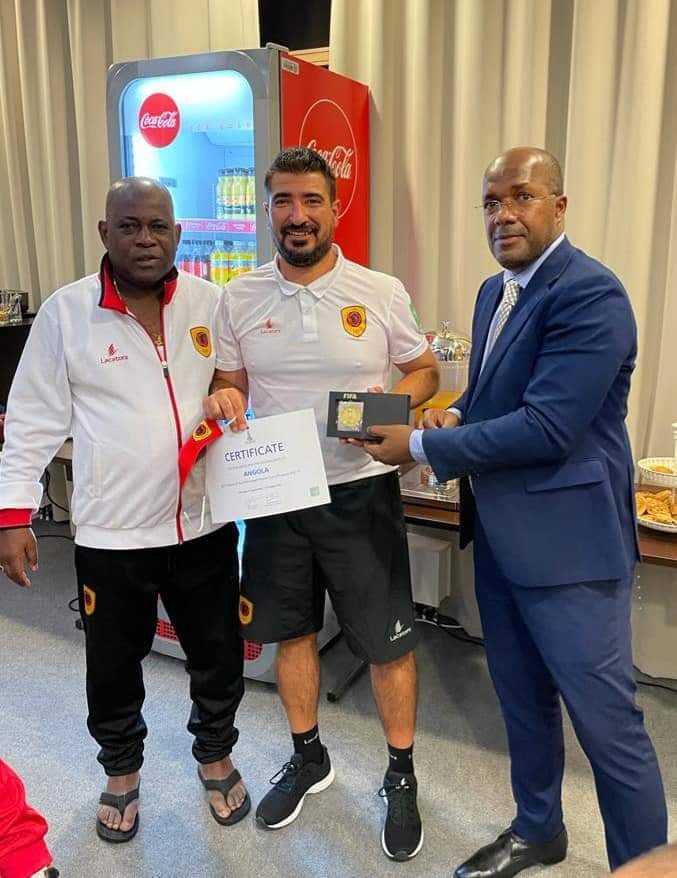 FF: Going forward, Angola wants to be a leader in the African market, what do you think is needed at the domestic level to assist your efforts at the national level?
MA: We need a better plan, structure, and organise the administrative and technical processes. There should be a lot of investment in training young athletes, providing conditions and alternatives for futsal to develop throughout Angola for both male and females. Futsal is very popular here from a recreational perspective, but we need to identify top talent and bring their level up and continue that progression within a wider pool of talented players who challenge those around them when recruited into the development structure to get better and better. Then, you also have coach education, we need to ensure that coaches get the educational pathway they need to develop but also the opportunities to coach at each age group from children to the adult. Our ultimate goal is to start a new era for Futsal in Angola.
FF: After the world cup experience, what are FAFUSA and the Football Federations plans to improve futsal development in Angola in relation to grassroots and coaching?
MA: We have to improve our targets year on year, and work together with the help of the FIFA programs to develop Futsal. If we can get everyone working together in the same direction, we can have a big impact for futsal. Personally, I think we must put the best players in other Futsal Championships so they can experience the sport consistently at a higher level and their training methods. If players got this experience of futsal at a higher level on at least one year contracts these players could return to Angola and aid the sport's development of players at the club level as well.
FF: Finally, what targets do you aim to achieve which would convince you 3 years from now that the Angolan team improved from 2021?
MA: In 3 years, I want Angola to be the powerhouse of African futsal, not only on the court but as an example to the rest of Africa concerning what can be achieved if you invest time and money in our amazing sport. There are plans for professional futsal here and covid has gotten in the way of those plans for now but I look forward to when this is up and running. We should aim to have benchmarks for other nations in Africa from the grassroots, the domestic game to the international stage in coaching, player development, administration and business.  With all of this in place the futsal community here can unite, create commitment, create alignment, and demonstrate excellence, and with all certainty, this will come to fruition.
I would like to take this opportunity to congratulate Futsal Focus on all the work you have done over the past 9 years. Your work, and commitment to the development and promotion of futsal is much appreciated by many. I want to leave a hug for my fellow countrymen of São Martinho de Mouros, the town where Futsal is at its heart, and to my municipality of Resende and its people.
Futsal Focus supports the Donate4Dáithí campaign
To follow the Donate4Dáithí campaign, you can visit their website here: www.donate4daithi.org  or on Facebook at: https://www.facebook.com/Donate4Daithi you can also donate money to their campaign at: https://www.justgiving.com/crowdfunding/donate4daithi
Learn more about the Donate4Dáithí campaign by going to our article 
here
Futsal Focus
You can read more articles about International futsal by going to the top navigation bar or click
here
If you like this article and would like to keep updated on Futsal news, developments, etc then you can now follow Futsal Focus via Google News by following our page which will send you an alert as soon as we publish an article so please click here and follow us on Google.
You can also keep updated on Futsal news, developments, etc then please submit your email below in the Subscribe to Futsal Focus option.
Follow Futsal Focus by clicking on Facebook, Twitter, or Instagram or on the social media buttons on the website.