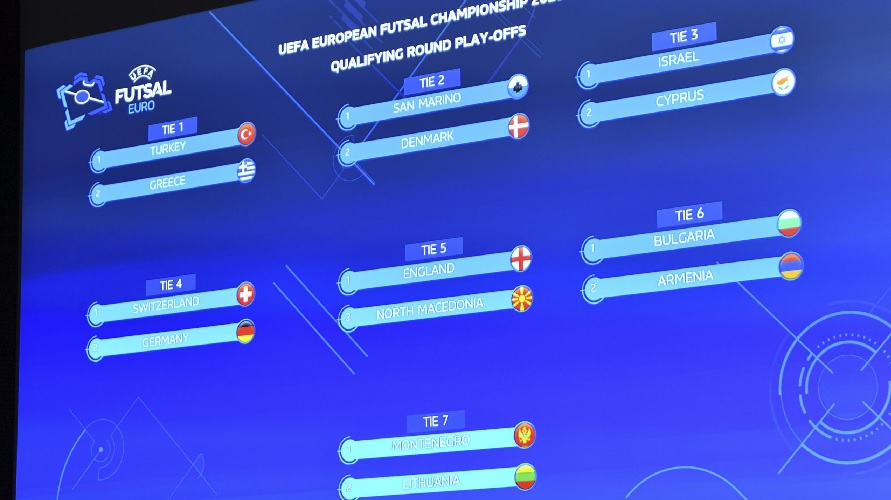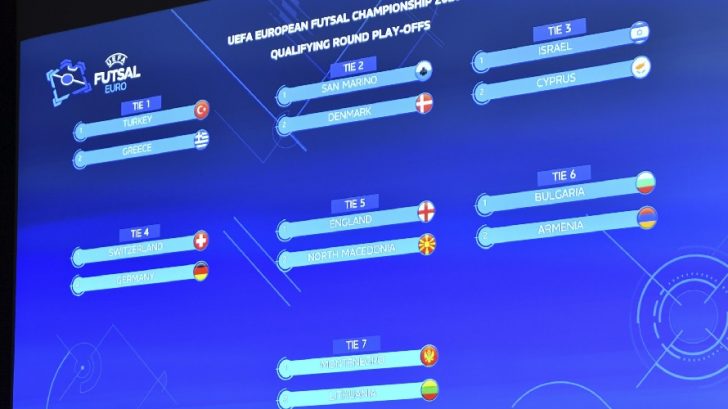 Estimated reading time:3 minutes, 8 seconds
A second chance to qualify for the qualifying group stage between 8 and 15 April for the nine preliminary round group runners-up and five third-placed teams with the best record against the top two in their group.
Second chance
On Thursday, the players, coaches and their associations from Turkey, San Marino, Greece, North Macedonia, Denmark, Israel, Armenia, Switzerland, England, Cyprus, Lithuania, Germany, Bulgaria, and Montenegro, waiting to see who they would be drawn with.  Progress from this stage will see them enter the final group stages giving them a chance to fight for a place at what is anticipated to be the biggest UEFA Futsal EURO yet in 2022, the Netherlands.
Out of the pots saw the following teams drawn to face each other:
Turkey v Greece
San Marino v Denmark
Israel v Cyprus
Switzerland v Germany
England v North Macedonia
Bulgaria v Armenia
Montenegro v Lithuania
No matter what happens for San Marino against a tough opponent in Denmark, these group of players have made history for their country progressing through a round for the first time in any UEFA competition at any level. Likewise, for the Israeli team but in this case for Futsal. England are the only British nation with the opportunity to progress further and will welcome North Macedonia to St Georges Park as these fixtures for all 14 nations will be played home and away. North Macedonia defeated Wales in the preliminary rounds 0-1 but lost 1-2 to Norway. These fixtures are always tough and England will have the home advantage for the first match but both these nations will feel they have a chance to progress.
"It's going to be a tough challenge for us, it was probably the toughest tie left in the pot as they are the highest-ranked nation left in this pot," said England National Futsal team Head Coach Michael Skubala, who was in Switzerland for the draw.
"They're ranked 24th in Europe, whereas we're 30th so we know it's not going to be easy as we could've drawn a nation ranked below us, but we have home advantage in the first game and we'll then head to North Macedonia for the second leg a few days later.
"We have got a young squad at the moment, with a new generation coming through so it will be a great experience for them to play in a qualifier against a nation like this."
Despite England's disappointment at not qualifying the first time around, one player had a lot to celebrate, and that player is Doug Reed. His teammate Liam Palfreeman England Futsal International and Professional Futsal Player for Asd Olimpus Roma Serie A2 said: "To play for your country in any sport is an honour but to make 100 appearances earns you legendary status, congratulations to Doug Reed, who is one of the most dedicated men to this sport, a true professional and an inspiration for me!"
Already through to the final qualifying round for UEFA EURO Futsal 2022 are the teams who competed in the 2020 FIFA Futsal World Cup elite round: Azerbaijan, Belarus, Croatia, Czech Republic, Finland, France, Italy, Kazakhstan, Portugal (holders), Romania, Russia, Serbia, Slovakia, Slovenia, Spain, Ukraine. Plus the preliminary round group winners: Albania, Belgium, Bosnia and Herzegovina, Georgia, Hungary, Latvia, Moldova, Norway, and Poland.
If you like the information provided, you can read more articles about International futsal by going to the top navigation bar or click here
If you like this article and would like to keep updated on Futsal news, developments, etc then please submit your email below in the Subscribe to Futsal Focus option.
Follow Futsal Focus by clicking on Facebook, Twitter or Instagram or on the social media buttons on the website.