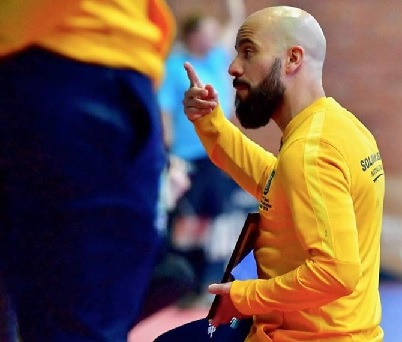 Estimated reading time:2 minutes, 58 seconds
The Solomon Islands National Futsal team (Kurukuru) are in Brisbane, Australia for a camp to prepare for the 2019 OFC Futsal Nations Cup which is also a qualification tournament for the 2020 FIFA Futsal World Cup.
The team was defeated in one of their friendly matches 5-7 by Gold Coast Force Fc but after the match, their head coach Vinicius de Carvalho stated:
"They are improving each day and Alex and I are happy with their progress so far.
The purpose of this training camp is to introduce new attacking patterns to Kurukuru's game to be applied in games.
We are introducing a new style of play, with more structured and supported plays so we can be more effective in attack.
The games/friendlies have been a great way for me to assess each individual player and the team as a whole in a competitive environment. Also, I was able to test different player combinations to try and reach the best balance so when we make subs, we don't drop the standard.
It was also about testing the mental strength of KuruKuru and each and every individual KuruKuru player.
The physical endurance training since their arrival in Australia was to purposely drain their physical strength down to only 30%-40% before games so they could keep a high level of concentration throughout the game.
Today's game was the toughest and it against one of the best teams in Australia. They have been together for about 3 years and have built amazing chemistry in between the players and that is what we are also trying to build.
We are rebuilding the Kurukuru squad by keeping some players from the previous FIFA World Cup and adding new blood to slowly mix up experience with youth.
This would have had to happen soon as the Gold Generation is getting old and some players have moved on with their lives and have their priorities changed.
We also want to send a statement that it is not just about being talented but it is also about commitment to the team and to the project.
We want to send a message to the next generation of Kurukuru players that adherence, attendance, and hard work to the program is vital to the success of the team.
We learned a big lesson today that it is not about the status you carry ( National team or club team ) but it is about how well you prepare and that involves, time, quality of program, intensity, consistency, frequency, and exposure to high-level games. All of these is what Kurukuru needs and SIFF has understood the message and is investing like never before in the team so they can have the best preparation ever.
This is just the beginning of a great journey for all of us. The future looks bright."
Video source: Super Futsal on Facebook: http://bit.ly/2Ttuv2F
Picture: David Bordin
You can follow the Solomon National Futsal team on Facebook: http://bit.ly/33wpNWI
If you like this video and the information provided, you can read more articles about International Futsal by going to the top bar navigation or click here
If you like this article and would like to keep updated on Futsal news, developments etc then please submit your email below in the Newsletter section or by clicking on the Subscribe to Futsal Focus option on the header.
Follow Futsal Focus by clicking on Facebook, Twitter or Instagram or on the social media buttons on the right sidebar.