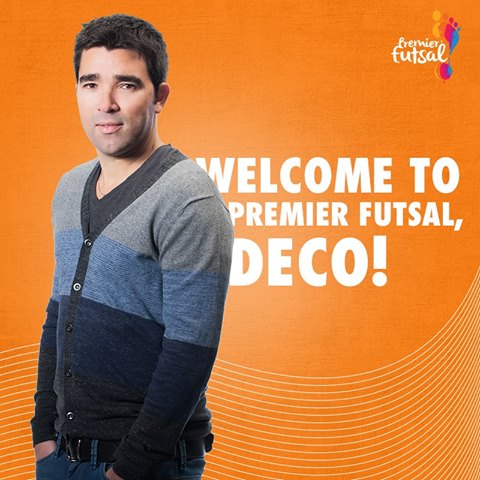 Estimated reading time:2 minutes, 18 seconds
On the same day, two organizations in India made big announcements, Premier Futsal announced the signing of former FC Barcelona and Chelsea player Deco and the All India Football Federation announced that they are considering league action against the Futsal league organizers.
According to the Times of India, the AIFF on Thursday said it has informed the sports ministry that the Futsal Association of India (FAI) is an unrecognized body and it is considering legal action against it, also asking its affiliated members not to co-operate with the league.
The Premier Futsal League was launched in the country in May as a nationwide talent hunt to identify players for the inaugural season of a multinational league. India Test skipper Virat Kohli was named the brand ambassador of the tournament.
The inaugural season was scheduled to be between July 15 to 24.
Portuguese football legend Luis Figo is the president of Premier Futsal and he visited India earlier to promote the game.
The All India Football Federation (AIFF) has also informed its state associations of its plan to come up with a futsal league in the country.
"The AIFF is the governing body for all forms of football, including futsal, in India and we will be announcing our plans, in relation to futsal, in due course," AIFF general secretary Kushal Das said in a letter addressed to state associations on Thursday.
"This is to bring to your notice that AIFF is not involved with the proposed Premier Futsal League, the news of launch of which has been making rounds in media in the recent past. The competition is neither sanctioned by AIFF nor is organized under the aegis of the AIFF."
"Further, the organising body – Futsal Association of India (FAI) is not a member or affiliated in any way with the AIFF, Asian Football Confederation (AFC) or FIFA ," the letter added.
The secretary also urged the state associations to inform affiliated clubs and the players to stay out of this league proposed by the FAI.
"As members of AIFF, all state associations are to comply with the statutes and regulations of AIFF and their actions should be in compliance with the constitution of AIFF," Das said.
The Indian Football Association (IFA), which is the governing body for football in West Bengal , has already informed the clubs and players associated with it.
" Yes we have received that letter and have taken it into consideration. IFA is doing its best to make sure there is no problem and we have issued a notice to all our affiliated members and stakeholders," said Utpal Ganguly , president of IFA.
Ganguly also said they have not been in contact with FAI.
Meanwhile, Deco has stated his excitement at being involved and can't wait till the league starts in July this year.