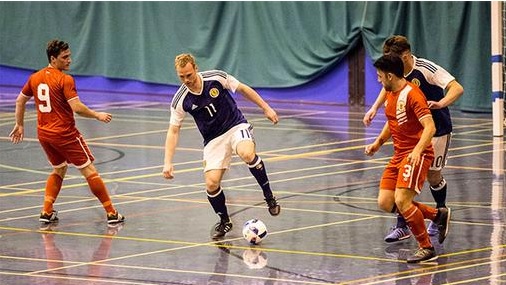 Estimated reading time:1 minute, 3 seconds
At the start of next month, Scotland will host the Futsal Home Nations Championship at Oriam in Edinburgh from 1 December, with entry to matches free of charge.
The hosts will be looking to better last year's third-placed finish where they lost out to England in the opening game and ran eventual competition winners Wales close, ultimately losing 5-2. In the final game, Scotland defeated Northern Ireland 8-2.
The Scottish Futsal team is still in the early stages of its development after being established in October 2014 and were knocked out of the European Championships preliminary rounds earlier this year, losing to Georgia, Switzerland, and Israel.
Ahead of the tournament, new Scotland head coach Gerry McMonagle has named his squad, which includes Albion Rovers' Craig McLeish and Elgin City's Scott Smith.
McLeish made history in the last Home Nations Championship when he notched Scotland's first ever hat-trick, scoring three against Northern Ireland. All Futsal Home Nations Championship matches will take place in the Oriam indoor court.
Futsal Home Nations Championships Tournament Schedule
Friday, 1 December
England v Wales, kick-off 4pm
Scotland v Northern Ireland, kick-off 7.30pm
Saturday, 2 December
Northern Ireland v England, kick-off 2.30
Scotland v Wales, kick-off 6pm
Sunday, 3 December
Wales v Northern Ireland, kick-off 1pm
Scotland v England, kick-off 4.30pm